National Champion
Freshman Wilkewitz claims NJCAA Division III National Cross Country Championship
By James Paxson, Sports Editor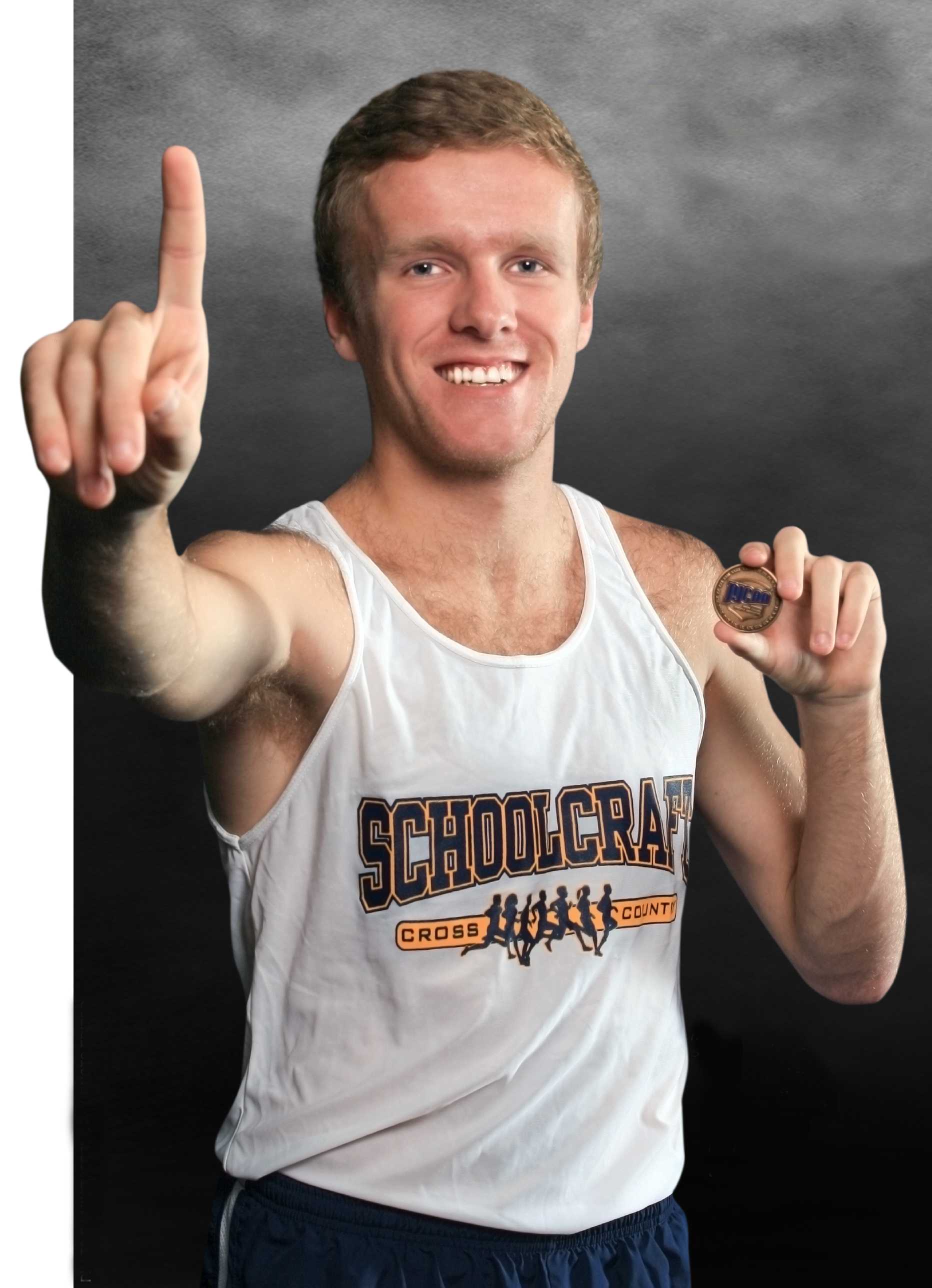 It feels good to be number one, if you ask freshman Cross Country runner Eric Wilkewitz. On Saturday, Nov. 12, in Canandaigua, New York, freshman Eric Wilkewitz won the National Junior College Athletic Association (NJCAA) Division III Men's Cross Country National Championship by finishing the 8k course with a time of 29:11.40, beating the second place finisher, Noah Reilly from Ocean (NJ) County College by 15 seconds. As Wilkewitz approached the finish line he raised his arms in the air and smiled from ear to ear, making history the whole way. Schoolcraft College now can add to the list of athletic accomplishments that they have their first ever National Champion Cross Country runner.
"We were all ecstatic for Eric because he got stronger as the race went on and we didn't entertain any thought that he wouldn't become first," said Cross Country Coach Wright Wilson.  This race was 8,000-meter race (Just shy of five miles) and had qualifying runners from all over the country represented. The race started with Wilkewitz taking a huge lead on his competitors within the first two miles, building his confidence that he could win the race. As the meet continued he suffered a what could have been a catastrophic setback by falling halfway into the race and having to play catch up if he was to have of chance at winning it all.
"Around 2.5 miles I let some runners get ahead of me so I could catch up and these runners could take me along, and then after a series of very fortunate events I was in third heading to the last leg of the race," said Wilkewitz.  Now situated in the middle of the group of collegiate runners there seemed to be little hope for Wilkewitz until he got a giant boost heading down a hill.
The Ocelots lone representative got the boost he needed and found himself back into first place entering the last mile of the course. Never looking back, Wilkewitz ran the last length of the race with a lead of over 10 seconds and continued to gain leverage on the second place finisher (Noah Reilly from Ocean (NJ) County College) until finally crossing the finish line.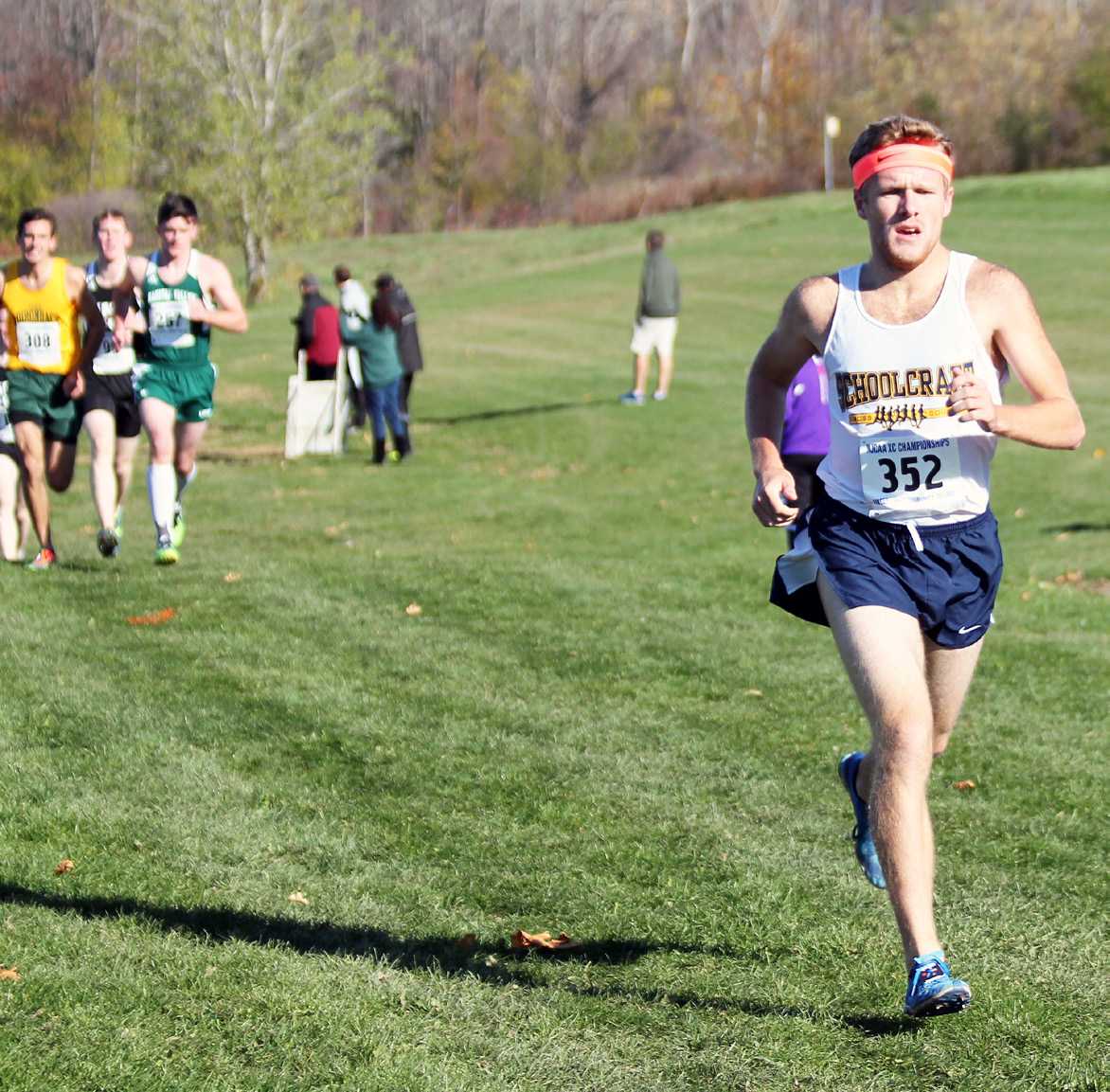 In addition to capturing first place in Division III, Wilkewitz also received the prestigious First Team All-American honors for the 2016 NJCAA Division III Cross Country season on November 15. The moment of intense surrealism was the highlight of Wilkewitz Cross Country career.  "When I passed that finish line the moment was just so surreal and one of the best moments of my life. All I remember is hearing the announcer say my name and saying I was the National Champion," said Wilkewitz.
Wilkewitz is a graduate of Woodhaven High School and started doing track and field back in eighth grade only because a buddy put him up to it. He then later in high school fell in love with cross country, and like his other sports wanted to excel to his greatest ability as a runner and teammate.  During this season Wilkewitz led the Men's team by finishing at the top of all the races besides two he was scheduled to participate in. Earlier in the season he had a disqualification by getting injured during a meet.  Next season Wilkewitz plans to transfer to the University of Michigan-Dearborn. He will be studying engineering and will attempt to join U of M Dearborn's cross country team and try to break records at the University level.
[youtube https://www.youtube.com/watch?v=_gwbZ_mKOKA&w=560&h=315]