Holiday Dessert Recipes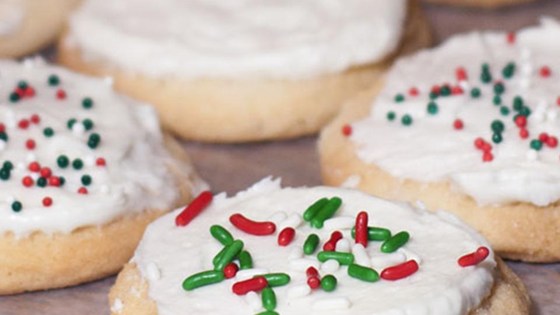 Compiled by Quinn Storm, News Editor
Overnight Eggnog Streusel Coffee Cake

(bettycrocker.com)
Prep time: 20 min.
Cook time: 40 min.
Servings: 15
Ingredients:
Streusel Topping:
1/3 cup granulated sugar
1 Tbs. flour
1 Tbs. softened butter
1/2 tsp. ground nutmeg
Coffee Cake:
1 cup granulated sugar
1/2 cup softened butter
1 cup eggnog
8 oz. sour cream
1 tsp. rum extract
2 eggs
2 1/2 cups flour
1 1/2 tsp. baking powder
1/2 tsp. baking soda
1/2 tsp. salt
Eggnog Glaze:
1/2 cup powdered sugar
2 Tbs. eggnog
Directions:
Grease a 13×9 pan.
Mix all streusel toppings together in bowl until crumbly; set aside.
Beat sugar and butter together in large bowl.
Beat in eggnog, sour cream, rum extract, and egg to sugar and butter mixture.
Stir in flour, baking powder, baking soda, and salt.
Spread in pan; spread topping over batter and refrigerate for 8 hours.
Heat oven to 350 degrees and cook for 30-40 minutes.
Cool for 20 min.
Beat eggnog glaze in small bowl and drizzle it over cake.
Gingerbread Men Cookies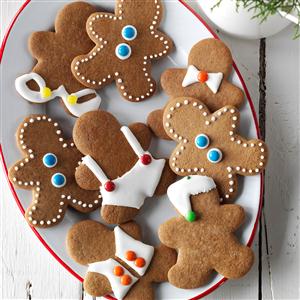 (tasteofhome.com)
Prep time: 40 min.
Cook time: 10 min.
Servings: 26
Ingredients:
1/2 cup softened butter
3/4 cup brown sugar
1/3 cup molasses
1 large egg
2 Tbs. water
2 2/3 cups flour
1 tsp. baking soda
1/2 tsp. salt
2 tsp. ground ginger
1/2 tsp. ground nutmeg
1/2 tsp. ground allspice
Directions:
Cream butter and brown sugar.
Beat in molasses, egg, and water.
In another bowl, whisk together remaining ingredients and beat into the creamed mixture.
Divide dough in half and wrap each in plastic.
Refrigerate for 30 minutes.
Preheat oven to 350 degrees.
Roll dough into 1/8 thickness on a floured surface.
Cut with a floured 4-in. gingerbread man cookie cutter.
Place 2 inches apart on a greased cookie sheet.
Bake for 8-10 minutes.
Cool before frosting.
Candy Cane Fudge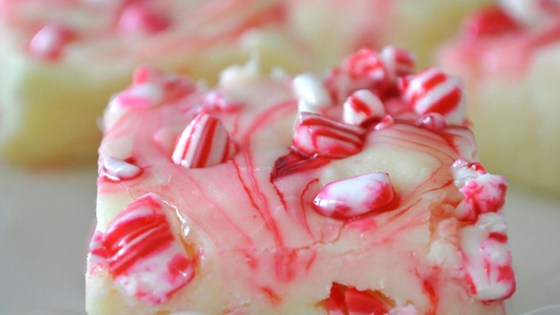 (allrecipes.com)
Prep time: 20 min.
Chill time: 2 hours
Servings: 64
Ingredients:
20 oz. vanilla baking chips
14 oz. sweetened condensed milk
1/2 tsp. peppermint extract
1 1/2 cups crushed candy canes
1 dash of red or green
food coloring
Directions:
Line 8-inch baking square with tin foil and grease the tin foil.
Combine the vanilla chips and condensed milk in a saucepan over medium heat; stir until melted completely and remove from heat.
Stir in the peppermint extract, food coloring, and candy canes.
Spread evenly in pan; chill for 2 hours and then serve.
Blue Ribbon Sugar Cookies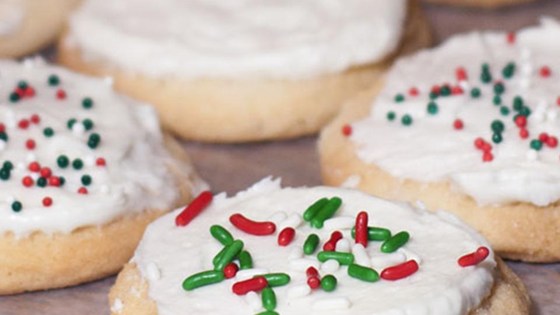 Prep time: 35 min.
Cook time: 25 min.
Servings: 48
Ingredients:
3/4 cup softened butter
1 cup vegetable oil
1 cup confectioners sugar
2 eggs
1 cup of confectioners sugar
1 tsp. vanilla extract
1 1/2 tsp. lemon extract
4 cups flour
1 tsp. cream of tartar
1 tsp. baking soda
1 tsp. salt
1/2 cup white sugar
Directions:
Preheat oven to 375 degrees.
Combine flour, cream of tartar, baking soda and salt.
Cream butter, vegetable oil, confectioners sugar and white sugar until blended.
Mix in eggs, vanilla and lemon extract.
Mix in dry ingredients until well blended.
Roll the dough into balls and place 2 inches apart on cookie sheet.
Dip the bottom of a glass and press the cookies to 1/8 thickness.
Bake 9-12 minutes.
Cool cookies for 5 minutes before frosting.