Horoscopes for the week of Dec. 5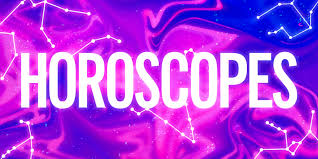 Compiled by Quinn Storm, News Editor

Sagittarius
It's nearing the time of the year to start thinking about goals and resolutions for yourself. Be confident, if you can dream it you can make it happen. Over the week there may be some arguments with family or close friends, but don't let them get you down too much. Going out for the night with some friends could brighten your spirits in ways that you may need. Expect to celebrate a victory this week.
Capricorn
Lately it may seem like all you're getting is surprise after surprise and that can be stressful. Early in the week, though, resolutions may start appearing. If something doesn't turn out exactly how you hoped, don't fret; the solutions are all for the best. Expect good news later in the week- your efforts are finally being recognized, especially when it comes to money. Don't be afraid to make spontaneous decisions this weekend.
Aquarius
Be confident and clear in everything you do this week. This connection with a clear mind will help inspire direction and purpose- whether it's at work, school or in your personal life. During the middle of the week this may be especially important as you find struggle with some financial matters. Try using some newfound free time to plan a trip or hit up someone you don't usually see.
Pisces
Recent success is making you feel cheery and like you need to celebrate. Indulge, but don't go over the top this week. Too much fun could ruin all the hard work you've put in. New opportunities arise in financial and power areas of your life so be sure to take them as they come. All your efforts will pay off much more with every new opportunity. Be open to meeting new people this weekend, as a potential new friend or romantic interest could be coming your way.
Aries
Trust yourself and what your vision of your future right now and make this week about pushing for advancements in your work life. When you're working so hard, make sure you're flexible and able to tweak your plans. Knowing what you're going to do is great, but don't stress too much about sticking to 100% of the plan. Being able to think on your feet and change it up as you go is a sign of a good worker and leader. This week is looking to be a big one for your love life. Whether you're already in a relationship or looking to get into the dating game, being straightforward with your feelings is going to get you a lot further than playing games.
Taurus
Big changes are coming your way this week, especially in your personal life. If you've been looking to make changes in relationships, now is the time to let your true feelings boil over instead of creeping under the surface. People in your life may want to put their two cents in, but don't let them persuade you too much as they may not always have your best interest at heart. Towards the end of the week your work life is going to take off. Look to make friends and allies at work to further your career.
Gemini
This is a huge week of relationships for you. Right now is the time to create new romantic and platonic relationships whenever you can. New people may be really important from now on in your future, so look for people who have a big impact right off the bat. Don't put your old friends behind new ones, though. Everyone should be equally as important. This week is a great week for creativity and confidence, so be sure to promote those characteristics in your work.
Cancer
            New projects at work are starting to come your way. This week is going to put you in the zone of improvement and hard work so don't be afraid to show people that you can be on top of the game. Don't burn yourself out from all the work you're suddenly doing- take some time mid week to relax and de-stress yourself. Finish the week strong after that, though. This weekend could be very interesting and adventurous. A nice vacation or impromptu plans could be a fun way to chill out.
Leo
Though the past weeks have been difficult and very busy, this week is going to be different for you. This week is going to be in the zone of creativity and love for you, so look for interesting new ideas or relationships to form. A new romance could form pretty soon, so keep an eye out for any cuties coming your way. Don't stay home this weekend, go out and have fun. The party doesn't start until you walk in.
Virgo
Hectic has been your middle name for the past few weeks, but expect the excitement to mellow out this week. Slow down and work to the best of your ability. Be comfortable with what you're doing; you shouldn't try to rush things because you think they're expected of you. Because of all your hard work, you deserve some praise! Don't be afraid to point out your good qualities in a subtle way so that people can actually recognize you for what you're doing.
Libra
            Expect to stay busy this week. These past few weeks may have been hectic as well, but now is no time to give up. New projects are always being tossed at you. Keep a calm, clear mind and finish one before moving to the next to not cause yourself any more stress than is necessary. Your mental health should be very important to you this week, so take some time to get outside and spend some quality one on one time by yourself, or even with one close friend or partner.
Scorpio
            Things are falling into place in your personal and work life this week. Financial planning is really paying off, and so is your hard work. If you're in a leadership position, make sure your stances and thoughts are clear to those beneath you. Some great news could come into play towards the end of the week. This weekend, spend time with family and those closest to you to make both them and yourself feel happy and fulfilled.