The Merriest of Holidays
Thanks to St. Joseph Mercy Hospital of Ann Arbor and Livingston for their generous contributions to Schoolcraft's Food Pantry
Michele Dimond, Writing Fellow & Guest Writer
The Leadership Development Institute of St. Joe's accomplished an unprecedented feat!  The philanthropic group met at Schoolcraft on December 15 and 16 for their annual membership consortium. These amazing healthcare providers certainly did not fall short of their goal to practice their "random acts of kindness." Annually, St. Joe's engages in projects to give back to organizations such as the United Way and Harvest Gathering, as well as adopting a child/family for the holidays. This year, they added another selfless act of giving. On December 16, 2016, Schoolcraft College was presented with 495 pounds of non-perishable food items for its food pantry. According to Susan Kheder, Executive Director of Patient and Community Engagement at St. Joe's, "All attendees were encouraged to donate one food item to the Schoolcraft Food Pantry." Ms. Kheder's suggestion to the Institute's board originated when her family connection at Schoolcraft encouraged her family to participate in the Education Programs and Learning Support Department's food collection competition on the campus.
Although it was requested that each member attending the conference brings one item of food to donate, many brought bags filled with nutritious foodstuff, gift cards to grocery stores, and even baby food. Kheder added, "It is important to remember that although many believe that one item cannot make a difference, it is clear that change can start small and build enough to feed a village."  Kheder reflects on the philosophy that one random act of kindness will inspire others to "pay it forward."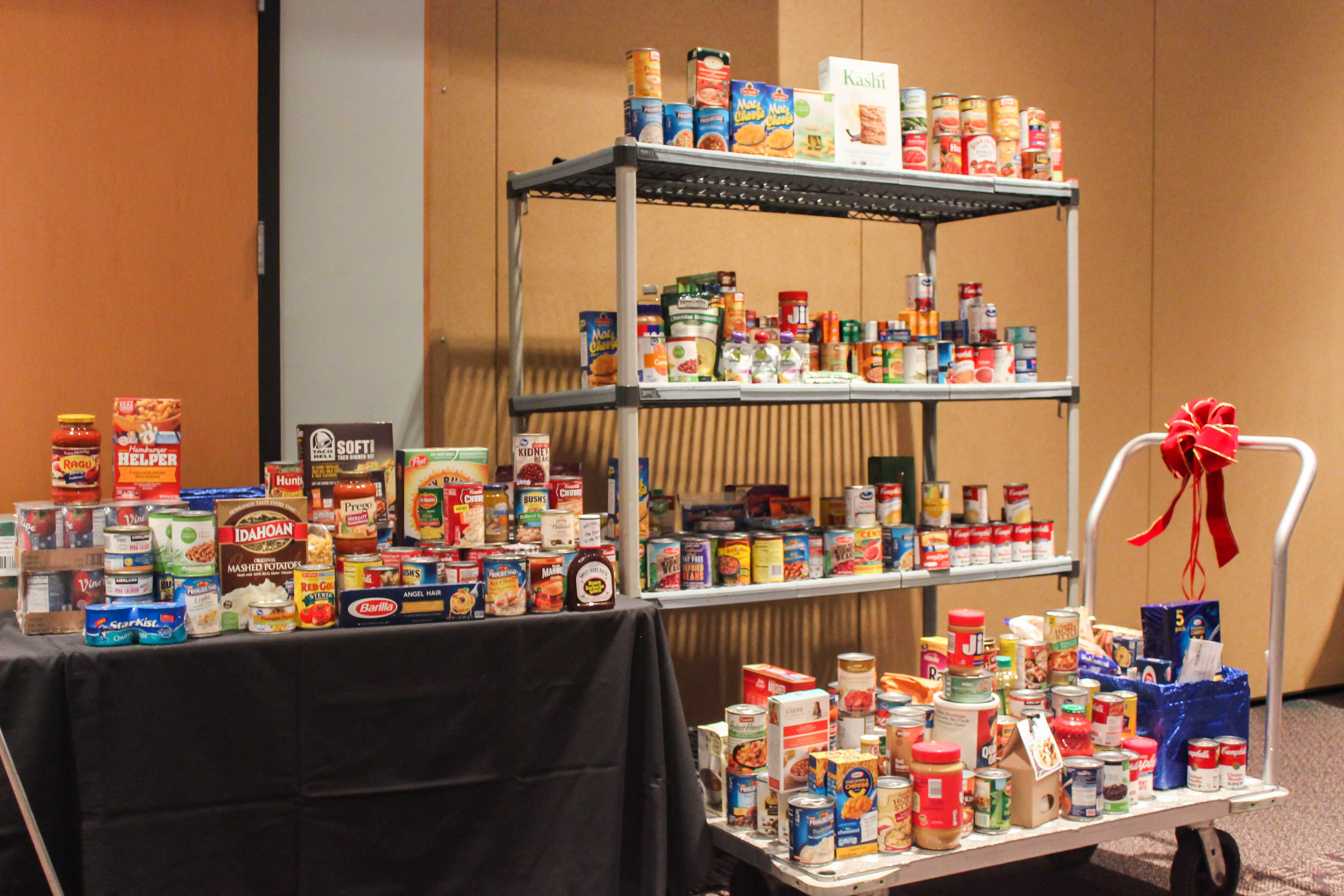 The food pantry has become a necessity to Schoolcraft's main campus and the Radcliff Center, an extension of Schoolcraft College located in Garden City.  Although hunger and need on college campuses are not widely visible, many students face food insecurity. Todd Stowell, Director of Student Activities, expressed his sincere gratitude and was overwhelmed by everyone's generosity. He then introduced the recipients of the food donations given by St. Joe's.
Schoolcraft's sociology professor, Karen Schaumann, accepted the donation on behalf of the Radcliff Center. She stated that, "[Food insecurity] is a retention issue. The more time that students work multiple jobs to afford food, the less time is spent in the classroom."
David Brooks, President of St. Joseph Mercy of Ann Arbor and Livingston presented the donations to Dr. Conway Jeffress, President of Schoolcraft College. Dr. Jeffress graciously accepted this bountiful gift. Jeffress stated, "We have several students who are homeless and some who are living in their cars. They are not able to take a bag of groceries because they have no place to store or even heat up the food. Instead, they would come in, pick up a can of soup for lunch, heat it in the microwaves located in the Student Activities area and then take a second can to heat up before they left campus for the day."
This event was a culmination of all the efforts exhibited by the unprecedented generosity of St. Joe's Leadership Development Institute and the humble acceptance of food items by Schoolcraft's personnel. As often the case, with each small step, challenges can be overcome.