Winter festival
School Daze Winter Festival set for Jan. 24-25
By Quinn Storm, News Editor
School Daze Winter Festival is coming on Jan. 24 and 25 from 10 a.m. to 2 p.m. in the Lower Waterman Center of the VisTaTech Center. There will be a DJ, sponsors from restaurants, various departments around campus represented, games for prizes on the main stage and 50 cent hot dogs.
Twenty-seven student organizations, 11 campus departments, 16 sponsors and 12 various attractions such as a caricature artist, psychic mini readings and free 10-minute chair massages will be represented during the two-day event. Campus departments attending include Financial Aid, the Bookstore and the Fitness Center among others. This event gives students an opportunity to gather information and ask questions to the various services offered around campus and meet one-on-one with representatives.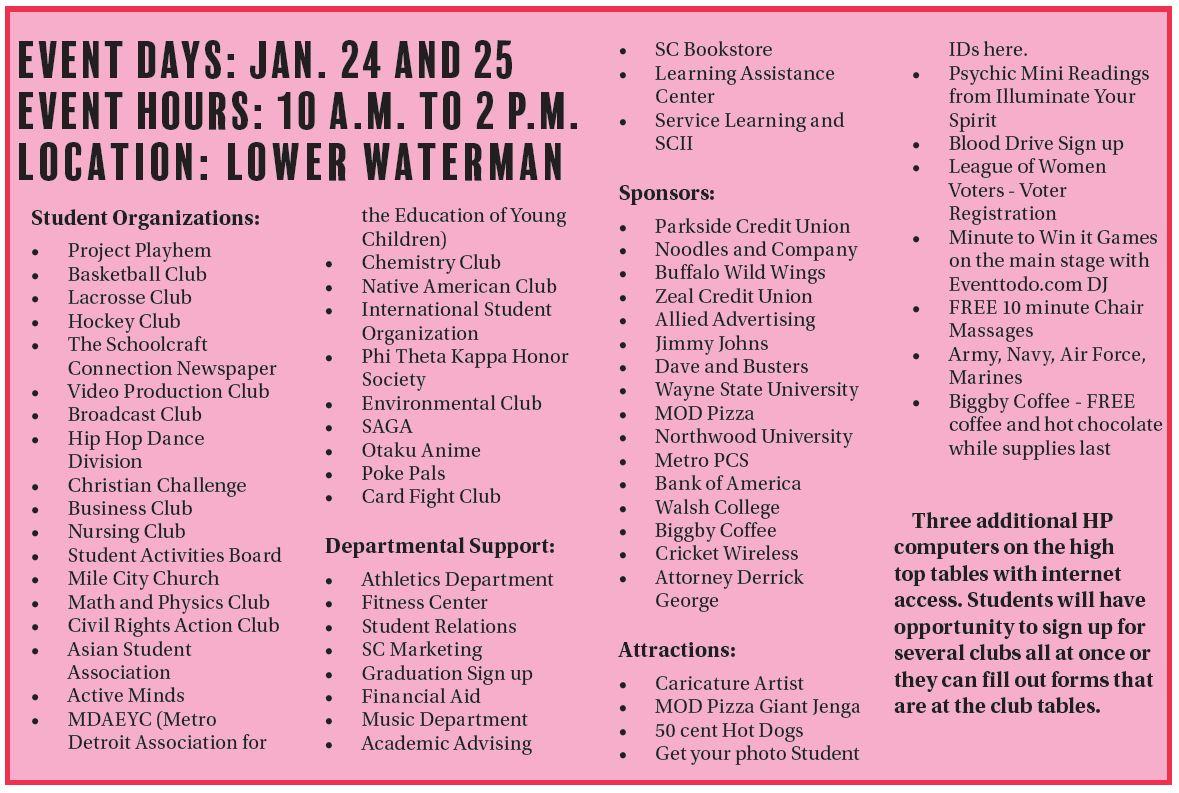 "The purpose is to get the students jump started on their clubs and recruiting. We will be looking to make the students aware of meeting times and events coming up and how students can get involved and have as much participation as we can. It's a one-stop where everyone can come and have a good time and learn about all the clubs and services that are available on campus," said Todd Stowell, Director of Student Activities.
Many student organizations look to events such as School Daze to reach out to the campus population to recruit students to get involved. As many clubs only reach a certain demographic of people, it is nice to have the face-to-face time with other people who may be interested. Also, some students may not be familiar with the clubs and organizations that are currently offered so this is an opportunity to learn more about the college and how to get more involved.
"School Daze is good because it gets students more interactive on campus. It shows students new groups and clubs and creates new relationships. An example is the business club- we will be promoting our Detroit Economic Club Event and Shinola tour," said Josh Hunter, President of the Schoolcraft Business Club.
School Daze is not only a good place to get to know clubs on campus and local businesses, but it also has a great, friendly atmosphere where you can meet new friends. There is a great DJ and fun games that are played throughout the day.
"We're going to have recruitment table and it's going to have informative event list for winter semester with a list of fundraisers and events. We want more members to join and we also want people to try out to be a PTK officer," said Alicia Cooper, Phi Theta Kappa Vice President of the Chapter.
Anyone interested in learning more about the event should visit the Student Activities Office in the Lower Waterman of the VisTaTech Center or call 734.462.4422.