Turn the page into the winter season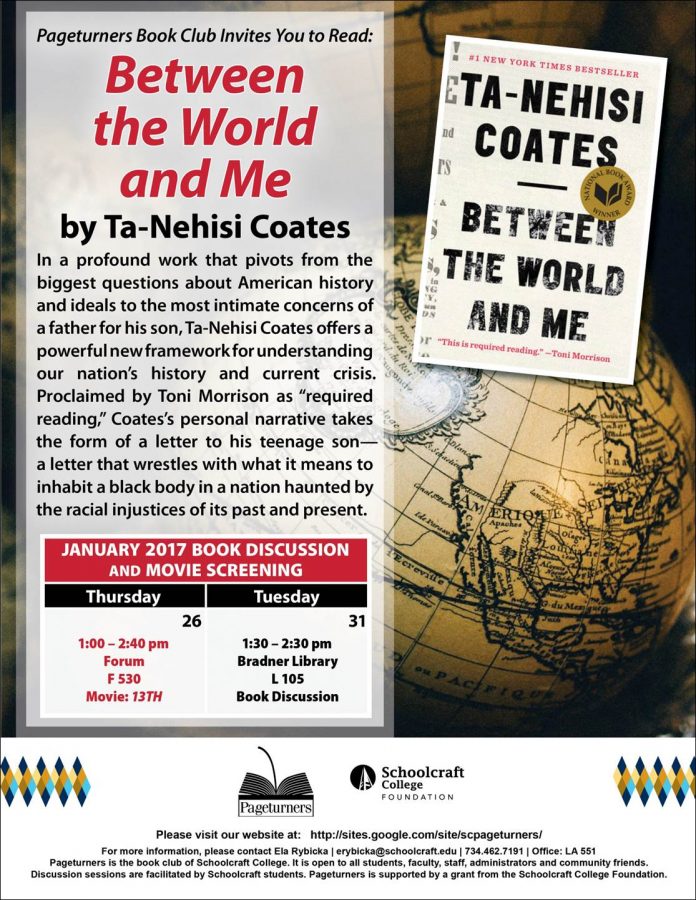 Pageturners preview a new season of books
By Emily Espoinoza, Campus Life Editor
There's absolutely nothing like curling up under some warm blankets on a relaxing, brisk winter day and reading a good book. For some, this picture-perfect scene sounds blissful, while others might relate reading a book to that second grade teacher who borderline tortured young students with heavy, complex material. Whether one sees himself or herself as an avid reader or a recovering ex-reader, it is never considered a bad thing to strengthen that mental-muscle.
One way Schoolcraft students can get involved in a good read and others to share it with would be by joining the Schoolcraft Pageturners in one or many of their discussions and movie showings this semester.
This semester, the Schoolcraft Pageturners Book Club have put together a series of events and discussions for the public to attend in hopes of bringing together a group of prospective readers. All Pageturners events are free and open for the public to stop by and become enriched in lively discussions or enchanted by wonderfully crafted movie screenings. Three different books are being discussed throughout the course of this semester, including "Between the World and Me" by Ta-Nehisi Coates, "Paper Towns" by John Green and finally "When Breath Becomes Air" by Paul Kalanithi.
"Between the World and Me" by Ta-Nehisi Coates is a personal-narrative written in the form of a letter from an African-American father to his young, teenage child. This piece touches on the history of our nation's racial injustices while still relating what that history means for young and prosperous men and women of color during our current crisis. This book highlights the month of January and is a great choice to start off the season with for the deeply rooted issues it brings up, which will definitely allow for a truly cultivating discussion.
"Between the World and Me" will be discussed on Tuesday, Jan. 31 from 1:30 p.m. to 2:30 p.m. in the Bradner Library, Room 105. The motion picture version of the book, "13TH" will be shown in the Forum, room 530 on Thursday, Jan. 26 from 1 p.m. to 2:40 p.m.
The month of February features the book "Paper Towns" by John Green, which is an intimate come-of-age journey depicting what friendship is all about. This book will be discussed on Tuesday, Feb. 21 from 1:30 p.m. to 2:30 p.m. in the Bardner Library, room 105 and a motion picture version of the piece, "Paper Towns," will be shown Thursday, Feb. 16 from 10 a.m. to 12:15 p.m. in W 210 A-B.
March will feature the third and final book of the semester, "When Breath Becomes Air" by Paul Kalanithi. This book is very unique, following the life of a once prospective medical student as he embarks on a hard-fought fight against diagnosed stage IV lung cancer. It will be interesting to examine the parallels this piece gives one with the Pageturners on Tuesday, Mar. 28 from 1:30 p.m. to 2:30 p.m. in the Bradner Library, room 105.
A panel discussion will be held Wednesday, Mar. 29 from 11:45 p.m. to 12:50 p.m. in MC 100.
Pageturners is open to all students, faculty, staff, administrators and community friends. The books are available for purchase at the Schoolcraft College Bookstores. Schoolcraft students facilitate all discussion sessions. Pageturners is supported by a grant from the Schoolcraft College Foundation.
If anyone has further inquiries please visit https://sites.google.com/site/scpageturners/ or contact Ela Rybicka at erybicka@schoolcraft.edu.