Big time win
Men's basketball declaws Bears, 71-61
By Jason Green, Staff Writer
The men's basketball team battled back late in the second half to beat the ninth ranked Mott Community College Bears, 71-61, Jan. 14. Schoolcraft is now 3-1 in the Michigan Community College Athletic Association (MCCAA) Eastern Conference and 11-4 overall as of Jan. 18. The team is currently in second place and a half game back of Macomb Community College in the MCCAA standings.
Home court has treated the Ocelots well this season. Mott appeared to be the only team to challenge the Ocelots at home thus far by keeping this matchup close on the scoreboard. This game was tight in the first half despite good games by both Mott players Diandre Wilson and Shawn Pardee. Wilson ended the contest with 15 points and Pardee finished with a game high 19 points.
With five minutes to play in the first half the Ocelots went on 6-0 run with a pair of threes from freshman guards Walt Kelser and D'angelo Hansbro. However, the Bears would answer back with a two-point field goal and a put back free throw from Diandre Wilson and couple of baskets from Shawn Pardee. Neither team could obtain a large lead on each other and the score at the half was Schoolcraft leading 41-38 over Mott.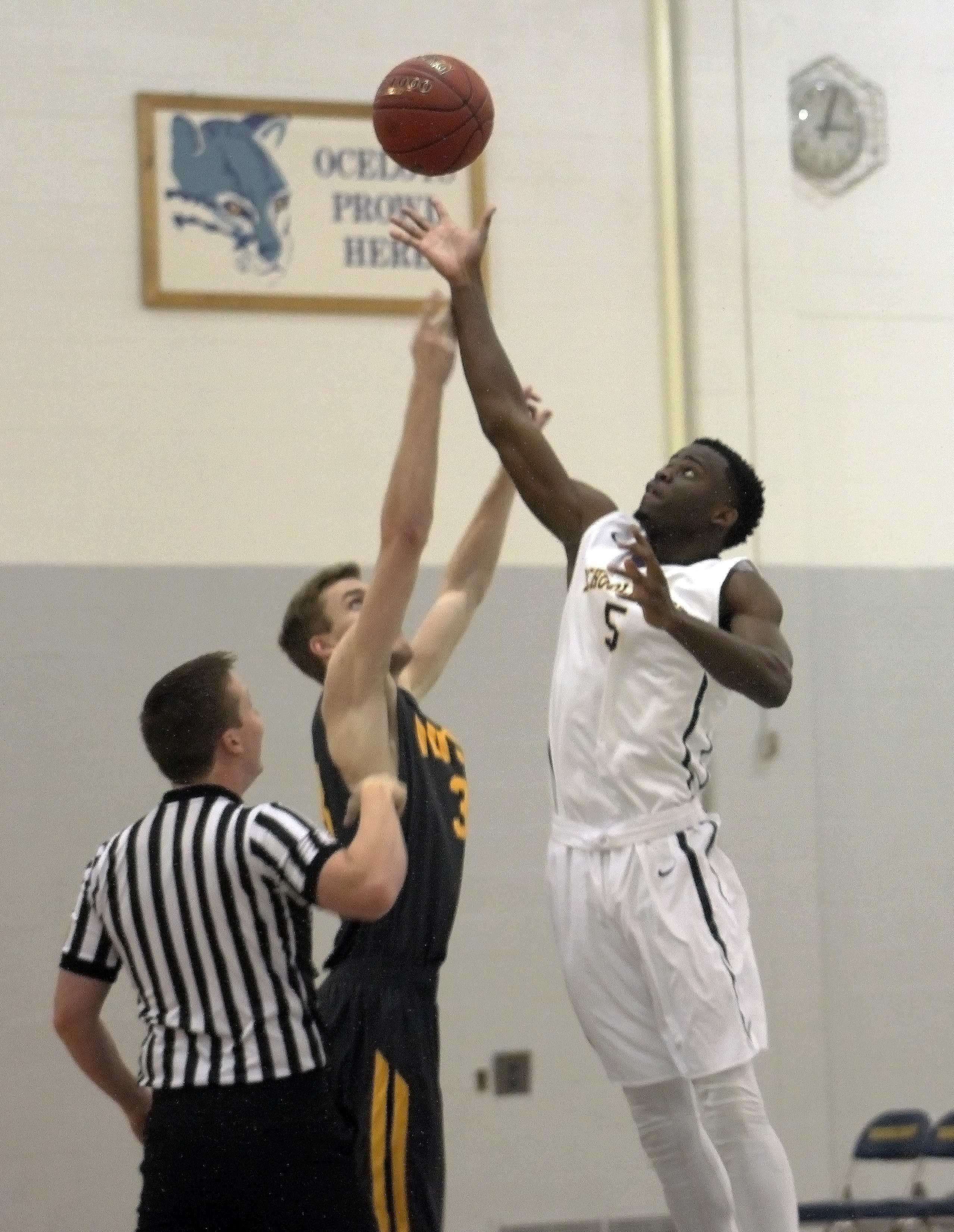 "We have to pick up our intensity on the defensive end. We weren't giving our best effort on defense," said Assistant Coach Corey McKendry at the half about how he feels the energy for his team was and what Schoolcraft needed to work on for the second half.
The Ocelots held the Bears to only 23 points in the second half, dominating on offensive and defensive rebounds. One player who sets the tone on defense was freshman DeYuan Heard. Heard finished the game with five points, five rebounds and three blocks offensively and his defense was key in the win.
"I love defense more than offense. You can make a bigger impact on the defensive end when it matters most," said Heard.
The Ocelots also handled the ball well with only 7 turnovers while causing the Bears to turn over 22 times. The Ocelots shot well from the three-point line, which was key late in the second half to closeout the game. In the second half, Schoolcraft played better on both ends of the court, which contributed, to the win.
The Ocelots needed to defend better in the second half to win the game and move up in the MCCAA rankings.
"The energy was much better on the defensive end in the second half and we controlled the tempo. The team did a nice job responded to second half adjustments," said Assistant Coach McKendry.
The Ocelots next home game will be Jan. 25 vs St. Clair Community College. For more information regarding team schedules, rosters and scores go to www.mccaa.org.