Women United Will Never Be Divided
College community participates in Women's March on Washington
By Elizabeth Casella, Managing Editor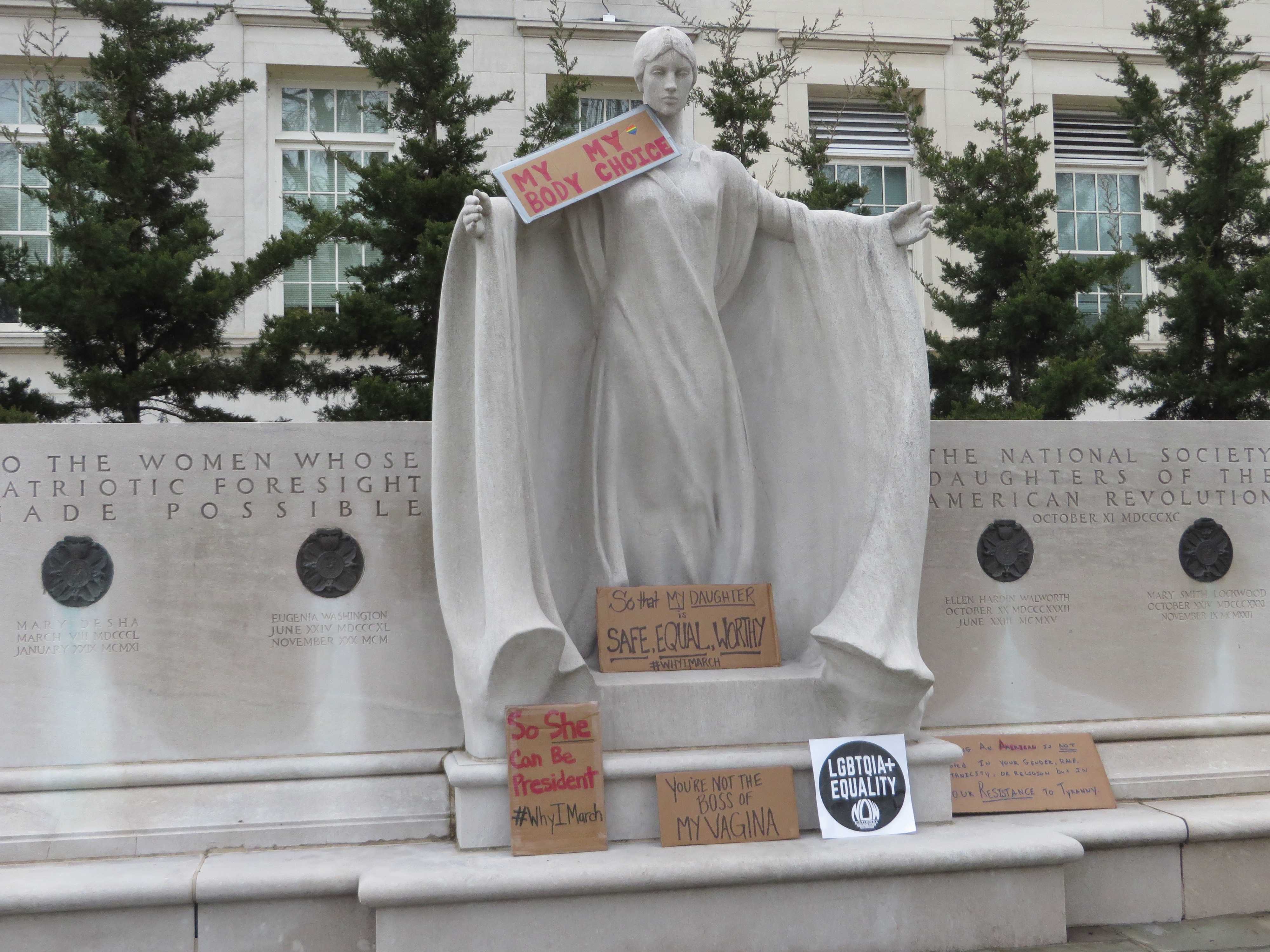 The Schoolcraft College community filled with students, staff, faculty and community members were able to take a charter bus of 53 individuals to Washington DC on Jan. 21, 2017 to be apart of this historical march on the nations Capitol. Participant ages included those as young as 13 to some in their golden years. There were men and women alike. Everyone on the bus was there for a different reason. One lesbian couple was traveling to Washington to fight for the rights of the LGBTQI community and to protect the fact that they could be married. Participants were buzzing with anticipation before the bus even left campus.
"I went to the march to fight for women's rights and mainly a women's right to choose what happens to her body. It is her body and no one else's business what she does with it, but she needs to have access to health care to protect it. Being from a difficult culture where things are so vastly different for women and their rights I feel strongly about this because I am so happy to be apart of a country that gives me that opportunity," said Psychology student Manpreet Kaur.
Entering the city
One small voice starts the call and shortly it is received with more noise than that individual could have thought. The chant of exhilarated calling into the sky, with no words or rhythm, just yelling, catches like wild fire through the streets of the city with those marching and by standers a like. Then within seconds the echo bustles through the buildings to create an undeniable roar that seems never-ending. As soon as one chant or call ends the next group starts again. Each chant is unique in its own right. All being said for the same goal overall, to be heard loud and proud by anyone willing to listen. This continued for hours on end at the Women's March on Washington. It echoed in every state across the country and cities across the world.
This was the call of the for equality that became much bigger than ever expected and was no longer just women, it was men, women and children of all ages, religion, race and gender. It was truly a representation of every group and individual within the nation in some form. This was a march for equality, mainly for women issues, but rights for other disrespected groups as well.
Size of the march
The streets were flooded with people from all sides. Nowhere could one look that they did not see at least one person from the march or in support of the cause. The nations Capitol, was over taken by the largest march it U.S. history. It was estimated around a half a million people participated but on the ground it seemed like everyone that is in opposition to Donald Trump had joined in. It was a historical, life changing and an amazing experience that even description of words does not fully convey properly. In the end the total number of people that showed up was around 1.2 million.
"I am marching for all of the women who can't be here today and need someone to help be their voice," said student Angela Brown. "It was an incredibly humbling experience and just amazing to see how many people actually came to join together."
Peaceful protests
Participants marched from the capital building all the way to the heart of the city and passed by the White House. Had President Trump listened out a window toward the city, the protest would have been heard loud and clear even without it being in sight. Pure exhilaration could be felt from the site that had transpired over the city. It was a marvelous feeling to be apart of and participate in many said. The sea of pink pussycat hats left a mark across the country that cannot be forgotten. Even with ramped up police presence, not a single arrest occurred. Not just in D.C., but across the world as well. It was a protest that mimicked that of the original suffragettes standing up for a woman's right to vote and even then for equal pay rights. Signs that read, "I can't believe I still have to fight this" were incredibly common, along with "My body, my choice." No matter the sign or the chant it was a historical moment that will certainly leave its mark in history because the women have had their day and more are sure to follow.
An unnamed woman bystander recited a poem to passerby's that reflected the energy felt by many and a lovely description of the experience overall.
It stated, "Here we stand on this day, united hand and hand. Here we shall stay until the fight ends. If the battle is not won, we will not return home and let it be done. We will regroup and prepare, for another day will come and that will be the fight for us. Lose the battle, but win the war. Women will fight now harder than ever before. Here we stand, hand in hand. Women and men united as one, fighting for our rights and undoing any damage that may be done. Bring it on, because this fight for freedom will be won."
Participants on the bus headed back to Livonia all rang loud and clear with their excitement from the days events. Everyone had a different experience to share, as the group was able to separate upon arrival. Many said it was life changing and something they would never forget. They were extremely grateful the college offered them this opportunity because most of the busload would not be able to attend without it. The bus left Schoolcraft with a 53 participants that did not know exactly what the trip would hold and came back with everyone grateful and excited for the amazing experiences they gained.