A fresh face
Schoolcraft Board of Trustees welcomes newly elected member
By Quinn Storm, News Editor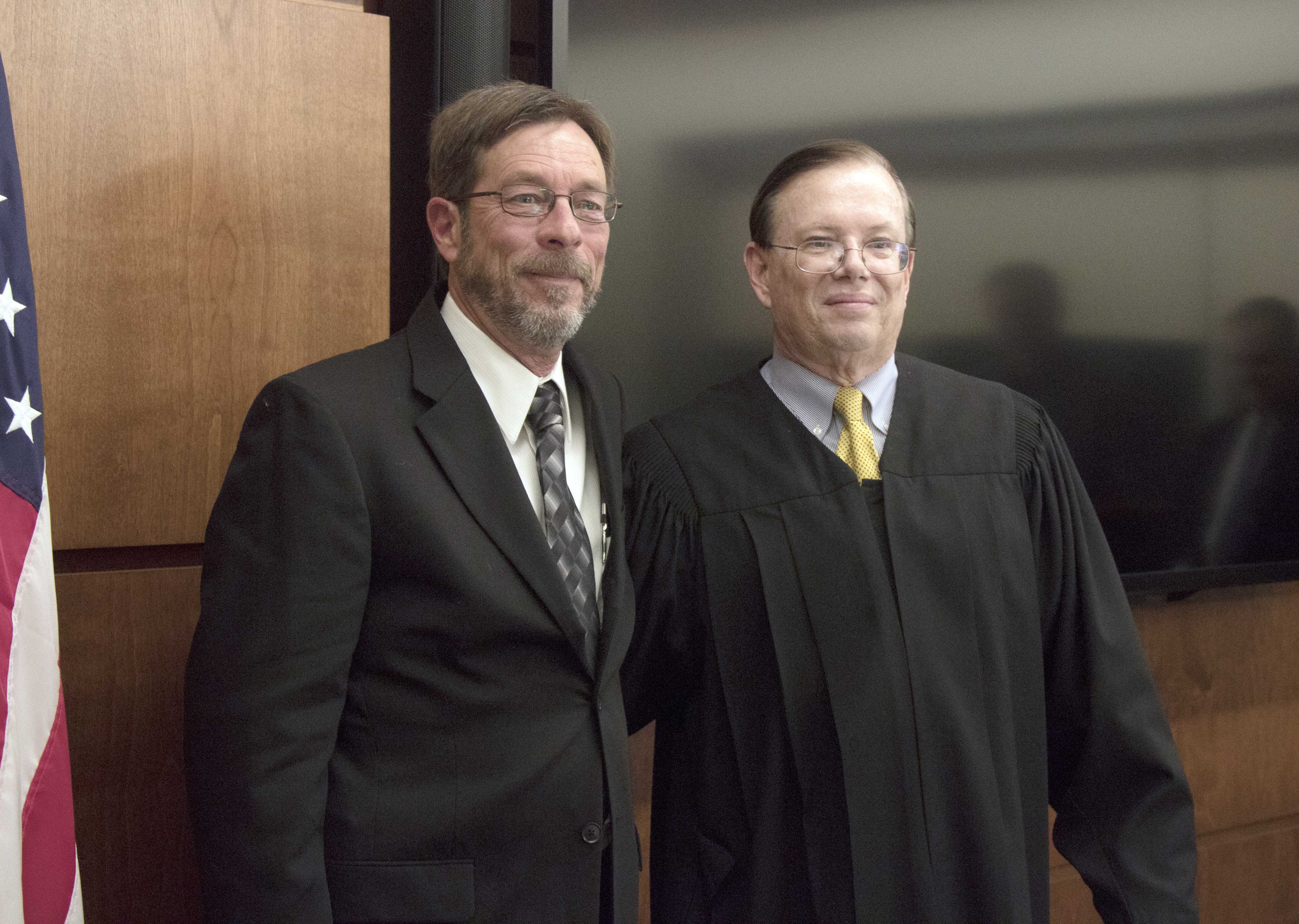 The Schoolcraft Board of Trustees serves as a body of people who create policies for Schoolcraft College and is made up of seven members, all elected by voters of the Schoolcraft Community College District. Each member serves a term of six years. On the evening of Jan. 25, 2017, William "Bill" Erwin was sworn into the Schoolcraft Board of Trustees, officially beginning the first year of his six-year long appointment. Erwin was sworn in by the honorable judge Mark Slavens of the third circuit court in Wayne County. With family and fellow board members surrounding him, Erwin took the oath to serve Schoolcraft to the best of his abilities.
Bill Erwin is a widower; he has three sons and four grandchildren currently. He currently lives in Canton with his significant other, as well as her two children. Erwin has a history at Schoolcraft college; he received his Bachelor of Art degree in Education with a concentration in music from Wayne State University, but he also attended Schoolcraft college. Erwin is also a professional bass player. Activities he is involved with in the community include coaching for the Canton recreation soccer team, Equipment Crew Chief of Plymouth-Canton Educational Park Marching Band and being a member of the Plymouth Symphony. He was also a member of St. John's Episcopal Church as the Contemporary Music Director for ten years.
In addition, he, his late wife and three of his sons attended Schoolcraft so they have a great history at this school. In the past, as well as his 35 years as a truck driver, he worked as a substitute teacher in the Schoolcraft college district. Later this year, Erwin plans to retire from his job as a truck driver so, because of this, he will have more time to give to his community.
His commitment to the community in which he lives, exemplified by the activities he does in the Plymouth-Canton area as well as the previous years of substitute teaching experience, is sure to shine through as he pushes to continue to better the Schoolcraft community from within the board. Although his career as a truck driver may not have given him a hugely academic background, Erwin is confident in his abilities to make good decisions for Schoolcraft, and his fellow board members seem to agree.
"It brings a new perspective, a different one than we've had for the past couple of years, so Bill, or anyone who could be in the roll, will bring in their own personal experiences, life experiences and fresh ideas and thoughts that we may not have heard before. That's the biggest advantage we get from new board members," said Brian Broderick, Board of Trustees Chair member.
In the 2016 election, Erwin beat out past school board trustee James Fausone, whose priority issues included subjects such as student completion rate, student retention and student debt. One of Erwin's main selling points for his election was his belief that more trade skills could be brought in as programs to the college, as well as providing a good amount of pay for part-time instructors. As far as the policies that Schoolcraft already had, Erwin believes the consistency that the board has is great, but at some point that made it difficult for him to argue his election.
"Basically, when I ran for election that was my basic problem. I could not find anything distinctly wrong with the way this college was run. It's a well-run, great college. From here, the normal challenges are there; how to keep tuition in line, the state cutting funding, how to keep the high level of instruction and how to take care of teachers and adjunct faculty," said Erwin.
Although most of the board remained the same, Erwin's fresh ideas and inputs are likely to make the board of trustees a more diverse, well rounded place for ideas to flow freely. Erwin's background as a truck driver makes him unique, and will allow him to offer different thoughts, perspectives and opinions that perhaps other board members hadn't thought of before.
"Every trustee brings their own interests and their own expertise to the table so that's something new and with Erwin, I'm not sure what kinds of ideas he has but he may bring some that the college may find interesting and would, therefore, bring value to what we do," said Schoolcraft President Conway Jeffress,
Those interested in attending Schoolcraft Board of Trustees meetings are welcome to attend. Board meetings occur on the last Wednesday of every month at 7 p.m. in the Jeffress Center room JC228. The next meeting takes place on Feb. 22.