All eyes on her
Lady Gaga wows Super Bowl LI
By Angela Brooks, 
English 107 Correspondent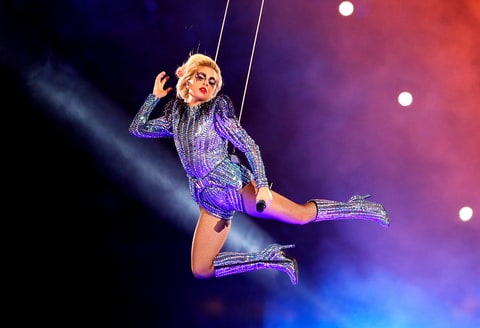 Many people feared that Lady Gaga would get too political during her halftime performance at the Super Bowl in Houston, Sunday, Feb. 5. A known activist for LGBTQ rights, women's rights and equality, Gaga delivered a performance that was perfectly on the border of almost going too far and doing exactly what needed to be done.
Gaga opened the night with her rendition of 'God Bless America,' and then directly followed that with "This Land is Your Land" that is famously known for Woody Guthrie's response in annoyance to "God Bless America." Although Gaga didn't sing this line from the song, the original version includes the line, "There was a big high wall there that tried to stop me. The sign was painted, said 'Private Property.' But on the backside, it didn't say nothing. This land was made for you and me." On Gaga's part this song choice was definitely a nudge at the recent travel ban and our new President, whom Gaga openly opposes.
Meanwhile, Twitter was in a frenzy over Gaga's performance. There was an upward of 7 million tweets over the duration of her 13 minutes onstage. Her set list for the night included her hit "Born This Way," which bolds the lyrics "No matter gay, straight or bi, Lesbian, transgendered life, I'm on the right track baby, I was born to survive. No matter black, white or beige, chola or orient made, I'm on the right track baby, I was born to be brave." This song comes at great timing in light of recent events such as the Women's March on Washington and the protests in airports across the nation. With our nation on the edge of being ripped apart by our political views, the color of our skin, our sexuality, our religion; this song reminds us that we all deserve the right to be different while also being treated equally.
Overall, the message Lady Gaga pushes is universal love and acceptance. Her halftime performance this year showed just that, at a time when America needs it the most. She was a tremendous choice as the artist who is lucky enough to perform at such an event. During a press conference before the game, Gaga was asked if she would be making any statements during her show, to that she replied, "The only statements that I'll be making during the halftime show are the ones that I've been consistently making throughout my career, I believe in a passion for inclusion. I believe in the spirit of equality, and that the spirit of this country is one of love and compassion and kindness. My performance will uphold those philosophies." To an audience who is so desperate for some humanity lately, Gaga did just what she said she would. She gave them a reason to keep their spirits high in a time of hatred and fear ruling the country.