Brilliantly Bonkers
Brian K. Vaughan's "Saga" comic book series is a must read
By Elizabeth Casella, Managing Editor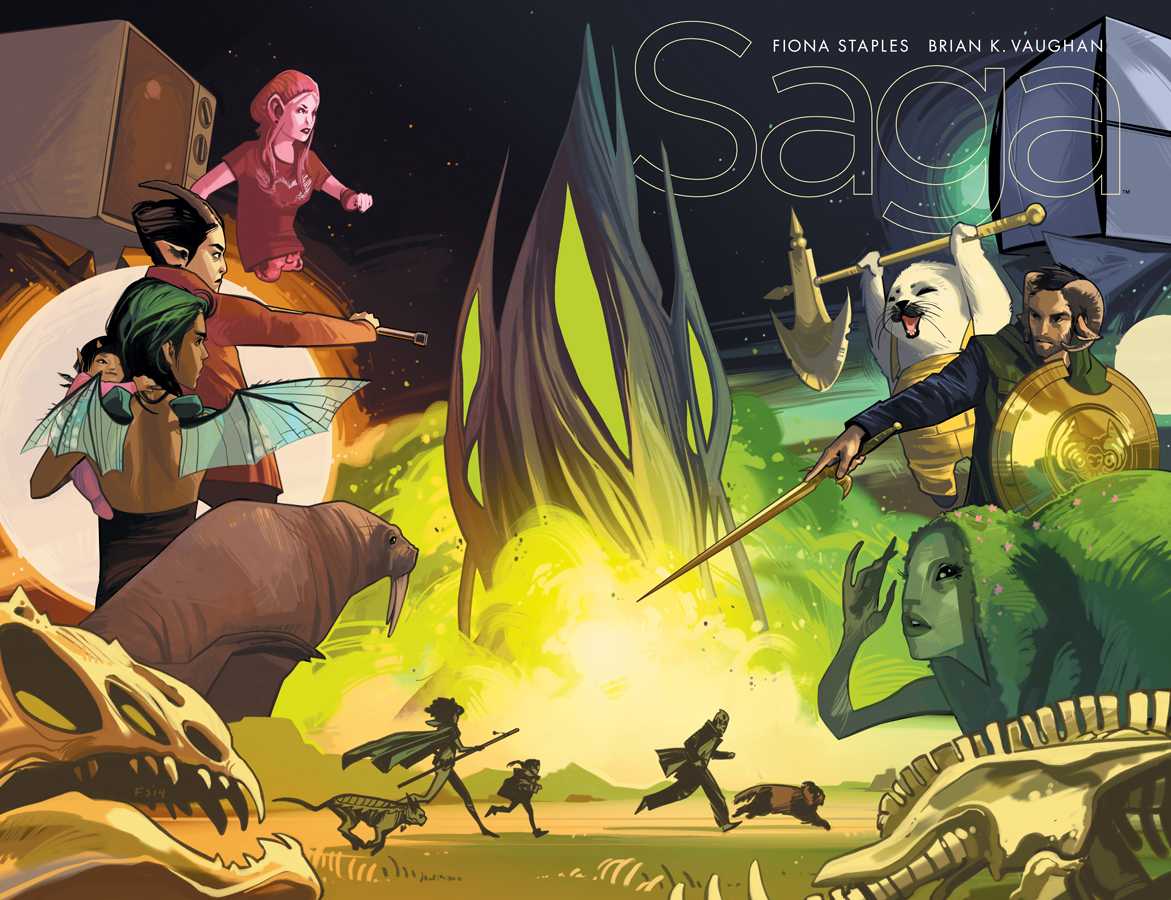 "Saga" is a story that could be described as a mashup of "Stars Wars" meets "Game of Thrones." It is one of the strangest, twisted and perverse comic books on the market today but it does it in a brilliant fashion that readers just can't put down.
Among all of the crazy stories and gore though there is one of the sweetest and romantic love stories found in a comic series. It truly offers a story that embraces parts that any avid comic book or non-comic book lover can appreciate. It also is said to be a great start for those not familiar with the comic book world.
The premise of the story on the surface is pretty simple. "Saga," written by Brian K. Vaughan and illustrated by Fiona Staples is an epic space opera/fantasy. It depicts husband and wife, Alana and Marko, from long warring extraterrestrial races, fleeing authorities from both sides of a galactic war as they struggle to care for their daughter, Hazel. Hazel is born at the beginning of the series and also occasionally is seen as the narrator of the series from an unseen adult. These new parents simply want to adore their daughter and show her the world while being left alone. To their dismay though they are out to be destroyed for fear that their relationship will show that peace is possible.
Vaughan got the idea for the comic from ideas he conceived as a child and as a parent, but the series is also heavily influenced by "Star Wars." This first creator- owned work to be published through Image Comics represents the first time he employs narration in his comic writing.
The first issue of "Saga" was printed in March 2012. It became an instant success and has consistently kept successful sales. The comic also has won numerous awards including several Eisner and Harvey Awards in 2013, 2014 and 2015. The first trade paperback collection won the 2013 Hugo Award for best graphic story. The story has most notably been acknowledged for its diverse portrayal of ethnicity, sexuality and gender social roles and for its treatment of war.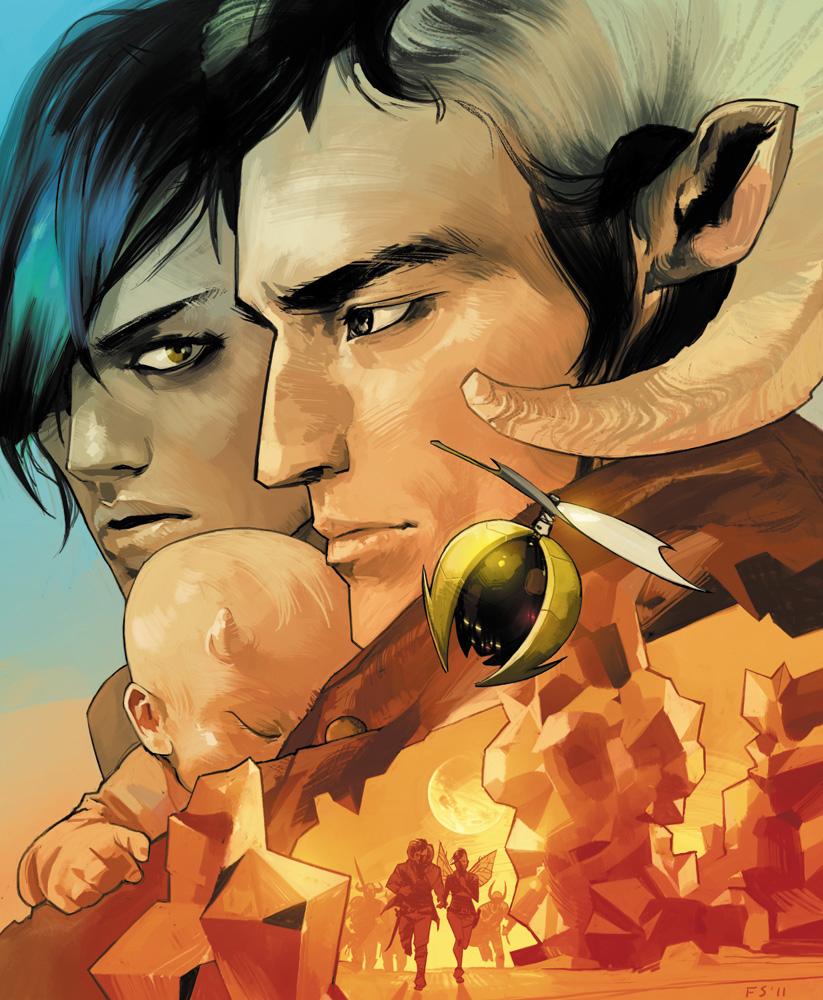 The base story of this comic may be simple, but everything in between the romance and family is not simple at all. Plenty of insane characters show up throughout the series from a babysitter that is the ghost of a dismembered teenage girl, to a guy named The Will who seems pretty normal and human, aside from the fact that his sidekick is a giant blue cat named Lying Cat. This cat knows when someone is lying and will even say so. This story also includes an entire race of TV headed robots, the main character from this race being Prince Robot IV, among many weird, but graphically visual creatures found in the universe.
The comic is rated for 17+, which is appropriate. It is both sexually and violently explicit in unusual ways and even though it is illustrated still shows mature images. Even with all of the weird and crazy characters, plot points and battles that are introduced in the story it truly is written beautifully. It spreads the messages of hope, relationships, family and survival. The weirder the story gets, the more normal things really seem to be.
Each character has motives, emotions and needs just like any real person. They even each have their own little quirks or issues to humanize them more. Alana struggles with drug addiction from her job as an actress on interstellar TV where she feels she can't get through the day without a hit. Marko faces being a stay at home dad that deals with feelings for another due to his lack of connection with his wife. Prince Robot IV faces PTSD from the interstellar war he has served in. His wife is pregnant and he just wants to complete his mission in time to return home for the birth of his child. The Will also faces freeing a young slave girl and then becoming her caretaker while suffering from feeling of unrequited love for another freelance killer who is now dead.
No matter the crazy unthinkable situation or space battle being fought the story humanizes the characters to make them relatable to the real world. It is not only a lovely romance story with action and adventure, but also a catalyst for political and personal liberation. This brilliantly bonkers creation is a must read because once the cover is opened and the story begins, it truly is hard to set down.