Three-peat
Men's Basketball wins third consecutive MCCAA title
By Cameron Gwinn, Staff Writer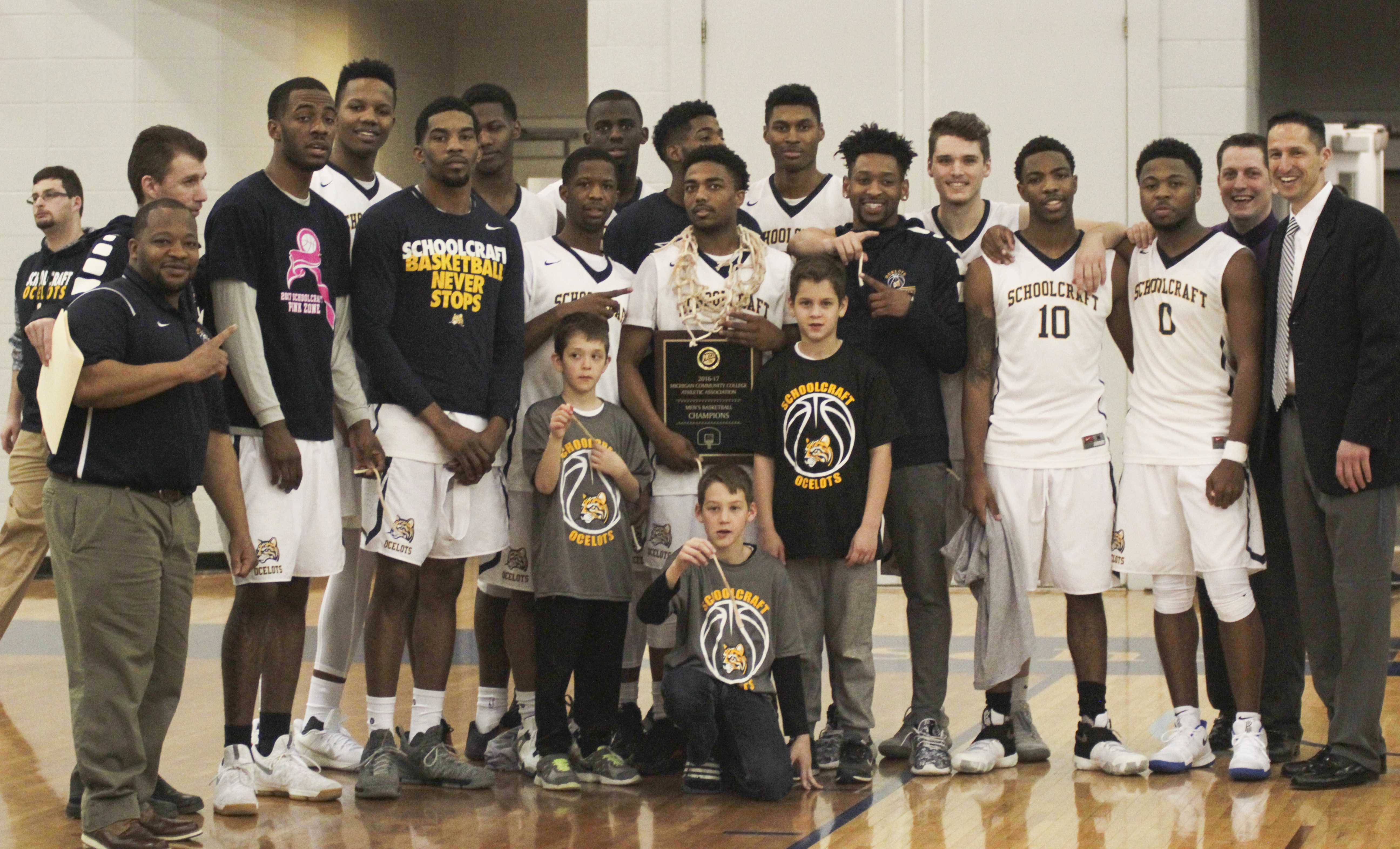 For the third consecutive year, the Ocelots finished the regular season at the top of the standings. With an overall record of 22-5 and a Michigan Community College Athletic Association (MCCAA) Eastern Conference record of 14-2, it's no surprise that the Ocelots claimed the MCCAA title with a triumphant, 89-74, win over Western Conference Muskegon Community College (22-5 overall, 16-2 in the MCCAA Western Conference) on Saturday, March 4, 2017.
"We knew Muskegon was a scrappy team," said Schoolcraft freshman guard Walt Kelser. "We just wanted to match their intensity."
For the first half of play the game went back and forth. No team lead by more than 7 and both teams seemed to have an answer for what the opposing side was showing.
Muskegon sophomore forward Kyle Ervin Jr. found his shot early scoring 20 points in the first half alone.
The Jayhawks took the lead late in the first half and held it till the end of the first with a score of 45-40. Schoolcraft needed to make a couple of changes to shut down Ervin Jr. and freshman guard Sergio Diaz who scored 12 of his 19 in the first half.
Schoolcraft repeatedly has come out of halftime strong on the offensive side, but this game took a couple freshman guards, Richard Talley and Walt Kelser, to get the offense firing.
Kelser lit up the scoreboard in the second half. He scored 17 of his 23 points in the second half of play. His three point shot was on point and he was unstoppable in the paint. The Jayhawks couldn't get the ball away from Kelser, not having a single turnover.
Despite only scoring 4 points, Talley's vision on the court and awareness of where his teammates were at any given moment helped the offense. On the defensive side, Talley was able to shut down the Jayhawks' guards, making their day miserable and had 3 steals.
"It's nice having the chemistry that we do," said Talley. "It makes things easy."
The Ocelots showed their chemistry with 21 assists on the game and had four players in double digits for scoring.
Sophomore forward Kevin Hayes scored 11, which majority he contributed in the first half. Another sophomore forward Tariq "Big Play" Jones had a double double scoring 13 points and grabbing 10 rebounds. Freshman guard Delo Hansbro scored 16 points with 8 rebounds. Kelser scored a team high 23 points.
The Ocelots were able to finish off the Jayhawks with a final score of 89-74. Schoolcraft found their game in the second half on both sides of the floor. Muskegon's Ervin Jr. was held to only 6 points in the second half while Diaz was held to 7 points, clipping the Jayhawks chances of championship.
"Each championship is special," said Head Coach Abe Mashhour after winning his third MCCAA Championship. "I'm just happy we got this one."



Schoolcraft is looking forward to National Junior College Athletic Association (NJCAA) District 10 Men's Basketball Tournament after receiving a first round bye.
Schoolcraft will play Thursday, March 9, 2017, at St. Clair County Community College at 3 p.m. The Ocelots will play the winner of the Oakland Community College and Wayne County Community College, which plays Tuesday, March 7, 2017.
If the Ocelots win on March 9, they will advance to the Championship game on Saturday, March 11, 2017 at 1 p.m. Winner of this game will advance to NJCAA Division II National Tournament in Danville, IL.
For more information on team schedules, stats and rosters go to www.mccaa.org.