Yu-Gi-Go
A look into the world's best-selling collectible card game
By Ken Narita, Arts & Entertainment Editor
Most have seen or at least heard of Yu-Gi-Oh. It is both the name of the card game and it's television counterpart. The trading card game is played with 40 to 60 cards in each main deck. Players take turns placing cards into "the field." Monster, spell and trap cards are used to lower the opponent's' life points. Both players start off with eight thousand health points. There are a few different ways to win a match. The most common is to cause the opponent to reach zero life points.
"When I saw people on campus play Yu-Gi-Oh, it surprised me. Then I slowly got more and more into it. Most people think it's a nerdy game," said student Greg Alder, on the misconceptions surrounding the game. "I've met a lot of good people playing Yu-Gi-Oh and made a lot of good friends."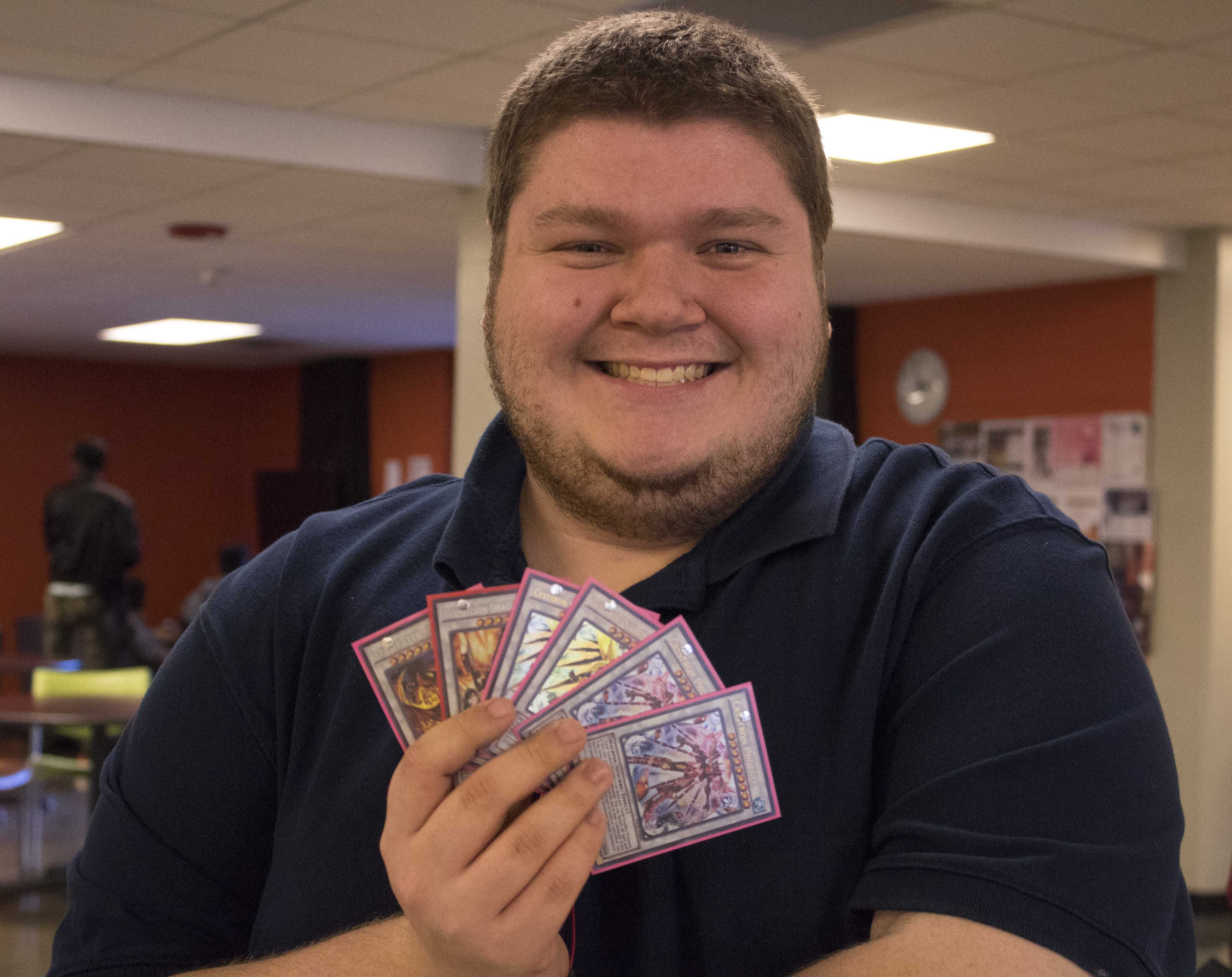 Yu-Gi-Oh was developed in Japan by Konami and released in 1998. By 2009 the game held the Guinness World Records of the best-selling trading card game. In 2011 there was more than 25 billion cards sold worldwide according to Guinness World Records. To this day, Konami continues to release new decks of cards.
The success of Yu-Gi-Oh cards can be credited largely to its community. "The crowd (at Schoolcraft), everyone was so fun loving," said student Trevor Corn, when asked about what drew him into the game. "The creativity on what you can do is endless. There are so many archetypes. Everyone can have their own personality." When asked about makes a good Yu-Gi-Oh player he said, "It's about knowing what's good. It's about understanding what other people think is good is good and adapting around that."
There are thousands of unique cards that are available. This allows gameplay to be very diverse. Like every trading card game Yu-Gi-Oh has the potential to be a very expensive hobby. According to germ.com, a website dedicated to collectible items, the most expensive Yu-Gi-Oh card in the world is worth around 10 million dollars. This one of a kind card was awarded to the winner of the first Yu-Gi-Oh tournament held. Though starter decks and be bought for $10 many spend much more over time.
The reach Yu-Gi-Oh cards have has grown since it's beginning. The cards were originally sold outside Japan without authorization from Konami by the Upper Deck Company according to an article on the Yu-Gi-Oh website. The immensely popular card game can be found in many stores. Cards can also be purchased at the Schoolcraft bookstore.
Often Yu-Gi-Oh cards are seen with a protective sleeve over them. "It's to protect the cards, and in tournaments it prevents making the back of the cards," said student Garrit Hartwig. "I love my cards. I feel a connection to them."
The growth of Yu-Gi-Oh comes hand-to-hand with the rising level of competitiveness. Tournaments can be found all over the world and range from local events to world championships. Last year's world champion was Shunsuke Hiyama from Kanagawa Japan. Hiyama became the first player to ever win a world championship two years in a row.
The nearly 20-year-old card game is only gaining popularity with its age. Those who are interested in Yu-Gi-Oh may also be interested in joining the Card Club at Schoolcraft. The club meets on Wednesdays from 2 p.m. to 5 p.m. More information can be found by visiting Student Activities Office in the Lower Waterman of the VistaTech Center or by calling (734) 462-4422.