Rolling with the best
Men and women's bowling take fifth and sixth at Nationals
By Cameron Gwinn, Staff Writer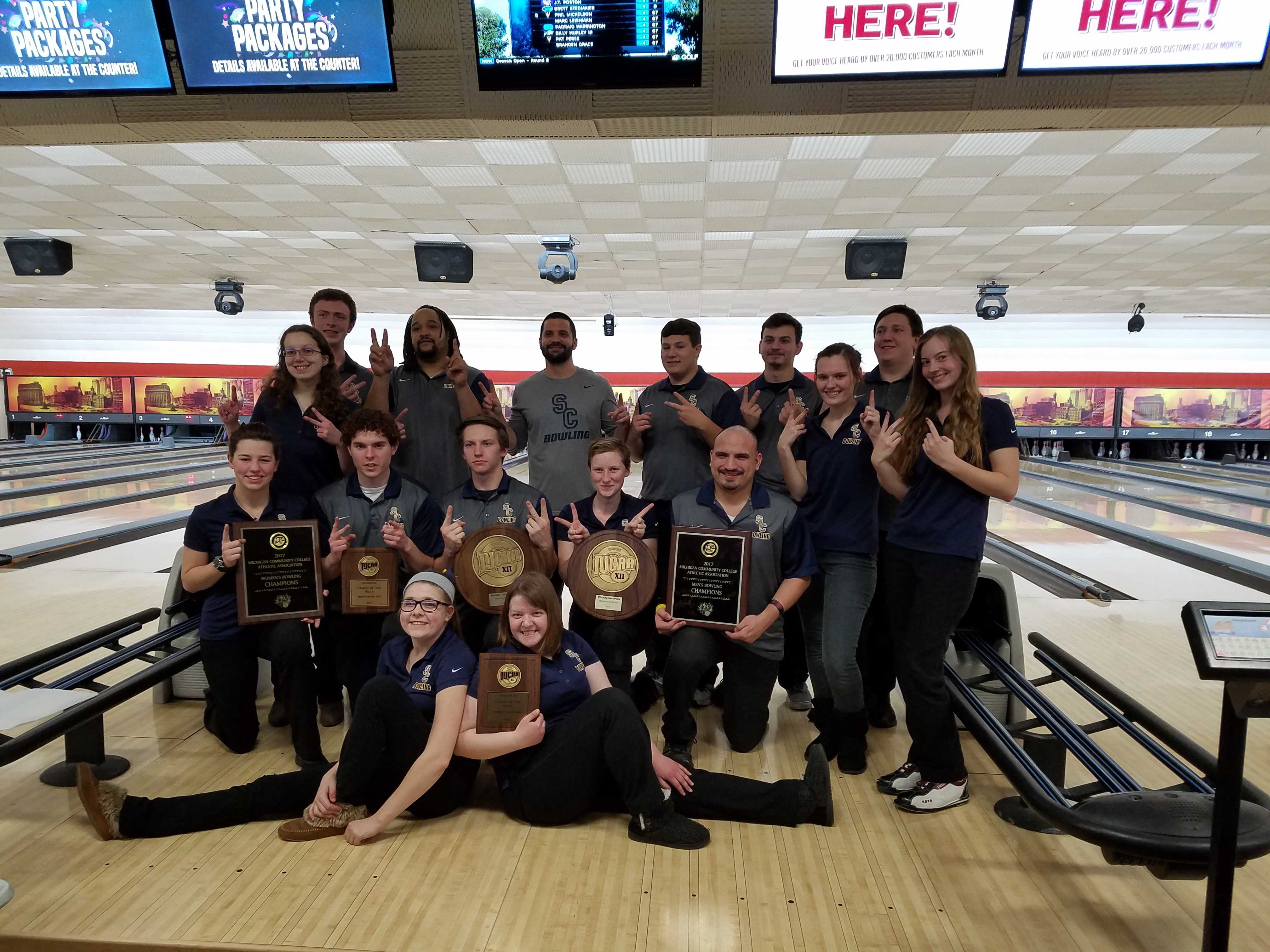 After the successful regular season that the men and women's bowling teams had, it was only fitting that both teams were destined for National Junior College Athletic Association (NJCAA) National Tournament held March 3-4 in Cheektowaga, NY. Both Ocelot teams qualified and took home some additional hardware home as well.
"We're at a point with our program where qualifying and participating in the National Tournament is great," said Head Coach Patrick Yelsik. "We want to compete with anyone and be in a position to win it all."
The men's team was able to come home after finishing sixth overall in the National Tournament, in addition to having a nice season before the big tournament. The Ocelots were able to win six of the seven tournaments they participated in (with the only loss being against Ancilla), and beat 4-year college programs such as Grand Valley State University and Spring Arbor University.
"Nationals was a very enjoyable experience," said freshman Matt Gury. "The oil patterns on the lanes were difficult, but it didn't stop me from having fun."
Gury took home the singles championship at Nationals, rolling a solid 650 and giving the men's bowling team a bright future moving into next season.
The women pose a big threat going forward finishing fifth at the National Tournament and oddly enough, won six of their seven tournaments this season, as well.
"Nationals were very long bowling days, but I liked the challenge," said freshman Kayla Jackson. "The team was cheering everyone on and we were all there for each other."
Jackson also finished third overall in all events at the National Tournament, knocking down 2,025 in the tournament, as well as being a bright spot for the Ocelots.
"I'm very proud of everyone and the season we had," said Yelsik. "It's always great to see hard work pay off."
Looking forward, both teams are a force to be reckoned with next season. Having two freshmen, Kayla Jackson and Matt Gury, compete at the top level that they did will help next year's freshmen see what the expectations are for them and what this program is striving to become.
Notable mentions, freshmen Cody Farr and Matt Westemeier along with Matt Gury and sophomore Lonnie Lawrence earned a spot on the All-Region team. Those four plus freshman Ryan Gasparovich and sophomore Andrew Gury were selected on the All-Conference team. Farr, Gasparovich and Westemeier were put on the MCCAA All-Freshman team.
Kayla Jackson and freshman teammate Sharon Kovacs and sophomore Ashley Mattia were selected for All-Conference team. Jackson was also selected to be on the All-Region and All-Freshman teams and was named Freshmen of the Year and MCCAA Player of the Year.
For more information on team schedules, stats and rosters go to www.mccaa.org.