No chance
Former Baylor University football coach Art Briles will not coach again
By James Paxson, 
Sports Editor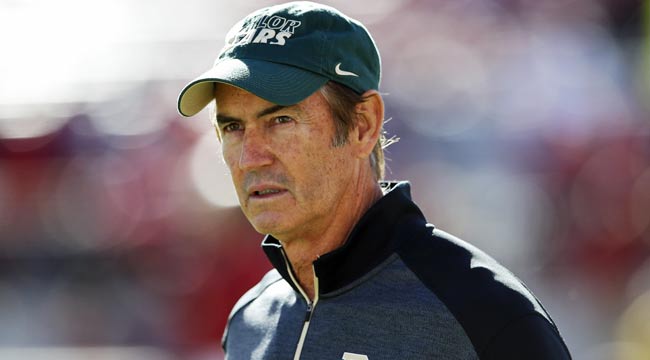 There are some people in sports who are able to get away with murder or close to it. Former Baylor University head football coach Art Briles is no exception to world of runaway felons in sports. Briles was a coach at Baylor until his cover up story of having a football team of drug dealers, rapists, women beaters, and stone cold villains got out of the bag, and he forced to leave the school. He spoke publicly for the first time since his dismissal in May 2016 on March 31, 2017, and he has some ideas for his coaching career that do not involve hiding in his house for the rest of his life.
According to the score.com, Briles believes he can still coach for another decade. He also said, "(The Baylor Scandal) . . . just didn't affect [only] me; it affected numerous office personnel, strength staff, and all the coaches. My main focus, honestly, this year has been to make sure they can continue doing what they love doing and provide for their families. I've been taking a backseat, and I'm hoping that everything works out for them first."
The man who let countless crimes and injust actions go by for more than four years is willing to coach and will do it for a decade to prove he has longevity. In college football where many universities prioritize winning football games and bringing in money, Briles unfortunately got caught, and when he got caught, so did any chance of him being a head football coach in the NCCAA again.
Paul Finebaum said on ESPN, "I think he is finished as a head football coach or as any coach for that matter." I agree completely with Finebaum and many other analysts who think that Briles would be a ridiculous fool if he thinks there is any chance for him to get another job. Regardless of how he does coaching football games, he can never be trusted with a young adult, because he clearly doesn't care if one of his players in the future is a Good Samaritan or a murderer; just as long as he does not get caught and runs for over 100 yards on Saturdays.
Briles should never get a job again when it comes to coaching.
He has proven that he doesn't need another chance, and it would be hard for an Athletic Director to put their faith in him when it comes to their student athletes. Briles should never be a head football coach for a university.  If he thinks he will, life is going to be very rough for him. Baylor has a chance to be remembered as a disgraceful program that had no rules in the whole campus, and he is never going to leave that stench.