Fun in the sun
Beach makeup styles
By Elizabeth Casella & Hanna Olson, Managing Editor and Layout and Design editor
The sun is shining, flowers and trees are beginning to bloom, and summer is finally on its way. This means that it is also time for makeup fashion trends to change. A lighter palette is needed in the new season, along with some new essential utensils. The natural and simple chic style is the perfect light and airy summer aesthetic.
Basic Tips:
Beach makeup is different from regular day-to-day makeup. Less is more. It needs to be more sheer and include SPFs. Powder isn't ideal and more creams should be used. A natural glowy, dewy sun-kissed look is the goal.
First things first: oil free sunscreen. Even with an SPF foundation, you should add extra protection. Wait for it to dry before applying anything else to your face. Foundation needs to be sheer. Cakey foundation will clog your pores. It needs to have SPF protection and moisturizing in the formula. Tinted moisturizer could also be used to replace foundation. Powder can be used to cover your greasy areas to keep your look as matte as possible.
Eyes should be natural shades. Try waterproof eye primer to waterproof your look. Waterproof eyeliner pencils work easier for a natural look that will also work with the beach conditions. Waterproof mascara is a must. Eyebrows should stay natural with just a little pencil liner to emphasis shape. Powders will come off quickly. A tinted brow gel will work also. These should be lightly lined though to keep the natural look consistent.
If you want to add shape to your face, a waterproof bronzer could be used. The shimmer will complement the sun. Liquid blush will last longer than powders. Keep it simple and sheer.
Don't forget about your lips. Use just chap stick to keep it natural, or go for a tinted lip balm. Avoid glossy looks, as this will dry your lips out more. Finish the look off with a setting spray to keep the perfect look all day long.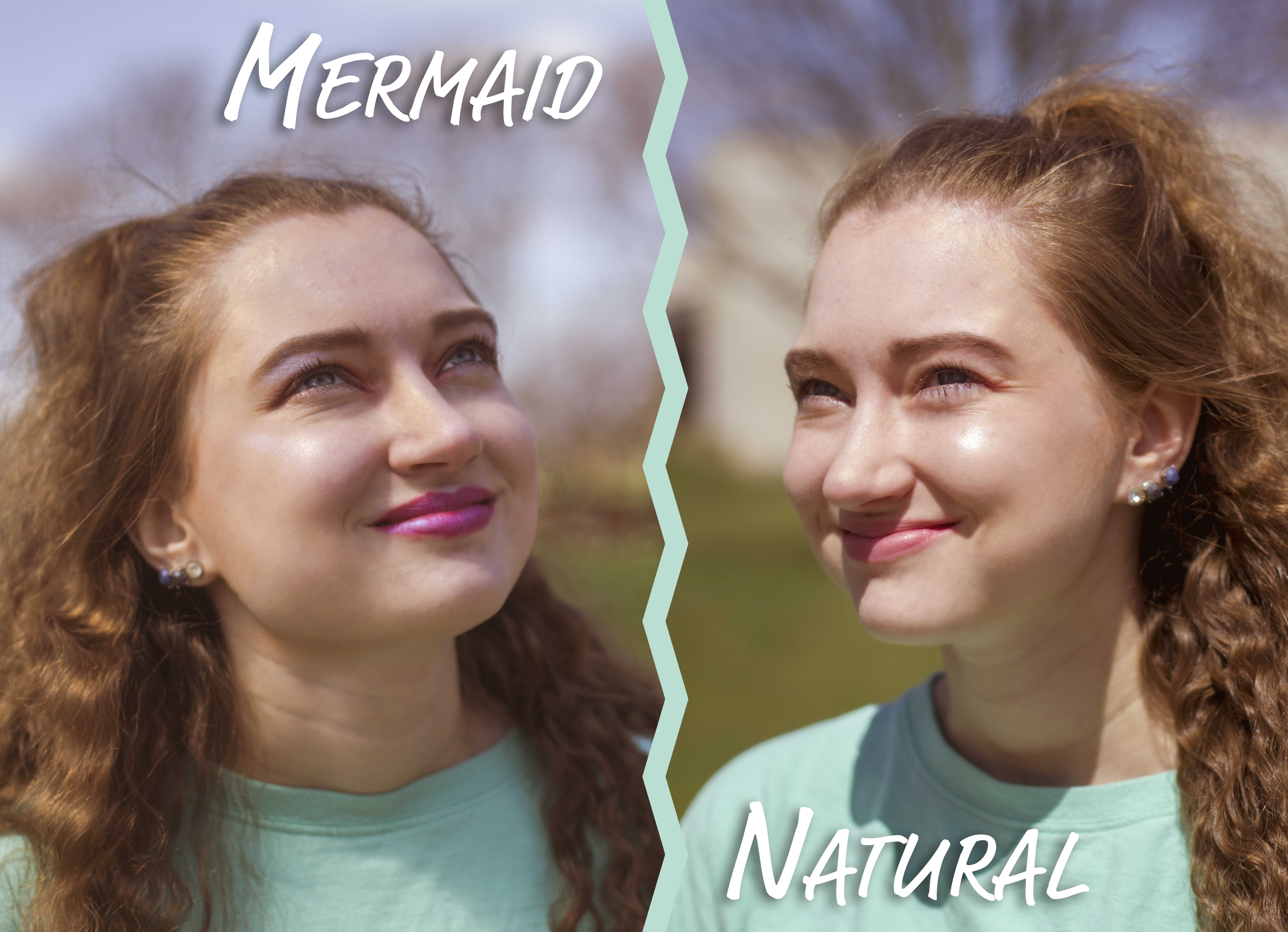 Natural Look:
The natural look is great for day-to-day affairs. Do a nice subtle eye with pink tones or oranges. Add some mascara to finish it off, but nothing on the brow or eyeliner. To dress this look up for the night add a brown liner. Lips can have a nice lip balm or Chap Stick and then use a tinted SPF covered foundation o light powder instead.
Mermaid Look:
This can be a more vibrant look. The same natural concept applies with light foundation and pinks or almost clear eye shadow. Then add a light blush as well. The real stand-out for this look is the lips that can be a bright, vibrant color. A bright pink or orange works well and even though the glossy look is supposed to be avoided at the beach, sealing this off with a sparkle gloss will make it shine. Then adding loose glitter to the highlight areas of the cheeks, eyes and even some to the lips will make one literally sparkle in the light and turn all heads toward them.
No matter if you go completely natural with just some sunscreen to conquer the day or use these fashion trends to have a nice touch that covers the face, but still leaves it light and airy, you will look great. Embrace the sun and the sand this summer with a great look to match.