END OF SUMMER SIZZLERS
Three simple recipes to make back-to-school easier
By Alexandra Lachine Editor-In-Chief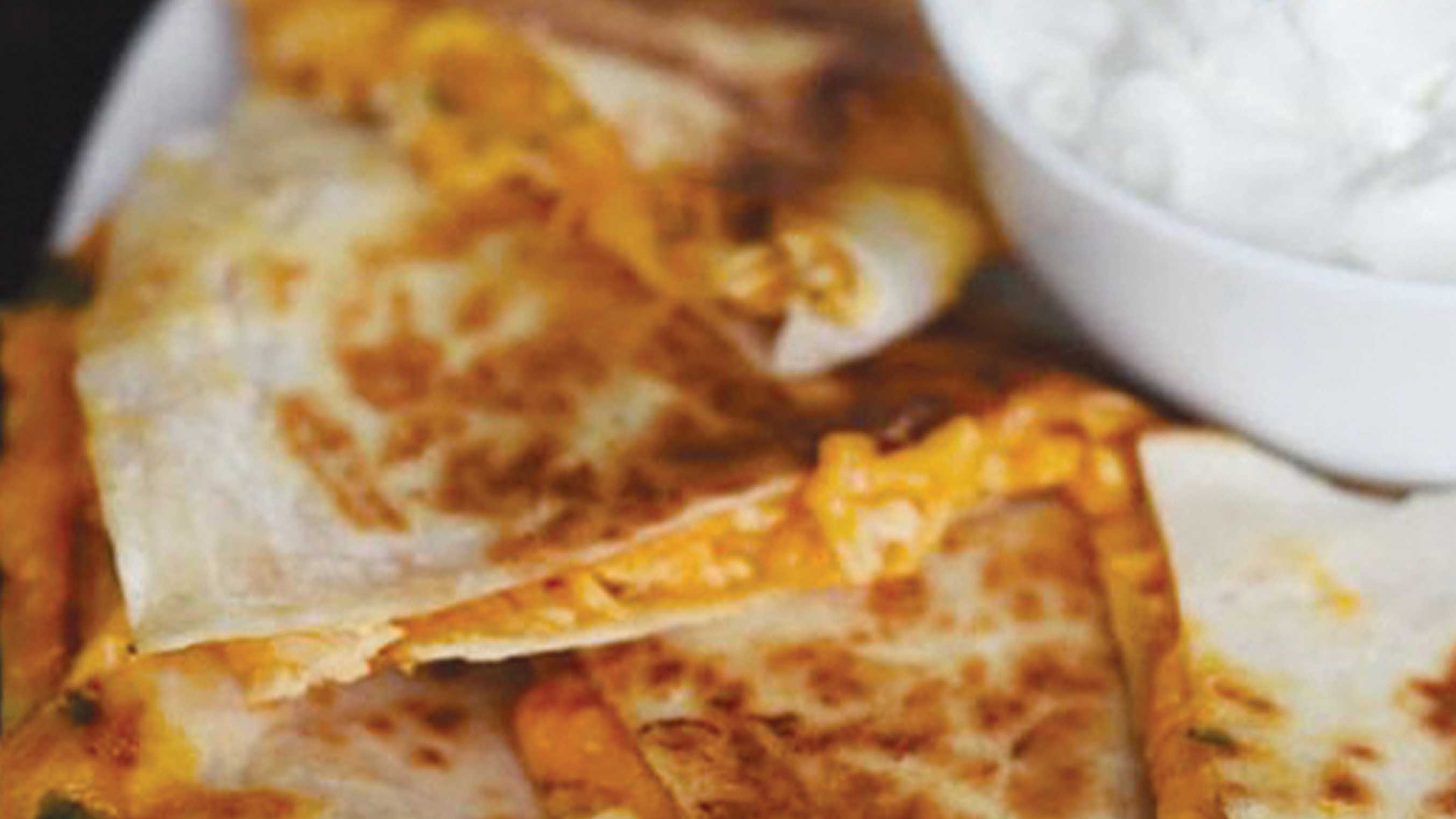 Sriracha Chicken Quesadillas
(from BuzzFeed.com)
Serves 8
Ingredients
2 cups shredded rotisserie chicken
1/3 cup Sriracha
2 tablespoons sour cream, plus more for dipping
2 cups shredded cheddar (use yellow, white or a mix of both)
4 teaspoons canola oil
4 10-inch flour tortillas
¼ cup chopped cilantro leaves
Preparation
1. In a large mixing bowl, combine chicken, Sriracha, sour cream, and cheese.
2. Heat 1 teaspoon canola oil in a large skillet over medium heat, then lay a flour tortilla down in the skillet. Spoon ¼ of the chicken/cheese mixture on just half of the tortilla in the skillet. Sprinkle a tablespoon of chopped cilantro leaves on top, then fold the tortilla in half. Cook until the underside is lightly browned, about 2 minutes. Carefully flip the
quesadilla and cook until both sides are lightly browned and the cheese is melted, about 2 minutes more.
3. Repeat with the remaining 3 tortillas. To serve, cut each quesadilla
into 4 wedges. Serve with sour cream for dipping and garnish with more
cilantro leaves and Sriracha (optional).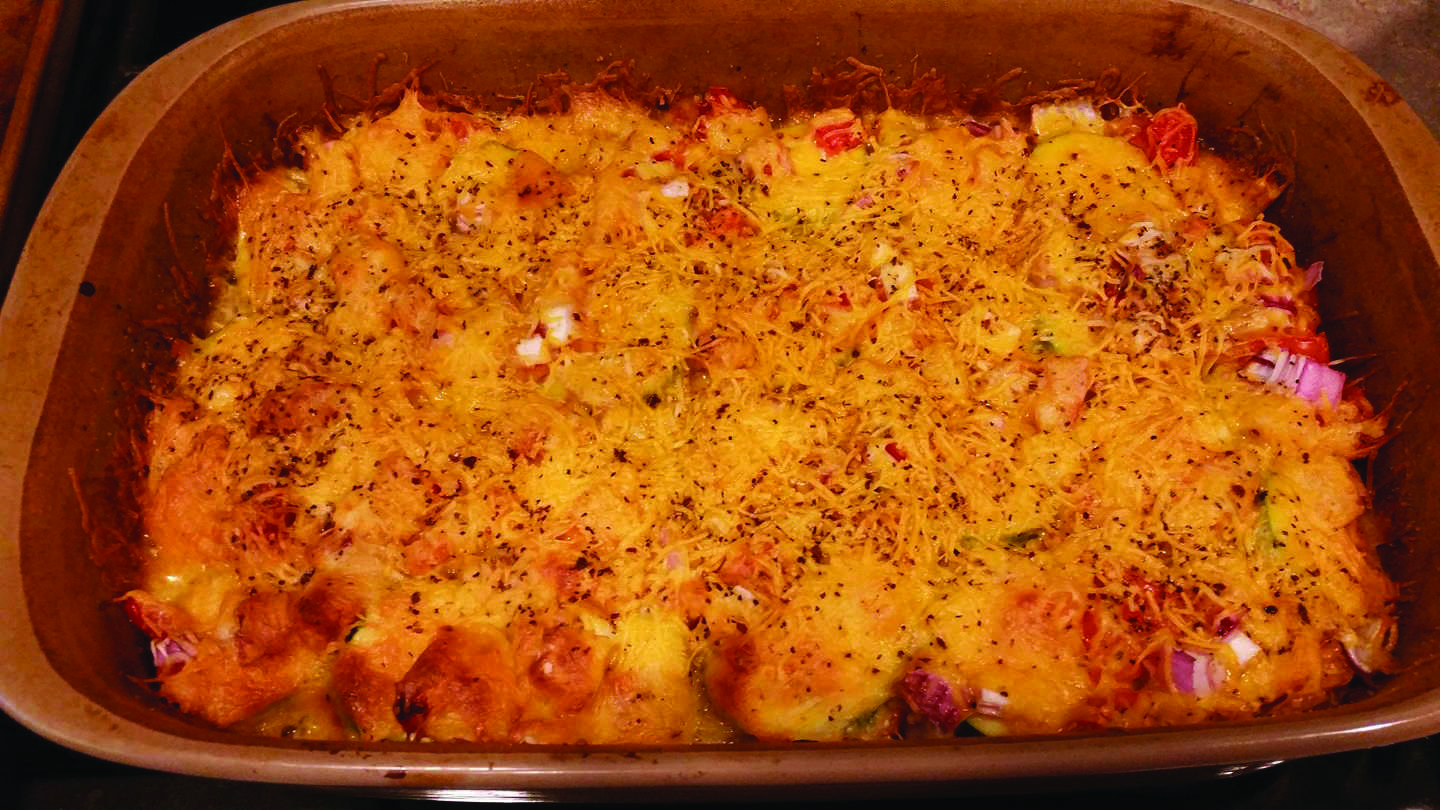 Zucchini Tomato Onion Bake
(From the kitchen of Mary Blaharski)
Serves 8
Ingredients
2 large zucchini, sliced thin
4 medium diced tomatoes
1 medium or large onion, diced
2 cups sharp cheddar
2 cup colby jack cheese
Seasoned Salt and Pepper to taste
Preparation
1 . Divide ingredients in half and layer ingredients in order in a large casserole pan (Zucchini, tomato, onion, half of the cheese; repeat)
2. Sprinkle the top with Seasoned Salt and Pepper to taste.
3 . Bake at 350 degrees for 45-60 minutes. If it starts browning too much, you can cover it for the last few minutes.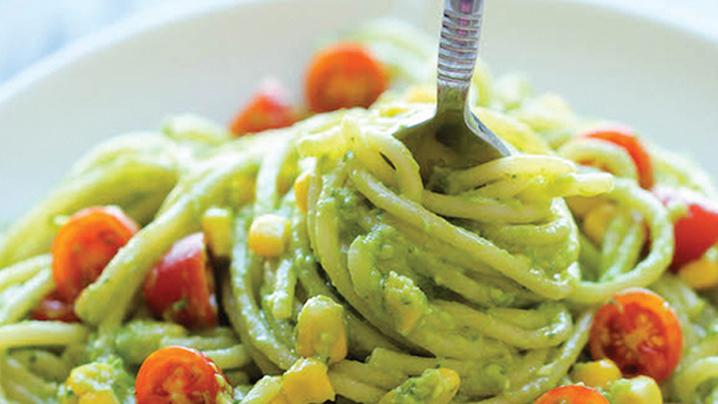 Avocado Pasta
(From Damndelicious.net)
Serves 4
Ingredients
12 ounces spaghetti
2 ripe avocados, halved, seeded, and peeled
1/2 cup fresh basil leaves
2 cloves garlic
2 tablespoons freshly squeezed lemon juice
Kosher salt and freshly ground black pepper, to taste
1/3 cup cherry tomatoes, halved
1/2 cup canned corn kernels, drained and rinsed
Preparation
1. In a large pot of boiling salted water, cook pasta according to package instructions; drain well.
2. To make the avocado sauce, combine avacados, basil, garlic, and lemon juice in the bowl of a food processor; season with salt and pepper to taste. With the motor running, add olive oil in a slow stream until emulsified; set aside.
3. In a large bowl, combine pasta, avocado sauce, cherry tomatoes, and corn.
4. Serve immediately.