Celebrating Navratri
Indian tradition returns to Schoolcraft for 11th year
By Ajay Arora Staff Writer
The Schoolcraft Asian Student Association is proud to host the 11th annual Navratri event on Sept. 24 from 6 to 11 p.m. in the VisTaTech Center. Tickets can be purchased either in advance for $15 by contacting Schoolcraft Student Activities Office at 734-462 4422 or at the door for $20. There is no charge for children under the age of 5.
"Navratri," known as nine nights in Hindi, is the period of festivities dedicated to Durga, the goddess of strength and power. During the 10 days and the nine nights of festivities, nine different forms of the goddess are worshiped with great passion and total devotion. It is widely celebrated in India and by the Indian diaspora around the world as one of the most important festivals of the year. Individuals can celebrate this holiday by fasting, performing different Poojas—the recitation of religious hymns —and through prayer and meditation, all dedicated to the Goddess Durga.
Dance in different forms such as Raas and Garba are also used to worship the goddess. Garba is a fluid and graceful dance form that is often performed in circles with elaborate footwork and clapping. The dance form of Raas is also very powerful, characterized by its use of dandiya—narrow sticks—which are used both aesthetically as ornamentation as well as musically to keep rhythm.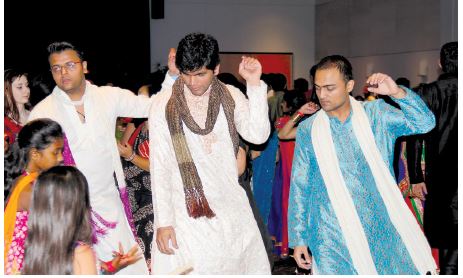 With the United States almost 8,000 miles from India, there are not many opportunities to celebrate India's most cherished holidays in a large setting. When asked why she decided to begin this event 11 years ago, Anna Maheshwari, Faculty Advisor of Asian Student Association, answered, "I wanted to bring Navratri to the Schoolcraft family and to the community at large to showcase the rich Indian traditions and culture of India."
The first Asian Student Association Navratri event on campus took place in 2007 and a decade later, it is still going strong. When describing how this event has progressed over the years, Elizabeth Machniak, the administrative assistant in the Student Activities Office and one of the most key helpers for this event said, "There were 250 people in attendance its first year, which for a first-time event was fantastic. By 2011, attendance had reached 1,000 people. When it started, the campus was unaware of what Navratri was…but what actually takes place is far beyond what we could have imagined. It is a wonderful opportunity for cultural enrichment on campus."
A big part of the Navratri event is being sponsored by Arjun Bajaj, a dual enrolled student and member of the Asian Student Association at Schoolcraft College. He requested a donation to be made by his father instead of a birthday vacation.
Schoolcraft's Navratri will be a great night full of celebrating Indian culture with awards to honor best dancer, best-dressed male and best-dressed female. The ticket price includes a fully catered dinner by Suvai Restaurant in Ann Arbor with a wide variety of food to go along with hours of dancing.
One hundred percent of the proceeds will be donated toward the Schoolcraft Food Pantry to help Schoolcraft students in need.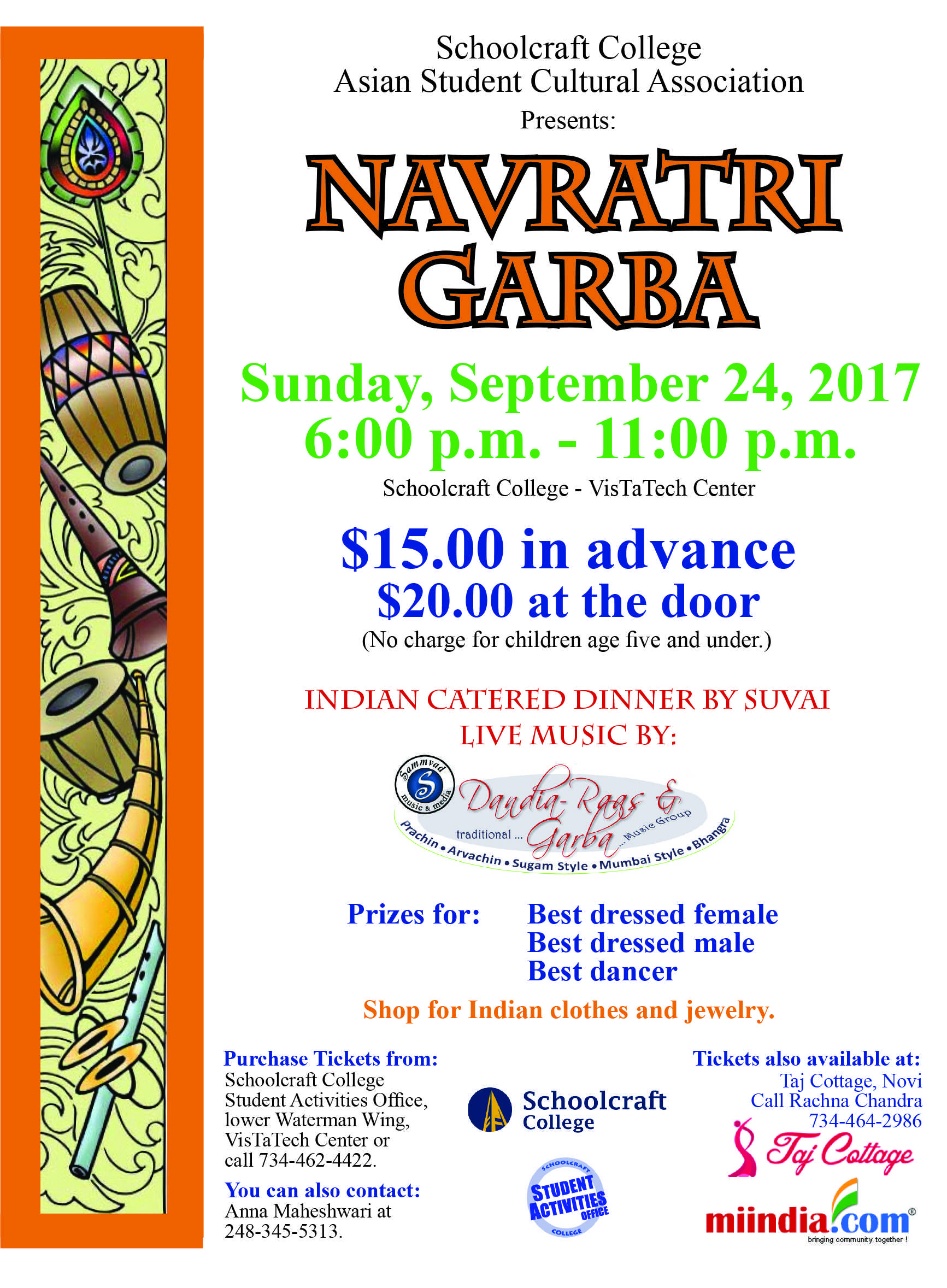 For more information about the event, contact the Student Activities Office at 734-462 4422.