Kicking past the competition
Men's Soccer goes 4-0 to open season, ranked tenth in NJCAA poll
By Nick Misiak Staff Writer
The Schoolcraft Men's Soccer team continued their undefeated run to begin the season with a 4-0 home victory over Cuyahoga Community College Friday, Sept. 8. Sophomore forward Mike Machila booted two first-half goals and added an assist on sophomore August Hunter's late second-half tally to pace the Ocelots in scoring. Freshman midfielder Wagner Gamiero Febbe also added some insurance with a second-half goal of his own. Freshman goalkeeper Juan Gomez had six saves on the back end of the pitch to secure his second consecutive shutout.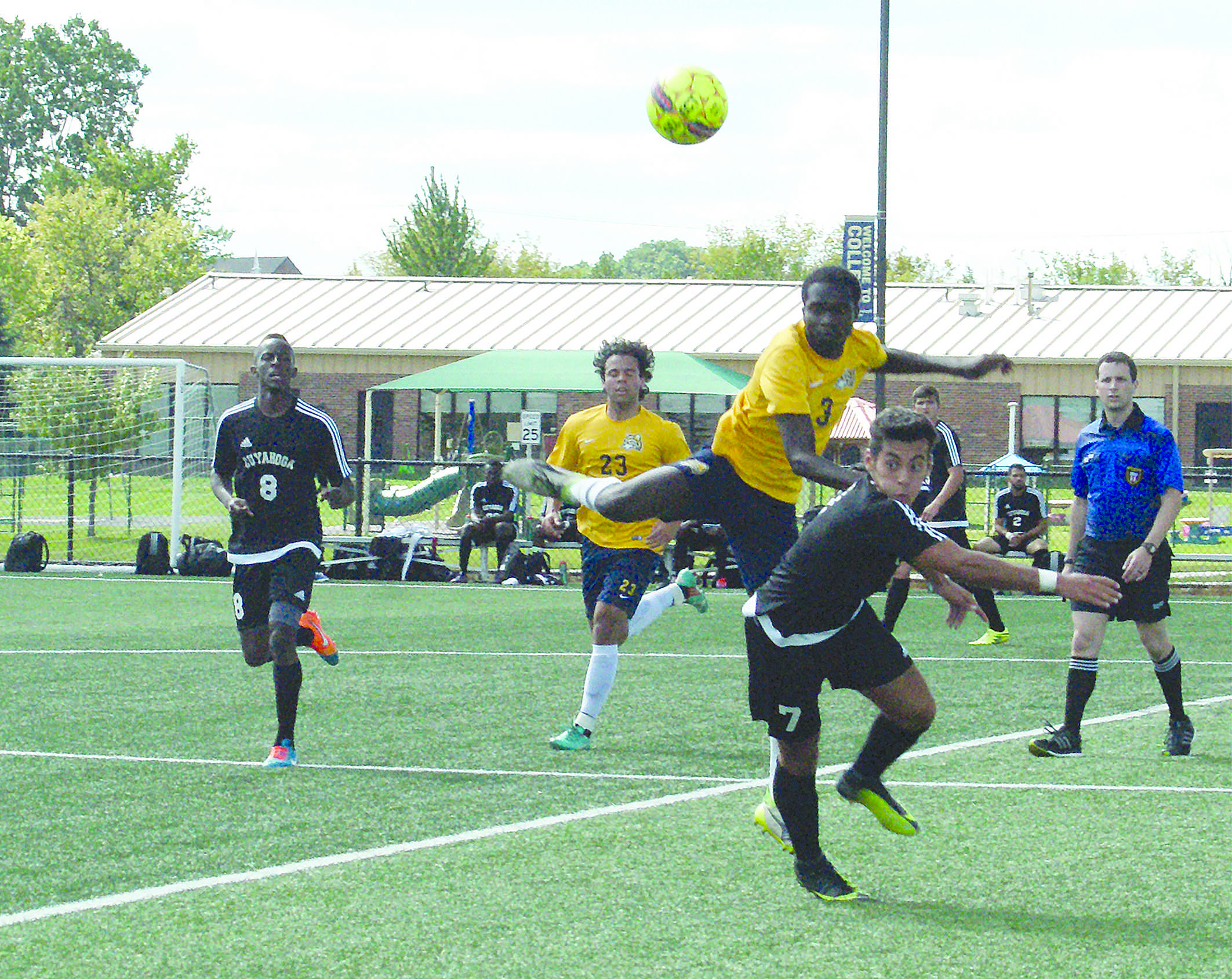 The win improved the Ocelots record to 4-0-0 (1-0-0 MCCAA) while Cuyahoga fell to 1-3-0. Schoolcraft will travel to Lake Michigan Community College on Sept. 20 to take on the Red Hawks before returning home on Sept. 22 to face the Red Hawks once again at 1 p.m. On Sept. 27, the Ocelots will head to Jackson to face off against Jackson CC and then will venture south to Cuyahoga for a rematch with the Challengers on Sept. 29 before wrapping up their September schedule with a 2 p.m. home game against Muskegon CC on Sept. 30.
SCHOOLCRAFT 13, LAKELAND 0
On Sept. 6, the Ocelots hosted Lakeland Community College and, in a game where it was hard not to be on the score sheet completely manhandled the Lakers, on route to a 13-0 victory. Sophomore forward David Tetaj and August Hunter, freshman forwards Yassir Kadhim and Andre Eaton Jr. and freshman midfielder Wagner Gamiero Febbe all recorded two goals a piece while sophomore forwards Mike Machila and Francesco Cusumano, along with freshman midfielder Alex Spratte, contributed goals of their own Machila added four assists on the day as well. Sophomore defender Mikel Ibanez also had two helpers in the rout.
SCHOOLCRAFT 9, JACKSON 0
The Ocelots opened Michigan Community College Athletic Association (MCCAA) conference play with a dominating 9-0 victory over Jackson CC Aug. 30. Machila, Kadhim and Tetaj each scored two goals, while freshman forwards Dylan Borczak and Tavon Barnes scored a goal a piece as well. Sophomore forward Francesco Cusumano also contributed a late second-half goal.
The Ocelots are currently ranked 10th in the National Junior College Athletic Association Men's Soccer Division 1 regular season poll moving up two spots.