Breaking riotous rap
XXXTENTACION's "17" changes artist's course
By Suneet Puri Staff Writer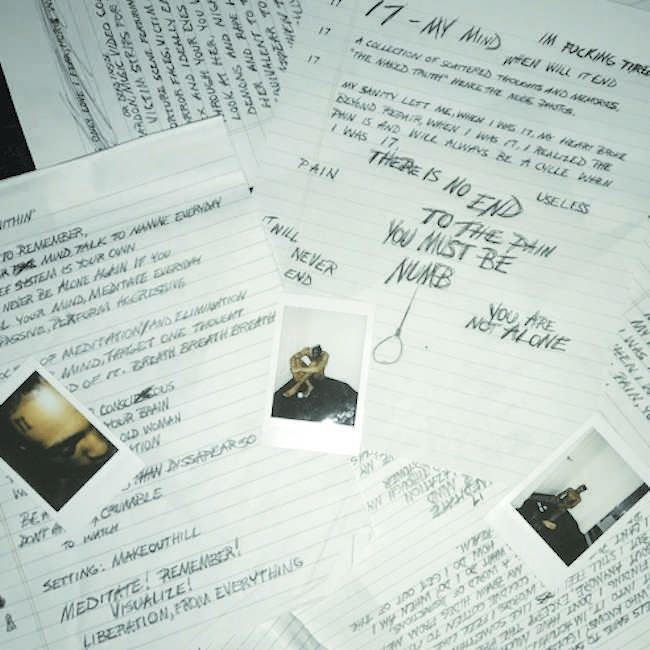 As one of the most prominent breakout artists of the year, and one of many in the new wave of hip-hop artists featured on XXL's Freshman Class 2017, XXXTENTACION broke into mainstream music with his hit track "Look at Me!" after comparisons of his triplet flow to Drake's then newly released snippet of his song "KMT" on his OVO playlist "More Life."
The heavy association with that breakout song and his drama with Drake have led many to pigeonhole XXXTENTACION as just some screaming punk, hip-hop hybrid over heavy base, some critics even predicting his rise and fall in fame as a one-hit wonder.
Following such criticism, "17" has truly managed to kill two birds with one stone. With its impressive commercial success, debuting at No. 2 on the Billboard 200 Charts and selling 87,000 album-equivalent units, any talk of XXXTENTACION being a one hit wonder was silenced. Its unique sound prohibits a single track on the album from sounding anything like "Look at Me!" as the music is much more likened to Lil Peep's mix of pop-punk melodies and new age hip-hop beats with low-fi mixing and quality.
Right from the start, XXXTENTACION makes his intentions for the album clear in the intro titled "The Explanation." In the short span of 51 seconds, he explains the significance of the album title, saying 17 is the number tattooed on the right side of his head, claiming it as his own personal number, the significance of which is explained by heartbreak and a selfdescribed never-ending cycle of pain and loss at a young age.
These painful confessions seem to refer to being arrested three times in the year 2016 alone, along with haunting allegations of abusing his pregnant girlfriend.
At the heart of any album lies the track list. The beats are almost all acoustic, mostly guitar except for the piano dominated "Orlando," the outro "Ayala" and the short interlude "Dead Inside." "Save Me" is one of only two non-acoustics on the whole feature.
The most popular song of the album, "Jocelyn Flores," produced by Potsu, who samples Shiloh Dynasty to make a beat reminiscent of "Look What You've Done" by Drake, showcases topics such as XXXTENTACION's friend and possible lover Jocelyn Floresn killing herself, memories of his uncle's apparent suicide attempt and his time spent in incarceration.
The topic of Jocelyn Flores is often revisited throughout the album, most notably on the song "Revenge" which is dedicated to her memory.
Like any other body of work, it's not perfect and not always consistent.
Lyrically, it could use more words since XXXTENTACION mainly focuses on one short verse for each song then rides the beat a little too heavily at points. The lyrics themselves sometimes have a sense of a man going for a surface level aesthetic of pain and suicide, but not really exploring it enough to build the kind of familiarity that lends itself to the very genre he dabbles in.
For every lyric about him being hurt, there is one being derogatory toward women and bragging about his borderline sociopathy.
All things considered, it's still an impressive debut that without a doubt silenced many of the criticisms toward him, made sure he would never be pigeonholed again, and just like his controversial XXL Freshman Class 2017 appearance, established him in a very different league than most of his peers.
If there is one thing avid listeners have learned over the years, it's that emotional transparency is one of the factors that makes a body of work stand the test of time. Whatever XXXTENTACION may produce next, it will surely stand out just as "17" has.