Undefeated
Men's soccer remains perfect, extends streak to 11 games
By Nick Misiak Staff Writer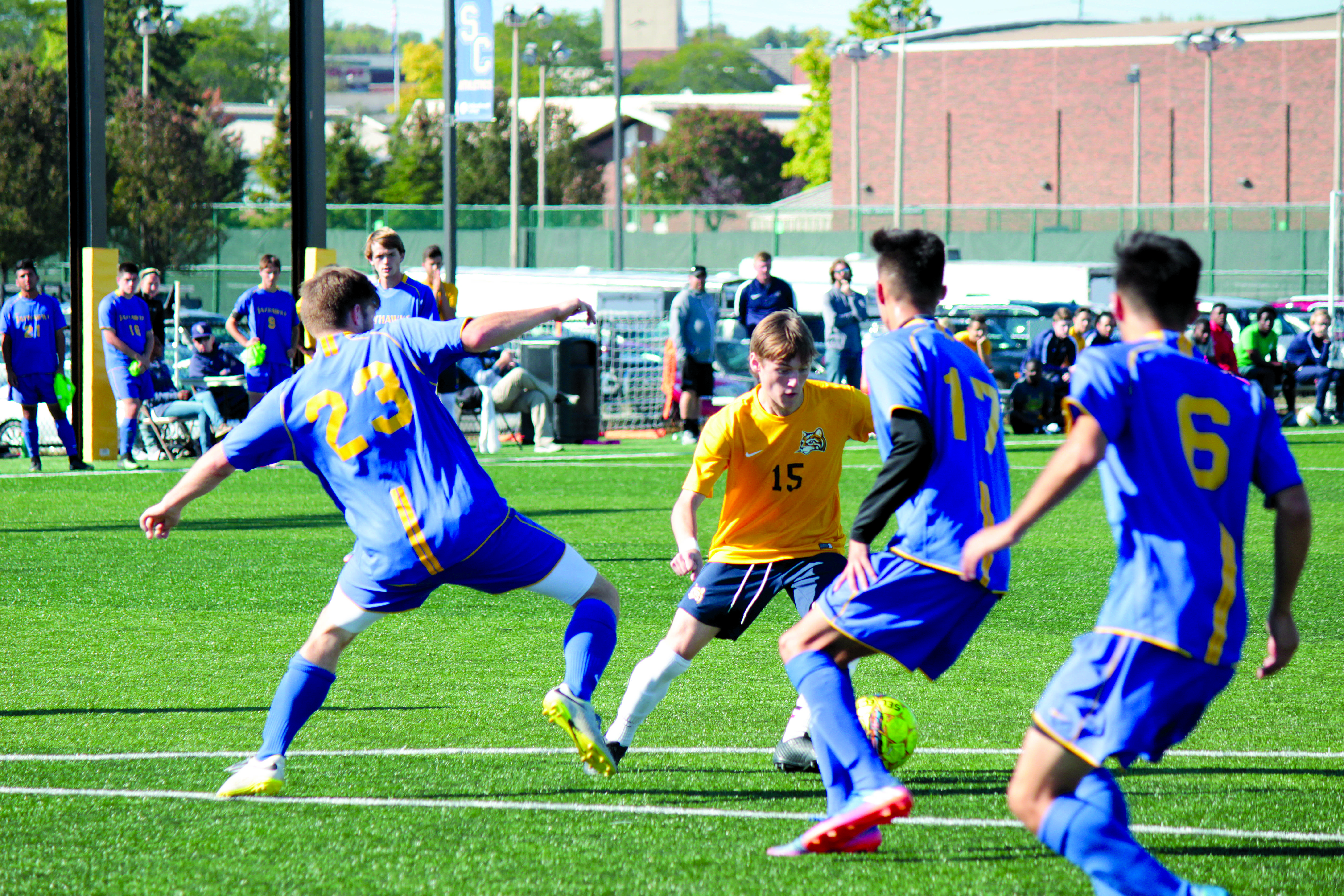 The Schoolcraft College Men's Soccer Team remain undefeated, squeaking out a 2-1 victory against Ancilla Community College on Oct. 4, clinching their place as Michigan Community College Athletic Association (MCCAA) regular season conference champions and extending their winning streak to 11 straight games.
The team has a current record of 11-0-0 (7-0-0 in MCCAA Conference play) as of Oct. 12. The win also gave the Ocelots a first round bye in the National Junior College Athletic Association (NJCAA) Region XII Men's Soccer Tournament and currently ranked number three in the NJCAA Division I men's soccer poll.
Freshman forward Dylan Borczak opened the scoring for the Ocelots in the 43rd minute of the first half, finding the back of the net off of a pass from freshman forward Caleb Dupree, capping off a relatively even first half that saw each team take six shots and receive two yellow cards a piece.
The Ocelots then jumped out to a two goal advantage early in the second half, when Borczak centered a ball into the box and sophomore forward David Tetaj headed it into the back of the net in the 52nd minute.
Ancilla would not go down quietly, however, and rallied late in the 90th minute to make things interesting as the Charger's Juan Villa was able to sneak one by the Ocelot's freshman goalkeeper Juan Gomez to pull within one of Schoolcraft.


This goal snapped a streak of seven consecutive games, 737 minutes to be exact, in which the Ocelots did not surrender a goal. Despite allowing their first goal since Sept. 1, Schoolcraft was able to hold off a last-ditch effort by Ancilla in overtime to seal the victory.
The Ocelots are one of only two undefeated Division I teams in the entire nation, travel to Muskegon Community College on Wed, Oct. 18 in an attempt to finish the regular season undefeated. Schoolcraft hosts a NJCAA Region XII Soccer Tournament semifinal Oct. 28 against an opponent to be determined.