Confucian cognizance
Wayne State University Confucius Institute expands to Jeffress Center
By Alexandra Lachine Editor-in-Chief
As one of the world's superpowers, China stands strong in its advancement while also honoring its rich cultural traditions. With the mission of offering and supporting the Chinese language and culture throughout southeast Michigan and beyond, Wayne State University's Confucius Institute implements highly successful programs to spotlight Chinese culture.
This program was developed nearly a decade ago thanks to Hanban: Chinese Language Council International, Wayne State University (WSU), Huazhong University of Science and Technology and donations of generous individuals. In addition to serving southeast Michigan, the programs also reach to communities across the globe thanks to extensive video production projects through YouTube.
Director of the WSU Confucius Institute, Dr. John Brender, is proud of the program's ongoing success.
The Confucius Institute at Wayne State University has offered a multitude of programs, events and resources related to Chinese language and culture to the southeast Michigan community…it has provided lectures, conferences, quiz bowls, field trips, musical performances, K-12 outreach programs, summer camps, a video channel and opportunities to visit and study in China," explained Dr. Brender.
"The Institute has brought people together from many countries and many walks of life, sometimes for short occasions and sometimes indefinitely."
On Oct. 17, the Institute expanded to the third floor of the Jeffress Center with a brief ceremony and presentation delivered by Dr. Brender.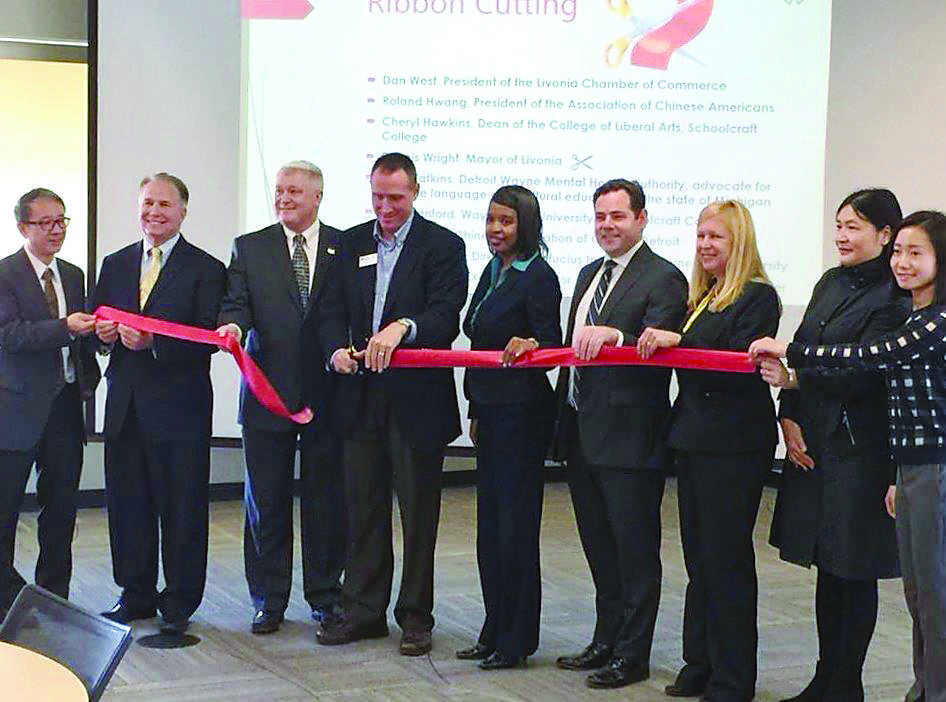 "My staff and I are heartened by the enthusiasm and excitement we have witnessed thus far at Schoolcraft College," Brender said.
"Although we are beginning our extended programming by offering Confucius Cafe lectures on Tuesdays at noon, virtually every program we offer on our home campus could be implemented at or extended to Schoolcraft College."
"In the coming weeks," continued Dr. Brender, "I aim to meet with various Schoolcraft administrators to discuss collaborating on an annual Chinese cooking contest, study abroad opportunities in China and a Chinese language and culture summer camp for local middle and high school students."
"Wherever the Schoolcraft community provides an interest in China or Chinese culture, we hope to respond with a viable opportunity, program or event," added Dr. Brender.
The Confucius Cafe and Institute will provide new opportunities and build networks in learning more about the Chinese culture. It is without doubt that the groundbreaking will spread the rich 3,000 year history, culture and language of China to members of the Schoolcraft community while providing keen insight to a way of life that often seems quite foreign to many westerners.
Over 300 Confucius Institutes across the nation have aimed to and worked toward eradicating the ignorance Americans often have in regards to Chinese culture.
"The China wave is going to continue to break upon our shores. We can do
nothing…or we can learn to surf and ride the wave," said former State Superintendent of Education Tom Watkins in the ceremonial opening of the institute at Schoolcraft.
The college is excited about the opportunities that will follow, some of which will include service learning opportunities for students in China. It's all about learning more about our diverse world and creating and teaching future leaders to work in
this environment.


"We at Schoolcraft have always been driven to provide our students with opportunities that go outside the borders of Livonia," said Cheryl Hawkins, Dean of Liberal Arts and Sciences. "We are excited about this partnership with Wayne State bringing the Confucius Institute here."
For more information on Wayne State's expansion of their Confucius Institute here at the college and upcoming events, contact the institute at 313-577-0153 or email [email protected]