Red, white and school
Veterans Resource Center assists students who've served
By Christian Hollis Managing Editor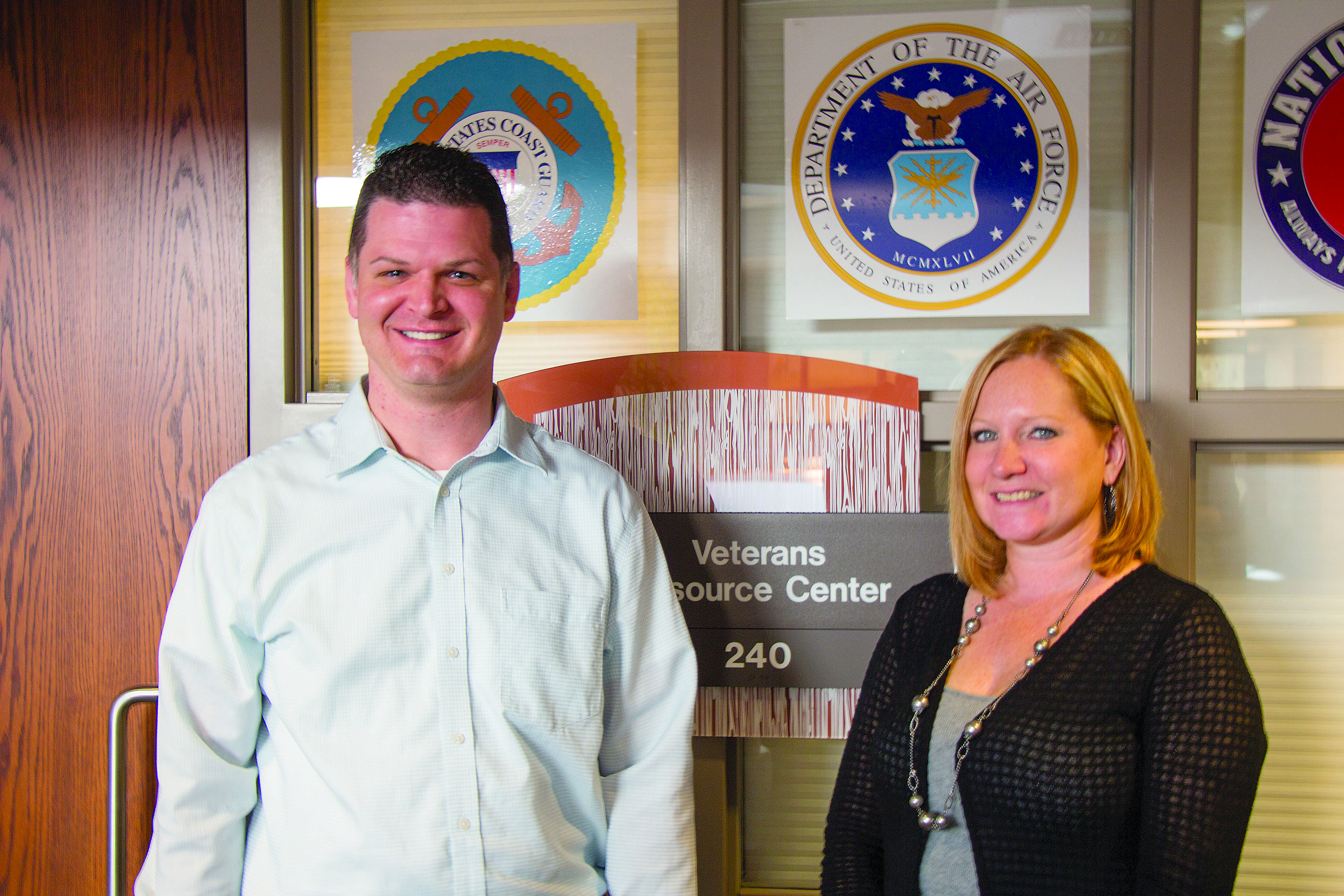 Nestled quietly in the upper level of McDowell, the Veterans Resource Center (VRC) is a resource for student veterans at Schoolcraft. The college first opened the doors to the VRC on Veteran's Day back in 2014.
Before there was a dedicated center, student veterans were still able to receive benefits through the counseling and advising offices, but Schoolcraft President Dr. Conway Jeffress wanted a dedicated center for its patrons. The center is devoted to helping individuals who have served the nation and attend Schoolcraft after returning from duty and assimilating into civilian life once again.
The goal of the Veterans Resource Center is to have a one-stop-shop for student veterans to get what they need in a convenient area on campus while avoiding preventable stress for the hard-working men and women who focus on their education as well as defending
their country. Services such as education benefits and textbooks, as well as advising sessions regarding payments, contacting instructors and more come straight from the Veterans Resource Center.
What sets the center apart from other colleges' veterans resource centers is that it offers advising as well as educational benefits. This creates a unique bond between Veteran's Resource Center's Assistant Director, Brent Landau, and the student veterans on campus.
"We get to know the veterans very well… we're able to work with them every semester, track their academic progress and reach out to instructors when we have to. We really get to create a unique relationship with our veteran population," said Landau.
For Veteran's Day this year, the Veterans Resource Center is organizing a fundraiser to help fund the building of the first Fisher House facility in Michigan.
Fisher House is a national organization that works with the Veterans Affairs (VA) hospitals. With over 70 operations world-wide, Fisher House provides housing for family members of veterans that are in VA hospitals for extended periods of time.
Landau and his team are setting up a two-day fundraiser at Henry's Food Court in the VisTaTech Center Nov. 7 and Nov. 8 from 11 a.m. to 1 p.m. Students, faculty and staff are encouraged to donate toward the cause.
Students may also donate used textbooks directly to the Veterans Resource Center any time that the office is open to help build the center's textbook library for student veterans. The office is located on main campus on the third floor of the McDowell Center. Hours of operation are Monday from 8 a.m. to 6 p.m. and Tuesday through Friday from 8 a.m. to 4:30 p.m.