Let's make a movie
Film Challenge returns for seventh installment
By Lauren Engelhardt Staff Writer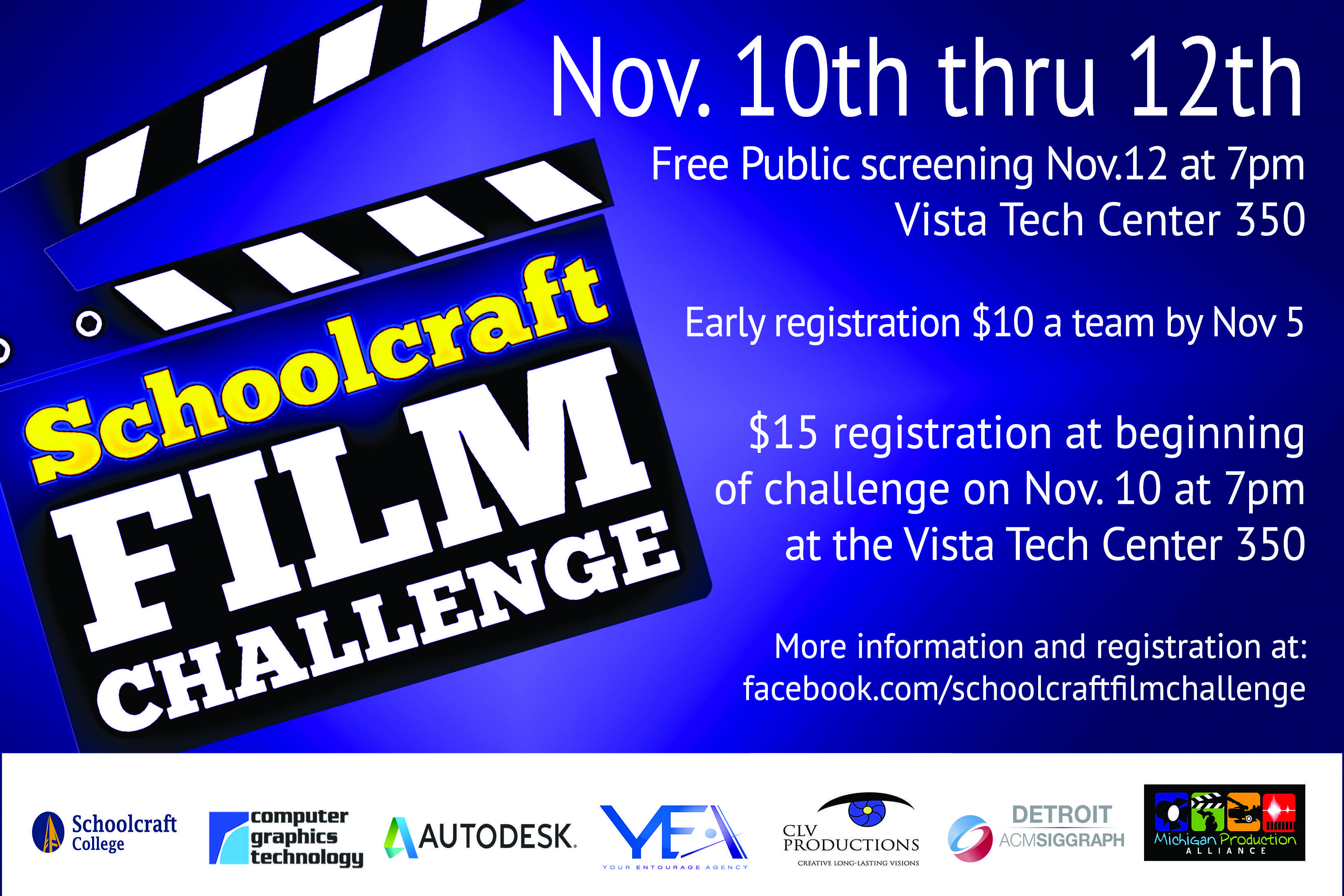 What can you do starting with a single prop and a line of dialogue in 48 hours? Well, you can certainly try to make a movie! Schoolcraft College is holding its annual film challenge on Nov. 10.
This popular event started back in 2011 with 11 teams and continuous, amazing turnout from middle school and high school students, and professional filmmakers.
The rules for the contest are simple. An unlimited number of individuals can team up, or one can attempt to create a video solo to compete. With an assigned prop and single line of dialogue, the challenge requires a film to be produced in only 48 hours in any type of style and genre.
However, the film including credits, cannot exceed seven minutes. For a clearer picture, last year's film challenge required the prop to be a military support item, such as a rifle or grenade, and the line of dialogue, "Why should I care about the glaciers?"
Computer Graphics Technology Professor Jeremy Salo believes that interested students should test their video production skills in the contest.
"It is a great opportunity for anyone to make a short film and get it screened to an audience of industry professionals, family, friends and peers in 48 hours," explained Salo.
"Our gracious sponsors provide hundreds of dollars in prizes along with industry related materials and services. The challenge is open to anyone in the public that would like to participate. It's also a great way to network, have fun and learn a few things along the way."
A judging panel of film professionals will determine which teams have earned victory and several hundred dollars in prizes and awards. Competitors will contend for awards in the categories of best use of prop, best use of dialogue and best film overall.
"Each year we have done this, the technology has been advancing so we continue getting better films from the teams," said Computer Graphics Technology Professor Mehall.
On Nov. 12, the films will be screened in Rm. 550 of the VisTaTech Center, where the general public is encouraged to attend for free admission. Audience members will participate in the judging as well by voting for which film will receive the coveted "Audience Choice" award.
"During the challenge, everyone had great films that they worked hard on, which made winning the 'Best of Show' and 'Audience Choice' award just that much better," said Tristan Collins, who was the producer for last years top prize getter Majestic Productions. "I had fun the entire time, but hearing my team's name for both of those awards just made it that much better."
The annual film challenge is one in the truest sense, both physically, creatively and mentally. "It's a tough challenge and you won't sleep much… all in all, it's very fun and the screening of everyone's films in the end is the best part," said Collins.
When it comes to advice for tackling this rewarding obstacle, Collins also offered some key tips for students who are interested in participating.
"Find at least one other person that you can work well with and just have fun with it. Try your best to finish it and if you don't, well you should still submit it and show off what you did manage to complete."
There is a $10 fee to register for the challenge by Nov. 5. For more information, archive films and to register your team, follow the Schoolcraft Film Challenge page on Facebook.com/schoolcraftfilmchallenge.