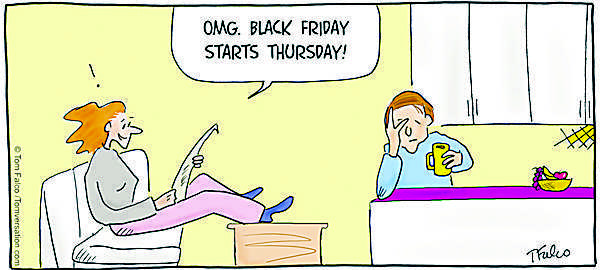 Why Black Friday rips you off
By Alexandra Lachine Editor-in-Chief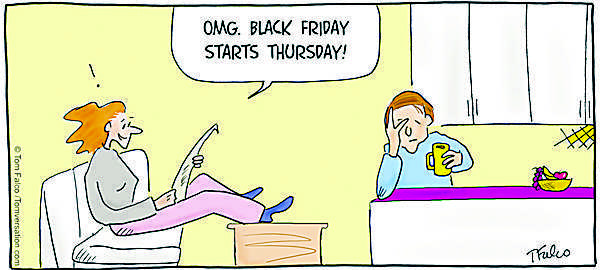 Thanksgiving used to be about getting together with your loved ones to celebrate the fortunes of life with a hearty meal. But in recent years, people are ditching the table even earlier to wait in line for hours or even work ridiculous shifts in retail all in the name of Black Friday shopping.
According to the National Retail Federation, roughly 100 million people shopped on Black Friday or the surrounding days in 2016 alone, spending about $300 per person on their list.
While Black Friday may be misconceivedas offering the lowest prices of the year, it's actually one of the worst times to shop, especially for the holidays. The typical
retailer aims to lure you in by offering coveted products that no one actually needs at a so-called discount. When those "deals" run out, the shopper is already in the store and on the hook to continue making purchases, regardless of the sale price.
Yet another trick that many retailers implement is the sale of derivative or lower quality products in order to cover the losses associated with price drops. If you are still so inclined to shop on this dreadful day, at least do yourself a favor and conduct thorough research on the purchases at hand. As a consumer, you owe it to yourself to not sacrifice quality for an impulse buy.
It is also important to recognize the central fact that the prices we see on Black Friday are not the lowest of the season, or the year even. In a continuous study on price data, experts from The Wall Street Journal have revealed that most items offered below Black Friday prices are sold throughout different points of the year, such as jewelry prices generally dropping in the weeks directly preceding Valentine's Day.
Holiday shoppers must remember the not-so-common sense fact that buying something totally unnecessary at a discount is not actually saving you money, so it may be best to leave that sixth pair of UGG boots on the shelf.
No deal in the world is worth more than quality time with family and friends on the wonderful yet increasingly monetized holiday. Give your wallet a rest this Thanksgiving holiday, and enjoy those leftovers instead.