Campus culinary gem
American Harvest offers five-star dishes courtesy of Culinary Arts
By Alexandra Lachine Editor-In-Chief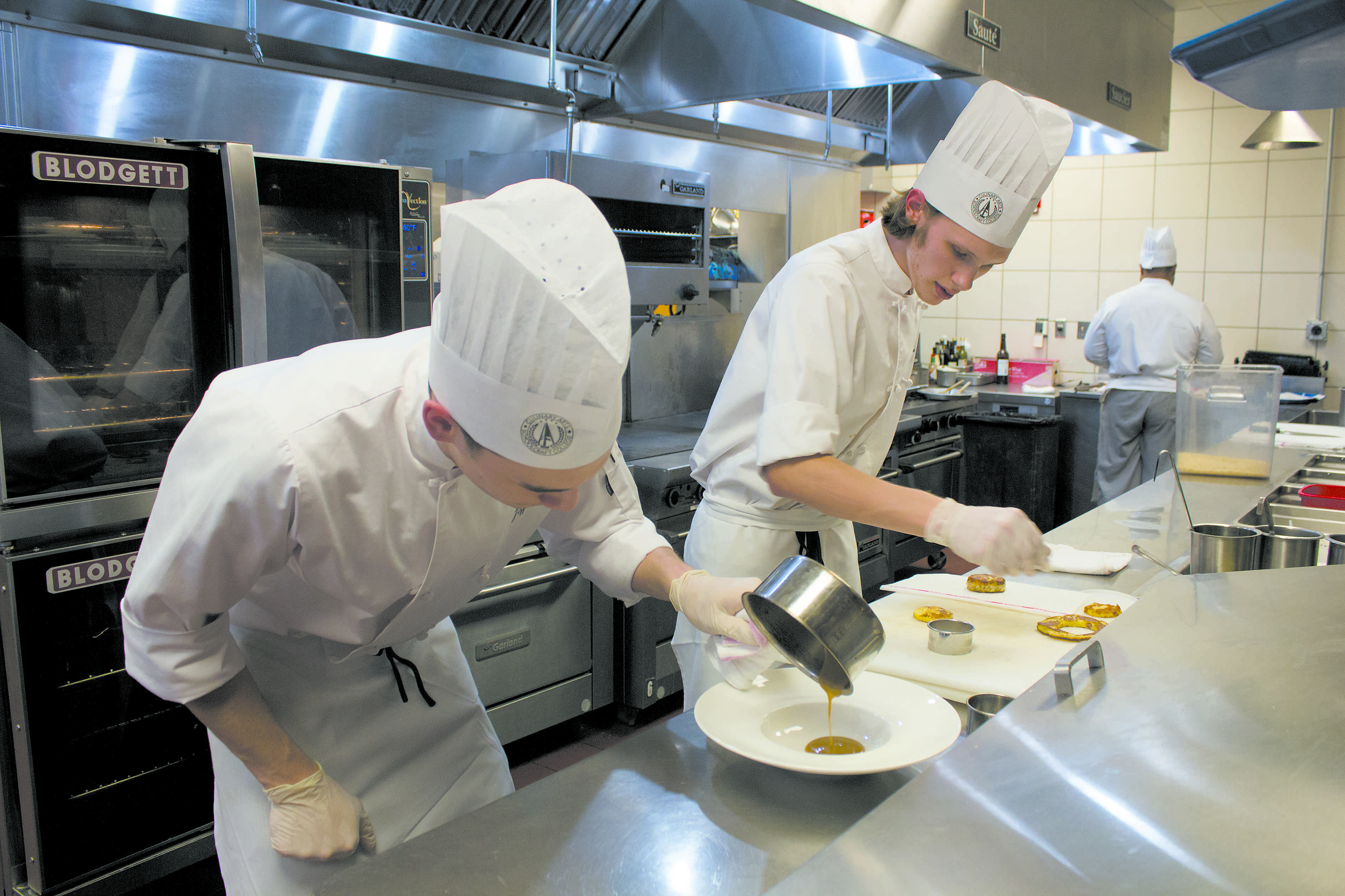 The American Harvest restaurant is the culinary jewel of Schoolcraft and the pride of four Certified Master Chefs, two Certified Executive Chefs and the eager students of one of the best Culinary Arts programs in the nation. Meals are prepared and served by students—and loved by everyone who dines here. World-class food is prepared and served in a classically casual setting, everything prepared and plated perfectly to please any critic.
American Harvest opened its doors after being Le Gastronomique, French for "the art of fine dining." The name changed after Certified Master Chefs joined the staff and the decision was made to make the menu and name more regional to deliver a Midwestern ambiance. Back in the late 1980s, emphasis on buying fresh, local ingredients was becoming more prevalent in the culinary realm and chefs sought to translate that into the restaurant here on campus. The cuisine often reflects the Midwestern region as well, serving such items as pheasant, venison, and perch throughout the year.
Functional Five-Star Service
In every restaurant, there are two to three major, vital components. The front of the house is the service aspect which meets the customers while the back of the house is normally known as the kitchen. Seamless communication between the two is vital to the success of the restaurant, which is exceptionally well-executed at American Harvest.
Students keep one another on track in the back of the house by reminding each other of orders. Two classes specifically teach Culinary Arts students to develop those skill sets individually, from dining room service to cooking. The third party, or expediter, facilitates the communication between the two, knowing how and when to fire the entrées after salad courses to ensure customer satisfaction in a timely but not overbearing manner.
Culinary Criteria
The restaurant classes which serve the public through The Harvest are second year level courses. Competencies developed in the first year of a Culinary Arts student's academic career in kitchens without customer interaction help build their skill sets to do everything in the restaurant in their second year.
"You have to have second year students in order to have the skill set high enough in order for them to meet the demand of the restaurant," explained Executive Chef Chris Misiak.
There are many goals for students through such a rigorous program, from customer service to strictly timely food preparation to even tracking dollar sales. "It's a very diverse program because we don't know exactly where the students are going to be when they leave here, what kind of working environment they'll be in. We give them a broad base of knowledge to help make them successful," said Misiak.
Creative, Gourmet Offerings
Menu options are not offered for certain dietary restrictions, such as Halal or glutenfree, but can be modified upon the diner's request. Instructor chefs set the daily menus on a weekly basis, so guests typically don't know what will be served except the few who have grown accustomed to the rotations.
It is also important to note that menus are not posted in advance, as the maître d'hôtel will kindly explain to guests, as ingredients are imported fresh and may be subject to changes. Menu selections follow a five-week rotation course, "designed around specific student learning objectives," as the menu explicitly reads.
Everything from the main course, which can be any delicious dish from fresh salmon to tender Swiss steak, to the butter for freshly baked, grainy breads served warm, is prepared in-house. Creative entrées, artisan breads, charcuterie and delicate French pastries are all artfully prepared by students using strictly classical techniques.
Value Of Experience
"Working in the American Harvest gives students a real-life opportunity for what it's like to serve the public," explained Master Chef Brian Beland. "Our efforts to build the student's skill sets up to become hirable in the industry requires real-life experience, so the American Harvest allows that through our à la carte services at lunch time, then also through the buffet service at dinner. It's our opportunity to provide real-life experience serving guests in a timely fashion with edible foods that guests are paying real dollars for, to enjoy and get that experience," continued Beland.
Not a single chef is stagnant at The Harvest. Everyone has something to do and some task at hand to complete. There is also adequate room and wait staff in the case that it gets exceptionally busy, and the restaurant is far larger than it may appear from the outside.
Students are knowledgeable about everything, explaining dishes and pastries to hungry customers. "I have yet to get experience in the front of the house, but it is entirely beneficial to learn this material up front. As a student chef, this is better than I ever imagined," said Culinary Arts student Victoria Trudell.
The Harvest is open for lunch on Tuesdays and Wednesdays beginning at noon. The breakfast buffet seating begins at 8:30 a.m., lunch starting at noon and dinner buffet seating starting at 5:30 p.m. on Thursdays and Fridays. To connect with the five-star restaurant or book your reservation today, email [email protected] or call 734 462-4488.

Pictures by Chrissy Begle, Layout and Design Editor, and David Vega, Staff Writer.