Craft cold ones
Schoolcraft to debut American Harvest Brewpub
By Lauren Engelhardt Staff Writer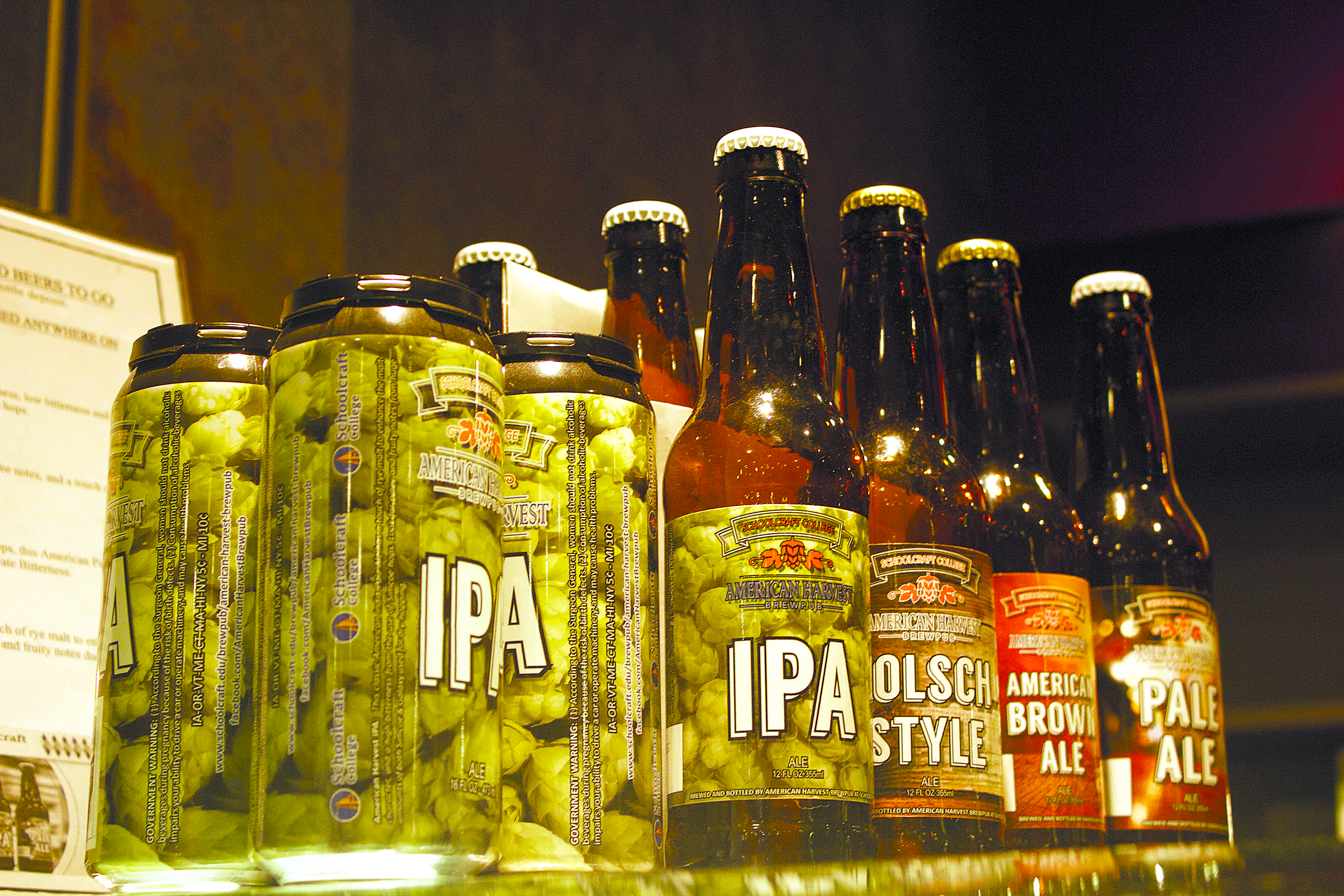 Winter is coming, and so is a place dedicated to Schoolcraft's craft beer. In a few short months, the debut of the American Harvest Brewpub will increase the prevalence of craft student brews in the dining realm of the college.
Schoolcraft is not just well known for its nationally accredited Culinary Arts program, as it has also earned recognition in Brewing and Distillation Technology. For the last three years, the 24 credit-hour program has been offered to students pursuing certification within the brewing industry by implementing coursework in the science, operation, business, finishing, packaging and service of beer and distilled spirits.
So far, students have had immense success in designing and brewing their own beer, leading the young program to win a handful of awards just this year for Beer Army Beer Wars, World Expo of Beer, U.S. Open College Beer Championship, and U.S. Open Beer Championship.
This past May, student brews have been made available for public purchase in the form of six-packs, four-packs and growlers to-go at American Harvest on Tuesdays and Wednesdays. Such success has prompted the college to expand its brewing business with a brewpub nestled inside the popular American Harvest restaurant in the VisTaTech Center, scheduled to open in the new year of 2018.
"Why open a brewpub at a community college?" one might ask. According to Katie Shunkwiler, Manager of the American Harvest Brewpub and Tom Block, Director of Brewing and Distillation, the plan has been set in motion for a while, including half a year of preparation. When students brew their beer, there is an excess amount that is made. Instead of dumping the rest out, a plan was hatched to distribute the beer for a great cause, thirsty consumers.
The pub will be open to the public where the beverages will be served in pints, flights and bottles with the opportunity to dine in on a Saturday or Sunday night and catch the game with a group of friends. "It is an excellent avenue to what Schoolcraft has to offer," Shunkwiler explained. "Someone could be sitting here on a Saturday night and drink what a student has made through their 24 credit hour program, it's impressive."
With the brewpub on the cusp of its debut, Block and his students are anxious for the event to arrive. "We cannot wait and are super anxious for the pub to open and sell great beer that the students are making," said Block.
The pub will offer ocelot-brewed beer with a complete draft list of ten crafts, including the award-winning American Harvest Kolsch-Style, Brown Ale and Imperial Stout, all served in the customer's choice of a pint, five oz. or flight. Eventually, the pub will partner with student chefs to offer small plates with the brews.
Student brewers are excited about the pub's debut. "It's awesome! This is a great step for Schoolcraft's Brewing program and a great way to show the public the awesome beer we have," said Nick Mannisto, student in the Brewing and Distillation Technology program.
American Harvest Brewpub is also reaching out for help from the public and are currently hiring student employees. For those interested in working for the pub, contact Career Services at 734-462-4421 or [email protected]
The brewpub is also on social media! Keep up with them on Facebook at American Harvest Brewpub to check out videos, announcements, and pictures of what the Brewing and Distillation program at Schoolcraft is all about.