Men's basketball opens season 2-1
By Nick Misiak Staff Writer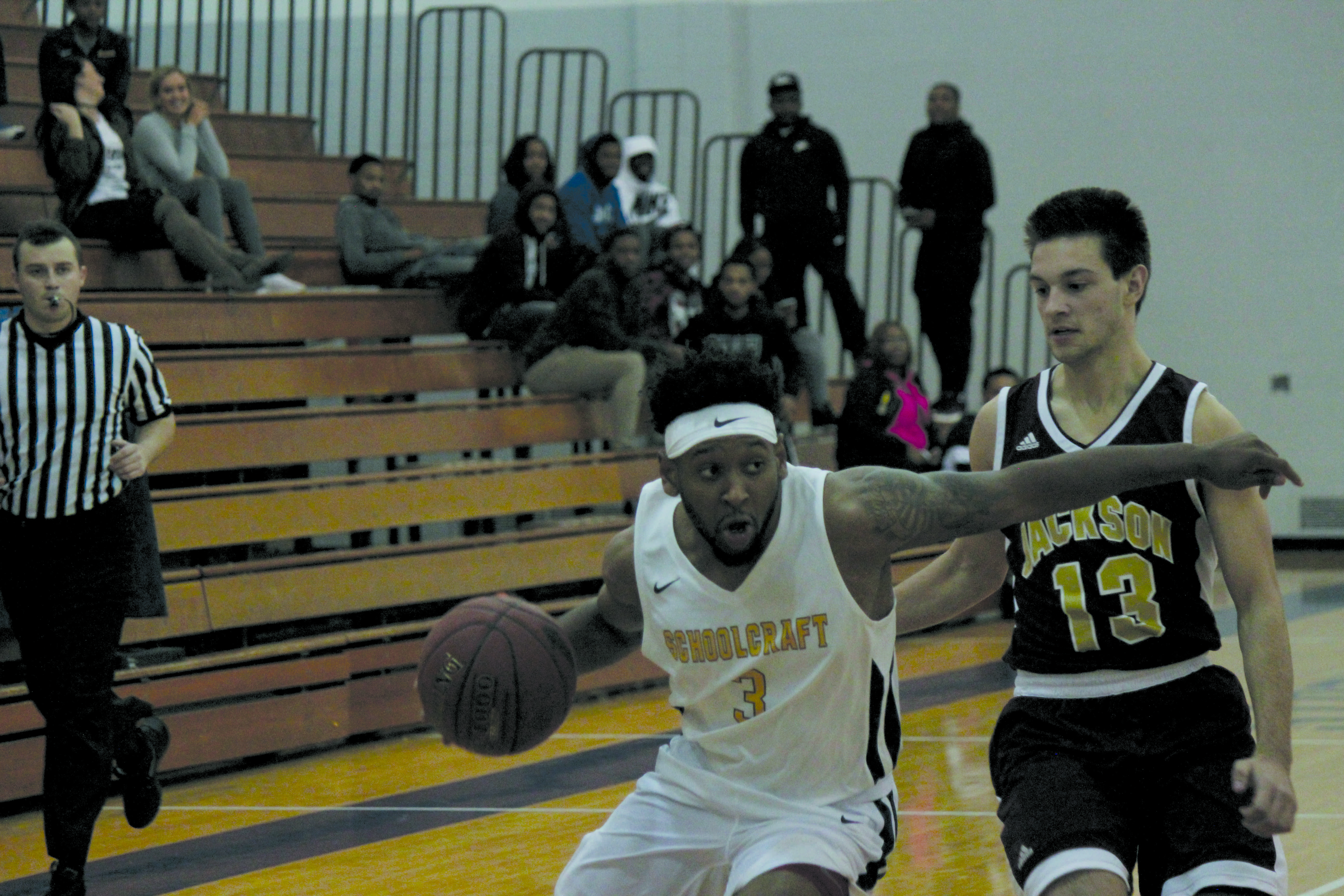 Last season, Schoolcraft Men's Basketball team's season came to an abrupt end when the Michigan Community College Athletic Association (MCAA) regular season champion Ocelots lost to Wayne County Community College in the National Junior College Athletic Association (NJCAA) District 10 Tournament Semi-Final 71-70.
Despite not qualifying for the NJCAA National Tournament, the Ocelots did finish with an overall record of 23-6 and had a strong class of freshman returning for the following season, giving Schoolcraft a reason to believe that a return to the National Tournament is well within reach.
This season, behind the coaching of Abe Mashhour, the sophomore leadership of guard Walt Kesler and forward DeYuan Heard and the talent of freshman guard Demetrius Lake, the Ocelots began their journey ranked fifth in the nation and are currently 2-1 on the season; notching wins over Jackson and Moraine Valley, but losing to Triton.
SCHOOLCRAFT 106, JACKSON 85
On Wed, Nov. 8, the Ocelots faced their Wed, Nov. 8, the Ocelots faced their first conference opponent, albeit in a nonconference game, and rallied behind22 points from Kelser and 14 points fromLake off the bench to defeat Jackson community College 106-85.
Freshman forward Juan Warren II recorded 8 points and 12 rebounds off the bench and Heard had 11 boards, two assists, and two steals as well. Schoolcraft shot 52.2 percent from the floor and 50 percent from behind the three-point line, as well as 78.1 percent from the free throw line.
SCHOOLCRAFT 90, MORAINE VALLEY 66
Forty-eight first half points launched the Ocelots to a 90-66 victory over Moraine Valley Nov. 4 in their second game of the Triton Classic Tournament. Kesler had the hot hand in this game, scoring a game high 31 points while Lake and freshman guard Runako Ziegler were the only other Ocelots with over 10 points, scoring 10 and 13 points respectively. Freshman forward Donavan Williams was a beast on the boards, notching 12 rebounds.
SCHOOLCRAFT 79, TRITON 100
In their season opener Nov. 3, the Ocelots were defeated 100-79 by Triton College in the opening game of the Triton Classic Tournament. Lake scored a season high 38 points but Schoolcraft was unable to get much going in the first half, accumulating a 21 point deficit after the opening 20 minutes. Triton moved the ball well and had five players score in the double digits.
The Ocelots next play on Wed, Nov. 15 on the road against Owens Community College before returning home to face Muskegon Community College on Sat, Nov. 18 at 3:30 p.m.  before they take a two-week hiatus for Thanksgiving break.