Different angle displays lifeblood of beloved Christmas tale
"The Man Who Invented Christmas" reveals creative muses of Charles Dickens
By Alexandra Lachine Editor-In-Chief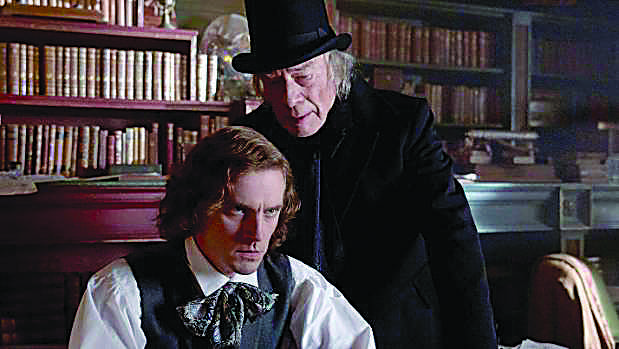 As "The Man Who Invented Christmas" tells it, Charles Dickens (Dan Stevens) took inspiration for "A Christmas Carol" from an old waiter named Marley and a reallife miser who groaned the now famous pejorative, "humbug."
At a halt to find his muse for the ending, Dickens had to exorcise aspects of Scrooge (Christopher Plummer) from himself—to find kindness in his heart for his proud but poor father (Jonathan Pryce), and to show his wife (Morfydd Clark), who accuses him of caring more about the characters he conjures than his own family, he truly loves her.
Director Bharat Nalluri and screenwriter Susan Coyne whimsically adapt the film from Les Standiford's nonfiction book of the same title. Essentially, it is a biographical telling of the late autumn weeks preceding Christmas of 1843 as the author faced a crunch on time to deliver a novel that would sell well enough to free him from the chains of accumulating debt
Dickens is also revealed to carry another related chain since boyhood, a grudge toward his father whose arrest as a debtor forced his early coming of age as he toiled in a boot blacking factory to become the man of the house.
Part of what makes the film so clear and to the point is that it doesn't ascribe to autobiography every aspect of Dickens's story and the process that brought it to life. One of its richest aspects in revealing the author's creative process is the conversations Dickens has with his characters, particularly with Scrooge, who all appear to him like the ghosts of Christmas past, present and future to guide him to completion of one of the best-selling books in history.
Scrooge's significance to Dickens ultimately finishing the story on time is immense. His very character also serves to anchor the film magically and charismatically with comedic charm.
Lively and anchored by Stevens's infectious embodiment of the renowned 19th century English author, all 104 minutes of the film proceed like a holiday special on television, designed to thrill children and also comically entertain adults.
Interesting historical tidbits—William Makepeace Thackeray (Miles Jupp) appears as a periodic irritant for Dickens—share screen time with a fair amount of fanciful lightheartedness that comes to explain the author's imagination, prose style and gift for names well regarded throughout all of literature.
Perhaps the only true flaw with this family friendly holiday film is that for audiences unfamiliar with Charles Dickens or his famous work "A Christmas Carol," it may leave them at a loss for what is going on. The film, as is its purpose, does rely heavily on the development of Dickens's iconic characters from the story and the roles they come to serve.
While the title of the film is a bit of a hyperbole, Charles Dickens must certainly be credited for the ways which "A Christmas Carol" transformed western celebration of the holiday. By telling the transformative tale of a once depraved miser to a truly caring, tenderhearted man, Dickens indeed translated the Christmas spirit of love and boundless generosity to common celebration of the holiday.