Fun Festive Desserts
Compiled by Chrissy Begle Design And Layout Editor

Oreo Truffles 
(Yields 48 Truffles)
Ingredients:
8 oz. softened cream cheese
14.3 oz. package of Oreo cookies
16 oz. chocolate dipping chips
1 cup candy sprinkles
Directions:
1. Crush Oreos finely in a food processor.
2. In a large bowl, beat cream cheese until smooth.
3. Add crushed cookies and blend well.
4. Form mixture into 1" balls and place on a baking sheet lined with parchment paper.
5. Place in freezer for 30 minutes.
6. Heat chocolate by microwaving for one minute, stirring and repeating until melted.
7. Use a toothpick or fork to dip the balls into chocolate to completely coat. Shake off
excess and return to tray.
8. Top with candy sprinkles.
9. Keep refrigerated.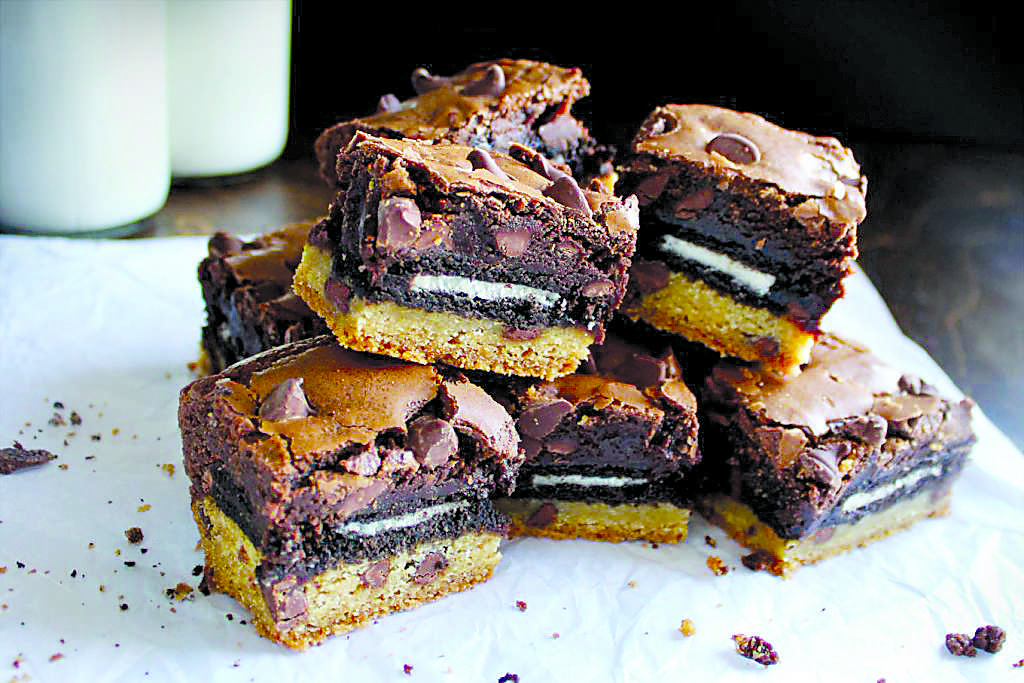 Oreo Brookies 
(Yields 16 Servings)
Ingredients:
1 pound chocolate chip cookie dough
16 Oreo cookies
1 package brownie mix, prepared
Directions:
1. Heat the oven to 350° F.
2. Grease a 8×8" or 9×9" pan with cooking spray.
3. Spread cookie dough in an even layer on the bottom of the pan.
4. Add Oreos in an even layer.
5. Spread brownie batter over the top.
6. Bake 40-45 minutes, or until a toothpick inserted into the center comes out clean.
7. Let cool in the pan for 15 minutes before cutting.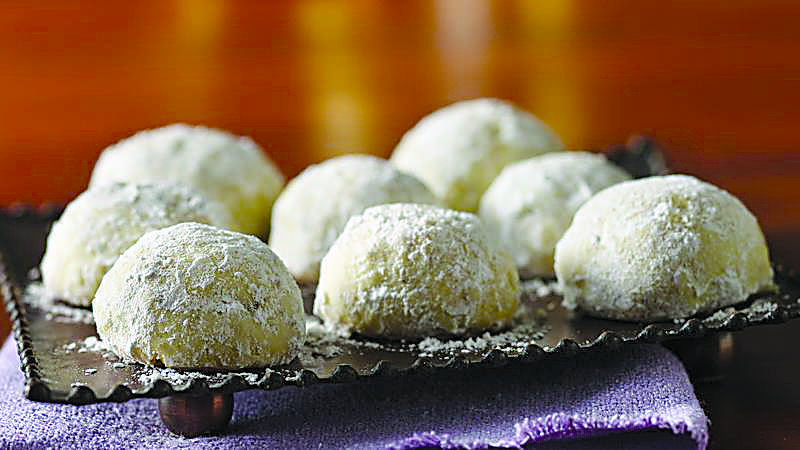 Christmas Tea Cakes
(Yields 54 Cookies)
Ingredients:
1 cup (2 sticks) butter, softened
½ cup sifted powdered sugar
1 teaspoon of vanilla extract
2 cups all-purpose flour
2⁄₃ cup finely chopped nuts
2 to 2½ teaspoons ground cinnamon
1½ cups red and white sprinkles
1 cup extra powdered sugar
Directions:
1. Pre-heat the oven to 350°F.
2. Beat butter and sugar in a large mixing bowl until creamy. Beat in vanilla extract. Gradually beat in flour, nuts and cinnamon. Stir in 1½ cups of the sprinkles.
3. Roll dough into 1-inch balls, place on ungreased baking sheets.
4. Bake for 10-12 minutes or until set and light golden brown on the bottom.
5. Cool on baking sheets for 2 minutes, then roll in a bowl of powdered sugar.
6. Remove to wire racks to cool completely. Roll in more powdered sugar if desired.