May the PORGS be with you…
By Kevin T. Ferguson, Assistant Layout Editor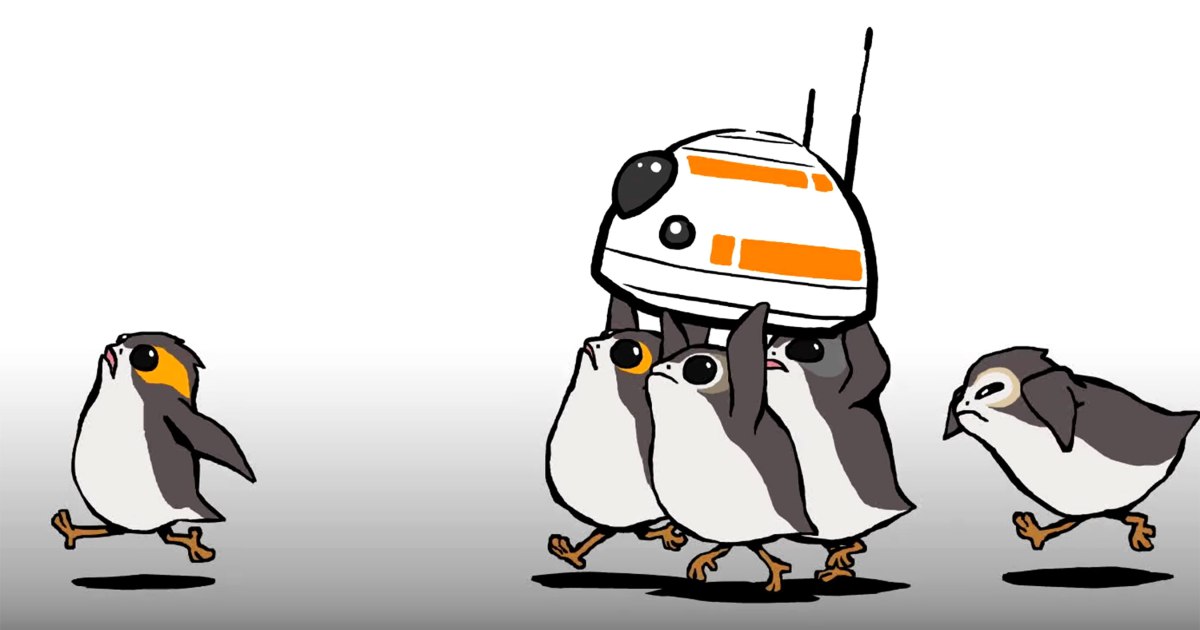 Whether fans or critics loved or hated Star Wars: The Last Jedi, everyone can at least agree on one thing: Porgs are amazing!
These little puffin/gerbil hybrids have found a place in Chewie's heart (and stomach – see the recipe below), Star Wars hall of fame, and likely, a nice cozy spot under most Christmas trees of the world this past holiday season.
Easiy the cutest addition to the Star Wars universe ever, Porgs are here to stay. The success of Porgs is a stroke of luck for director Rian Johnson, seeing as they were created to avoid an annoyance during filming.
Skellig Michael, the Irish island used as the hideout home of Luke Skywalker in TLJ, is indigenous to puffins, When Johnson realized he couldn't shoot around them, and it was against the law to remove or disrupt them, he decided to create a CGI version of the unique little birds to live within in the film.
What was created out of necessity has become, by far, the highlight of the latest addition to the Star Wars film saga. Porgs have spawned fan art, plush toys, T-shirts, bobble heads and an endless amount of fandom from Star Wars faithful, and retailers alike, since they first appeared in a trailer.
There may be few haters out there calling out Disney for creating a "cash grab" with the obvious mega-marketing too that is this furry little creature. As far as most everyone is concerned, bring it on!
With all the forced humor, shirtless Kylo, and plot holes in TLJ, the last thing we can be mad at is cute little critters that just wants to be Chewie's new sidekick … even if they pull out a few wires or rip up a few a Millennium Falcon seats.
Cooking With Chewie
Chewie's new favorite meal has inspired The Connection Staff to share his campfire Porg recipe for our readers to enjoy.
Campfire Porg Ingredients:
-1 tbsp. ground cumin
-1 tbsp. paprika
-1 tbsp. turmeric
-2 tbsps ground cardamom
-1 tbsp. kosher salt
-2 tsp.freshly ground black ground pepper
-One five-pound whole porg
Campfire Porg  
-Prepare a campfire and let it burn down coals. Set up a camping rotisserie about 15 to 18 inches over the coals. (Alternatively, preheat a grill fitted with a  rotisserie to medium heat.)
-In a small bowl, combine the cumin, paprika, turmeric, caradamom, salt and pepper. Mix to blend. Rub the Porg on all sides with the spice mixture. Truss the Porg with butcher's twine.
-Mount the Porg in the rotisserie and cook, turning slowly and constantly, for about 1 1/2 hours, or until the internal temperature registers 170 F. Add small logs to the fire, one at a time, to maintain heat during cooking; keep the new logs around the margins of the fire so the Porg doesn't come into direct contact with the flames. Periodically rake the coals to evenly distribute the heat under the Porg. Once the Porg is done, remove it from the rotisserie and let it rest for 10 minutes before slicing.
*Recipe is foe a campfire rotisserie chicken, from www.cookingchanneltv.com