Mingle at the Mixer
Event aims to bring students together
By Christian Hollis and Alexis Tucker
Editor-in-Chief and Managing Editor
Almost every holiday is met with its own event put on by the Student Activities Board (SAB). This year marks the first year for the Valentine's Mixer a rebranding of past Valentine's events. For those that went to previous social events, such as the Halloween party last October, the event will be similar to that except with a Valentine's theme.  
The Valentine's Mixer will take place on  Feb. 8 from 7 p.m. to 11 p.m. With the date being several days before Valentine's Day, it gives everyone a chance to come to the event.
"(The Valentine's Mixer) is going to be very comparable to the Halloween party that we had last semester" said Megan Hodges, Public Relations Officer for SAB. "We want it to be just as big." 
The Valentine's Mixer is not for just couples either, everyone is welcome.
DJ Audrey Cooke is providing the music for everyone to dance and groove to, but there is more to the Mixer than just dancing. If dancing isn't really your thing, there is a chance to make Valentines cards at the coloring stations, minute to win it contests such as a marshmallow toss, candy corn stacking and other games will be available to every willing participant and prizes will be given out for the winners.
Free pizza, cookies, salads and pop will also be provided while supplies last. 
"It's going to be fun, just like the Halloween party" said McKenna Scherer, Vice President of the SAB, "You might be able to meet a Valentine for Valentine's Day." 
The season of love is for everyone to enjoy so celebrate friendship, love and happiness during this time.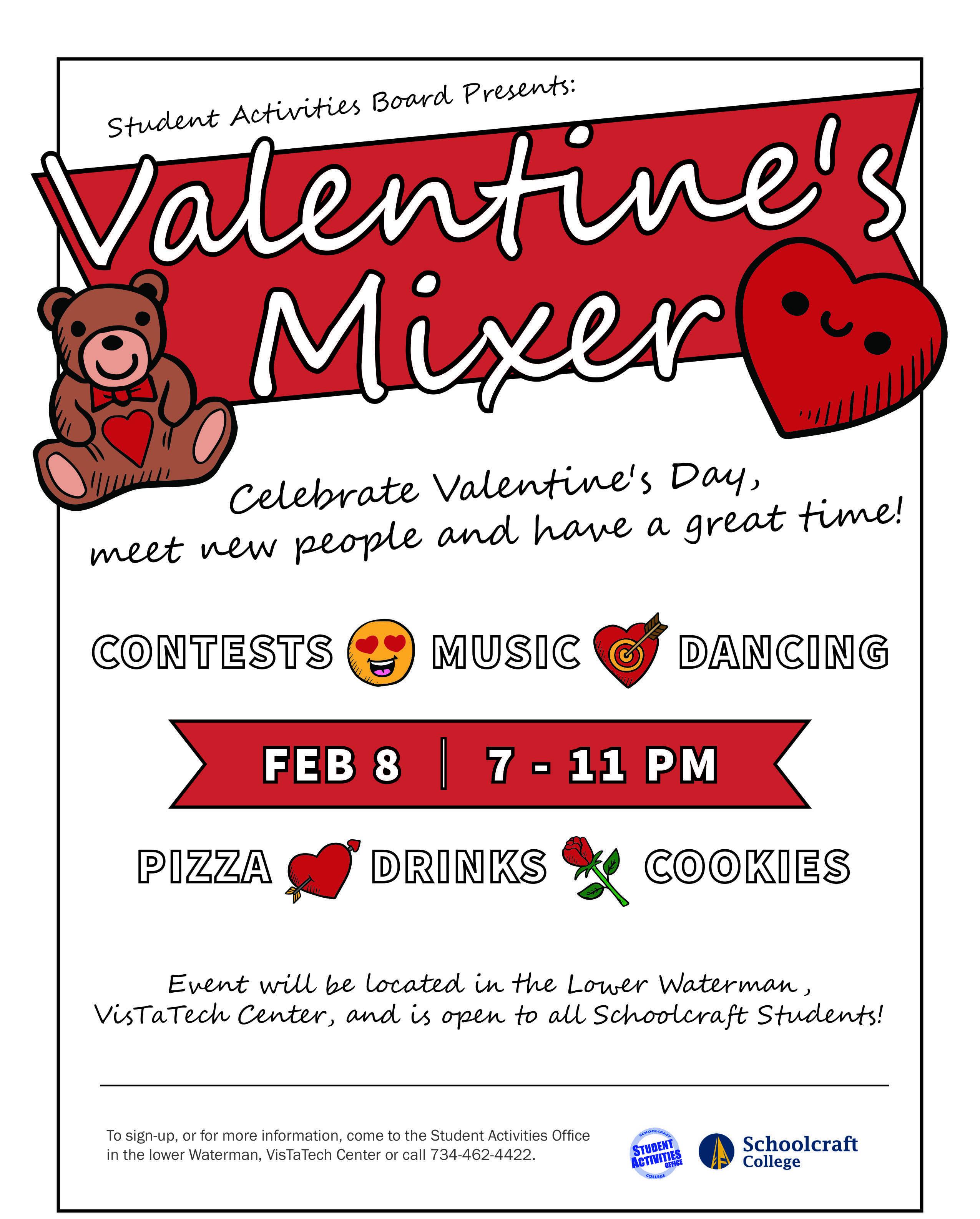 For more information, contact the Student Activities Office at 734-462-4422.