Behind the "C"
Defenseman Nowak is a spark plug to the Ocelots success
By Casey Spencer, Sports Editor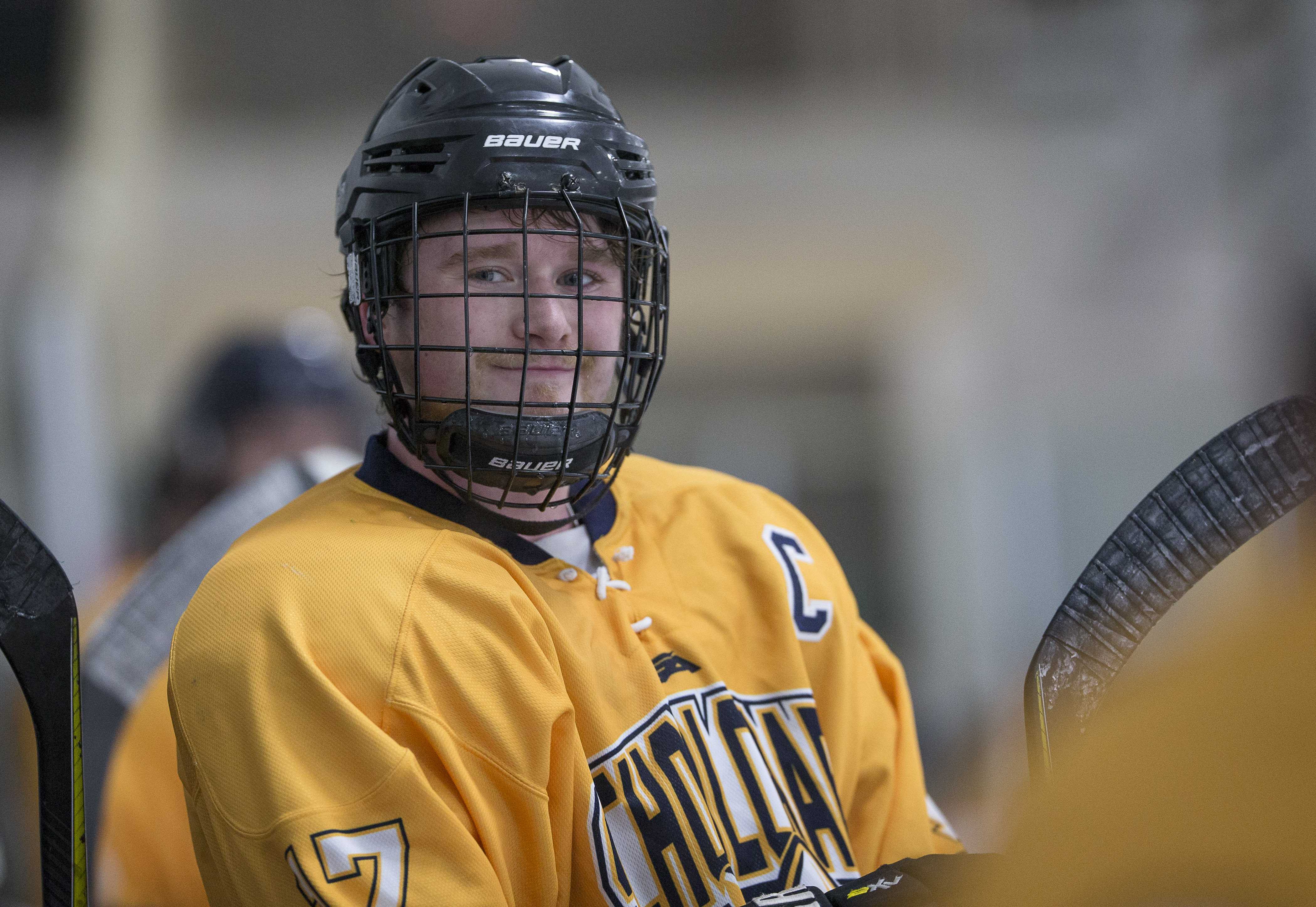 Not many players on team sports are given the title of captain. For those of whom are awarded the honor, great responsibility comes with it. Schoolcraft Hockey Club defenseman Andrew Nowak received the honor of captain for the 2017-18 season and wears the "C" proudly.
Nowak has 7 points in 22 games this season, but his contributions go beyond the score sheet.
Head Coach Rob Lindsay praised Nowak's leadership saying, "Andrew brings a ton of character and integrity to the team. It is important to have a leader like Andrew in the locker room and on the ice."
Despite praise like this, Nowak doesn't take his captaincy for granted. "It's an honor and privilege to be the captain of this team, and I couldn't be prouder," commented Nowak.
Nowak understands that being a captain is more than showing up to the rink, it is setting an example to the other players.
"I give 110%, because I want other players to see how hard I'm working, and I want them to match my intensity," said Nowak.
When asked about Nowak's leadership off the ice, Lindsay didn't hesitate to praise, saying that he is supportive and always there for the players of the team. Even away from the rink, Nowak knows he still must lead. He knows he has carry himself with the utmost sense of duty and responsibility, having to guide the team to further victories.
Strong character is perhaps the most important part of being team captain. "Andrew understands that the hockey team is an extension of the classroom," said Head Coach Lindsay. "He conducts himself in a manner that brings credit and honor to himself, his teammates and Schoolcraft."
Part of being a captain is to acknowledge that learning never stops, on and off the ice. Nowak is a student of the game and is committed to hard work and discipline to get the results the team needs.
Nowak said he would love to spend a day with long-time Red Wings defenseman Nicklas Lidstrom, saying, "I feel there's a lot he could teach me … like how to be a better defenseman, and even a better captain … I always looked up to him ever since I was a kid."
Nowak has similar responsibilities as Lidstrom did. Both defensemen captained their teams from the blue line.
Earlier in the season, the team faced Michigan and Notre Dame, and they managed to beat both teams. These two games were the highlight of the season, and it gave the Ocelots a huge confidence boost to beat such big teams.
When asked about the best game he's ever had, Nowak remembers a playoff game against Novi High School when he played for Livonia Stevenson, saying "Everything was going good for me that game, my body and mind were strong, and I was making good smart plays and hard, crisp passes."
Pregame routines are important in sports, and Nowak has an interesting one. "I always have headphones in and am juggling with a soccer ball."
After this season Nowak plans to return to captain the team for another year, but beyond the rink, he plans to pursue a degree in nursing.