Showdown for charity
Ocelots take on Michigan State Police Hockey Club for charity
By Casey Spencer, Sports Editor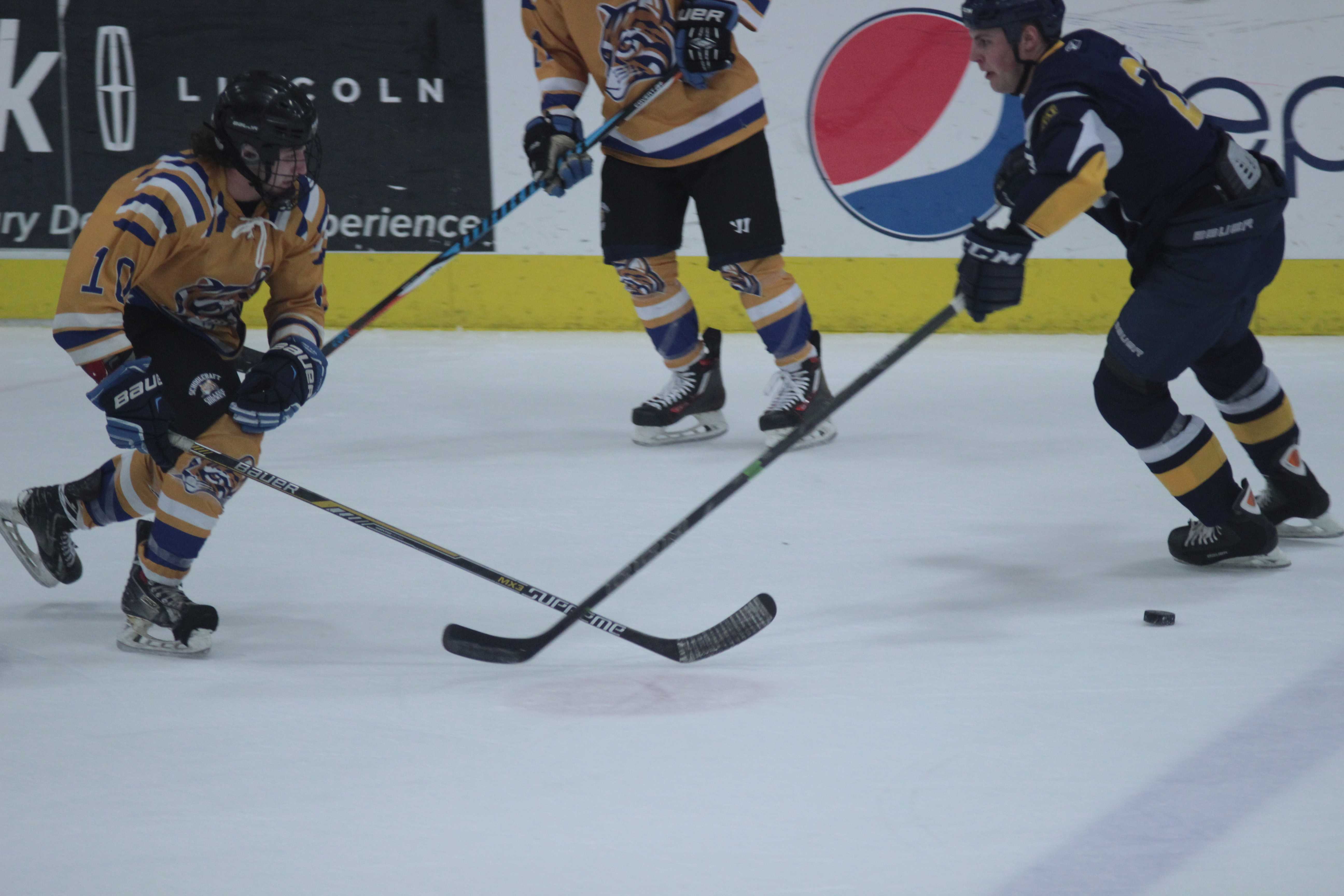 Saturday, March. 3, at 3 p.m. Schoolcraft's hockey team will be facing off against the Michigan State Police Hockey Club for charity, at USA Hockey Arena in Plymouth. All proceeds with be donated to MSP Fallen Trooper Fund, which includes the money earned from the 50/50 raffle, chuck a puck, and all ticket sales.
Doors open at 3 p.m. and the ceremonial puck drops begins at 4 p.m. Tickets are $8 in advance or $10 dollars at the door. Tickets can be pre-ordered at the Student Activities Office in the lower Waterman of the VisTaTech Center at 734-462-4422 or through a Schoolcraft Hockey team player.
Fallen Trooper Fund
MSTAF was founded in 1993 and serves to assist families affected by law enforcement tragedies and also helped fund the Michigan State Fallen Trooper Memorial in 1999. During the spring of 2001, groundbreaking for the Memorial to honor the fallen Troopers had begun and was completed Oct. 16 of the same year. The Memorial is located on the Michigan State Police Training Academy ground near Lansing.
"This is spreading great awareness for the state police," said Andrew Lindsay former Captain and founder of the Schoolcraft Hockey Club. "Grab a friend, come on out and enjoy the game." Lindsay is now a Michigan State Trooper.
Last Year's Charity Game
In the charity game's first year, Schoolcraft fell in dramatic fashion to MSP 5-4. The game took two overtime periods and a shootout to declare a winner. The Ocelots would like to get back in the win column this year, but know winning isn't the purpose of the game. The event in total was able to raise over $5,500.
Both parties seek to establish this event as an annual tradition. "This is something we want to try to do every year" said John Tibado, member of the Michigan State Police team, "Everyone is behind it."
New Goals



This year, the goal is set to $12,000, and Schoolcraft's Hockey Club is determined to reach it. "I believe that this event is important to our team," said Rob Lindsay, Head
Coach of Schoolcraft's Hockey Club, "We have many students and athletes that are working hard to sell tickets."
For those who would like to donate but can't attend the
game, come to the Student Activities Office in the Lower
Waterman of the VisTaTech Center.
After the charity game, stick around and watch the USA National Team Development Program U17 take on the Omaha Lancers at 7:05 p.m. This hockey double header is a win-win for any hockey fan or those who just want to contribute toward a good cause.