More bang for your puck
NHL 18 one of the series' best
By Lauren Englehardt, Staff Writer
Reviewed on XBOX ONE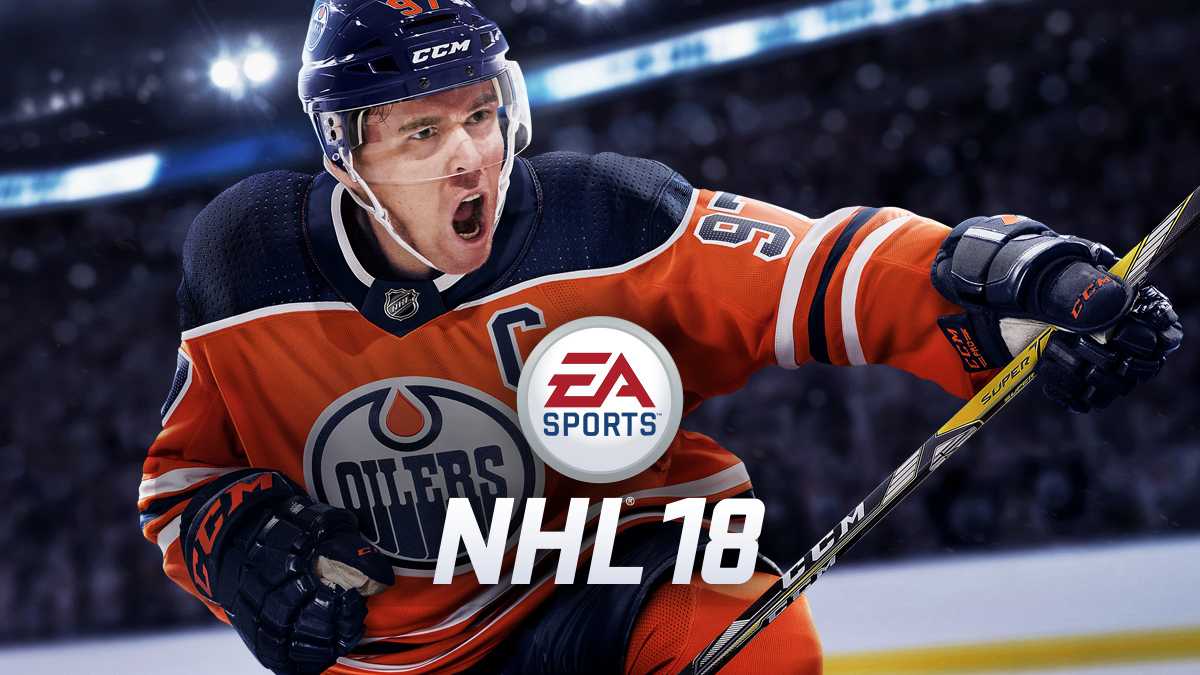 Connor McDavid of the Edmonton Oilers is one of the most exciting young players in the NHL. Some achievements he has already accomplished include earning the 2017 Art Ross Trophy for scoring the most goals in the league, being named the youngest team captain in NHL history at 19, earning status as "Exceptional Player" by Hockey Canada in 2012 and winning the title of fastest skater in the 2017 NHL All-Star game.
McDavid endorsed the launch of "NHL 18" by gracing the game's cover. Since its release September, NHL fans have enjoyed the action of the newest entry to the series with innovative modifications and changes.
Offensive players now have a plethora of options for creative dekes to outsmart defense and strategically score goals, including between the legs shooting and passing, one handed dekes, backhanded toe drags, cheeky puck flips and heel drags.
In past years, the series have mainly been offensively based, but "NHL 18" has added a defensive skill set to balance the importance of both sides on the ice. Defensive skill sets include target poke checks, keeping the stick extended to angle of attacks and stick sweeping to cover the zone, meaning gamers can fully control offensive threats.
Mastering these new techniques takes practice and is made possible by the addition of the training camp mode presented by Hockey in Canada. Players can learn how to play offense and defense beginning through advanced dekes and some rules of the NHL.
Unfortunately, the virtual hockey bootcamp doesn't include goalie techniques or a tutorial on fighting. Training mode features instructional videos followed by a do-it yourself portion for each skill.
"NHL 18's" AI teammates have also drastically improved, making the game more realistic. Teams have improved positioning and placement, making gameplay more functional. Team members can also mimic offensive and defensive skills used by one another.
One of the best additions featured by "NHL 18" is the 3 on 3 EA Sports Hockey League mode, which mimics an overtime period. This mode is fun for more advanced players to show off their skills on the open ice with no icing, no offsides and eye-foreye penalty shots from resulting calls.
Money pucks are also included to keep things interesting in the game by counting for more points for each goal. A Threes Campaign Mode is embedded in the system where players can compete against different teams across the globe through a circuit style journey. Gamers also have the power to decide how many games it takes to win the arcade-style road.
The addition of Franchise Mode allows players to add into the expansion draft by creating a 32nd NHL team. Rosters can be chosen through official protection lists and everything from arena to custom mascot can be executively created by players.
"NHL 18" also allows players to choose from hundreds of international cities to create an AHL affiliate team. Players can even debut as the Las Vegas Golden Knights, the 31st team in the NHL introduced in the 2017-2018 season. The freedom to extend contracts is also available in Franchise Mode.
Other features of "NHL 18" include a very responsive menu with quick and easy steps to getting to your favorite player modes. The different game plays include Play Now and Seasonal Games where you take your favorite NHL team through 82 games before leading them through the playoffs on a quest for the Stanley Cup.
However, if that takes too long, players can jump right into Playoff Mode! Hockey Ultimate Team is yet another outstanding feature that allows gamers to create their own fantasy lineup and compete to be the best team.
Although "NHL 18" brings some new things to the ice, there are still some disappointments.
The repetitive commentary from Mike Emrick and Eddie Olczyk feels vague and annoying as the same topics have been repeated for years now. "NFL Madden" has made noticeable audio improvements to make their commentators more interesting, something "NHL" needs to improve upon.
"NHL 18" is also lacking a story mode that would be comparable to "Madden's" Longshot, "Fifa 18's" Journey Mode or "NBA 18's" My Career. EA Sports' fans seem to enjoy that aspect, but "NHL 18" only affords the option of playing with the same player throughout their career.
Longtime NHL fans also argue that the game has felt very similar overall, making it long past due that EA spices things up with the series.
For example, there is still only three main ways of scoring, breakaways, rebounds and one timers. Goalie animations have also lacked innovation overall, along with the sad graphic of only two players being in a huddle after a goal is scored. Hopefully these minor flaws can be fixed within the next couple of years.
"NHL 18" allows beginners and veteran gamers to feel like they're in control while playing a realistic hockey game; however, there are some drawbacks.
Overall, "NHL 18" is a solid game to add to your library. "NHL 18" is available for Xbox One and Playstation 4 for $60.