Soul Food Recipes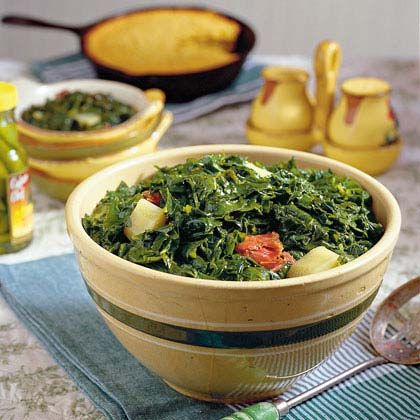 By Chrissy Begle, Layout and Design Editor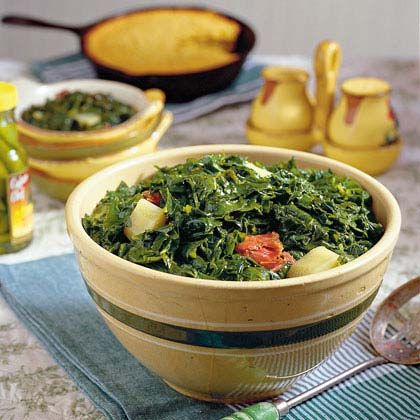 Southern turnip greens and ham hocks  
(from myrecipes.com)  
Ingredients:  
1 3/4 lbs. ham hocks, rinsed 
2 qts. water 
2 bunches fresh turnip greens with roots, about 10 lbs. 
1 tbsp. sugar 
Directions:  
Boil water in 8 qt. Dutch oven, adding ham hocks. Reduce heat and simmer 1 ½ hours until meat is tender.

 

Remove and discard stems and discolored spots from greens. Chop greens, wash thoroughly and drain. Peel turnip roots and cut in half.

 

Add greens, roots and sugar to Dutch oven, bringing mix to a boil. Reduce heat, cover and simmer for 45 to 60 minutes until greens and roots are tender.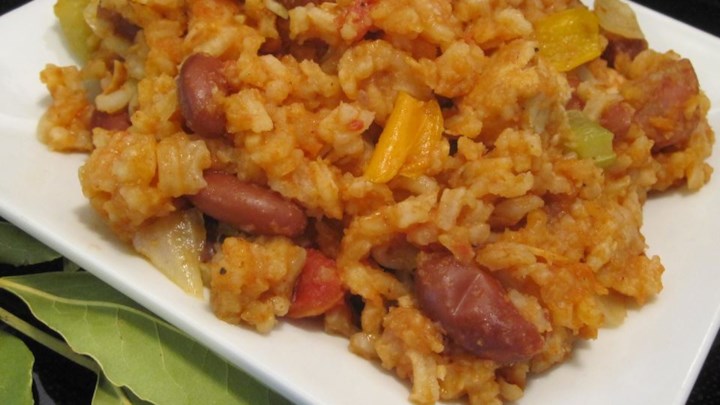 Easy Cajun jambalaya  
(from allrecipes.com) 
Ingredients:  
2 tsp. olive oil 
2 boneless skinless chicken breasts, cut into bite-size pieces 
8 oz. kielbasa, diced 
1 Spanish onion, diced  
1 green bell pepper, diced 
1/2 cup diced celery 
2 tbsp. chopped garlic 
1/4 tsp. Cayenne pepper 
1/2 tsp. onion powder 
Salt and ground black pepper to taste 
2 cups uncooked white rice 
4 cups chicken stock 
3 bay leaves 
2 tsp. Worcestershire sauce 
1 tsp. hot pepper sauce 
Directions:  
Heat oil in a large pot on medium-high heat. Saute chicken and kielbasa until lightly browned, about 5 minutes.

 

Stir in onion, bell pepper celery and garlic. Season with cayenne, onion powder, salt and pepper, cooking for 5 minutes or until onion is tender and translucent.

 

Add rice, then stir in chicken stock and bay leaves.

 

Bring to a boil then reduce heat, cover and simmer for 20 minutes, until rice is tender. Stir in Worcestershire and hot pepper sauces before serving.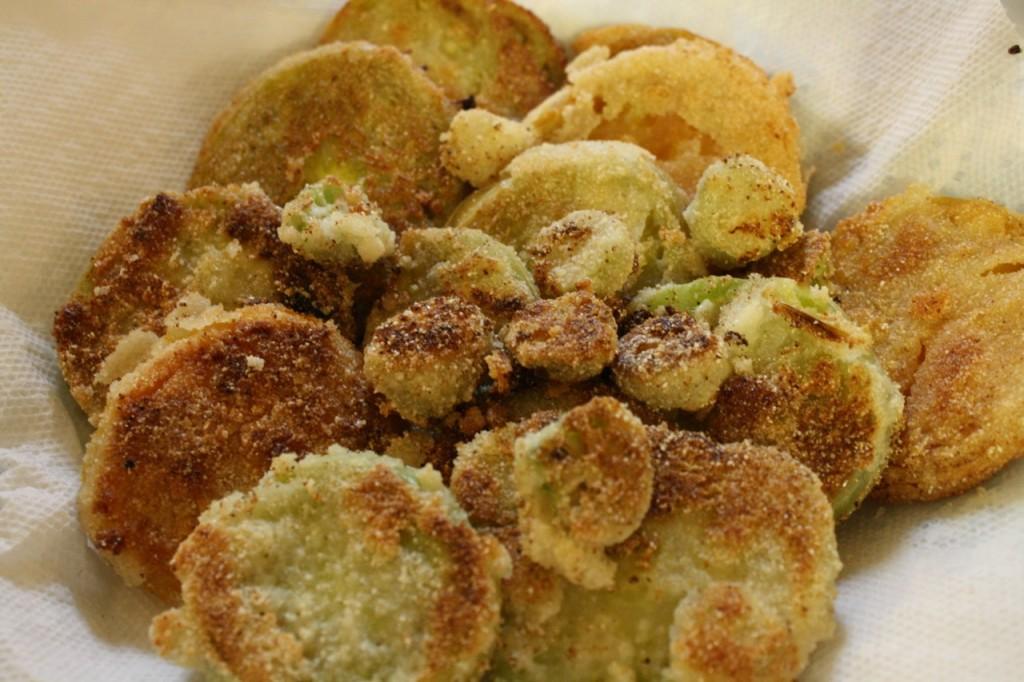 Fried green tomatoes 
(from 5dollardinners.com)  
Ingredients:  
2-3 unripened, green tomatoes  
Enough buttermilk for dipping, approximately 1 cup 
Enough cornmeal for coating, approximately 1/2 cup 
Enough oil to cover the bottom of iron skillet, approximately 3 tbsp. 
Directions:  
Slice tomatoes to desired thickness, 1/2 inch works well.

 

Fill one bowl with buttermilk and another with cornmeal.

 

Heat oil in skillet on medium high.

 

Dip individual tomato slices in buttermilk then coat both sides in cornmeal. Drop carefully in hot oil, frying about 4 minutes until golden brown on either side.

 

Remove fried tomatoes from skillet and place onto a paper towel-lined plate to drain. Blotting oil with another paper towel is also recommended. 

 

Season to taste with salt and pepper as desired.