Enough
 Students across America walkout of class to protest gun violence
By Christian Hollis, Editor-In-Chief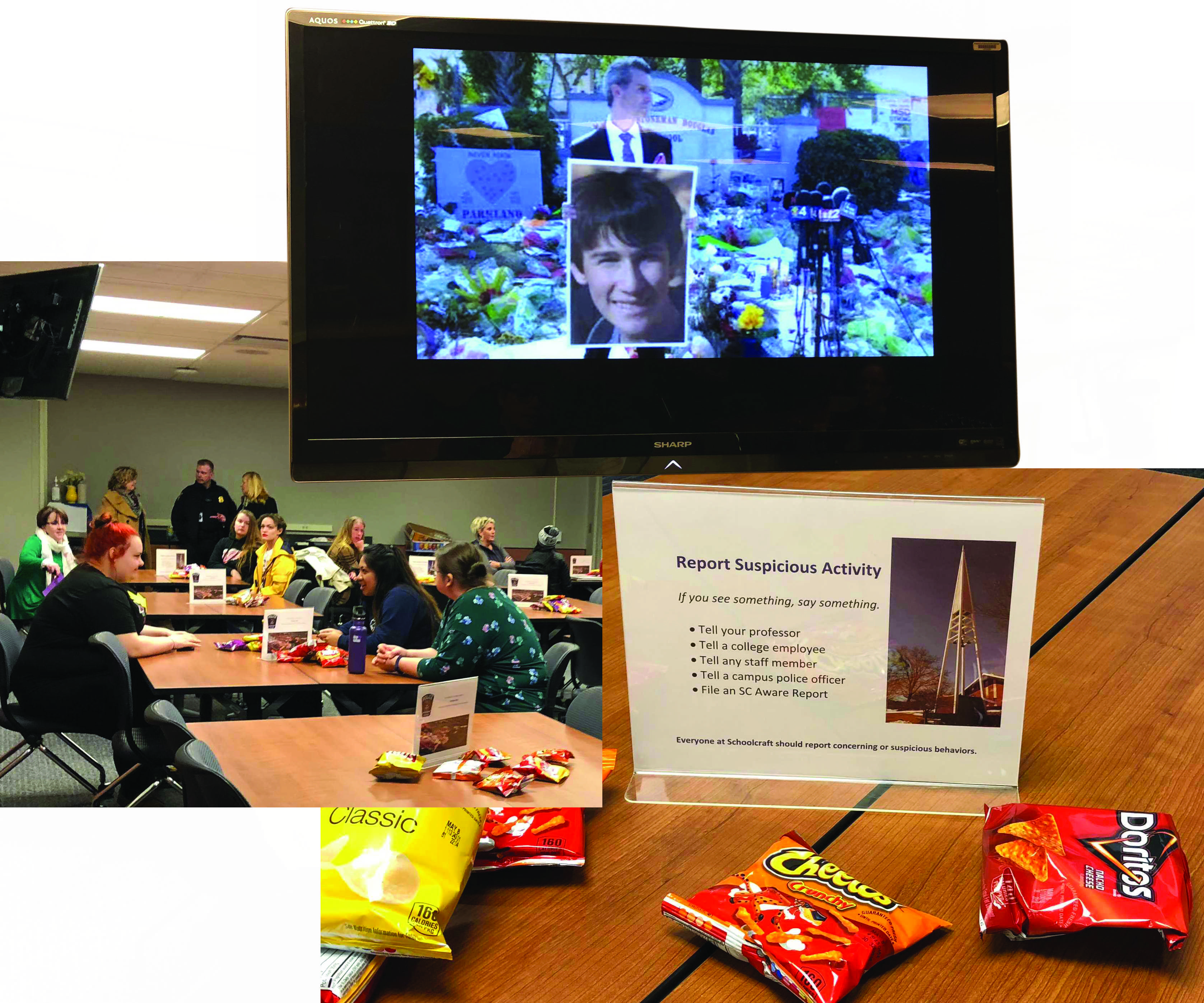 March 14, a month after the shooting at Stoneman Douglas High School in Parkland, Fla., students across America walked out of their classrooms from 10 to 10:17 a.m. to honor the 17 victims at Stoneman Douglas and to prevent another major shooting.
Schoolcraft students and faculty met in Liberal Arts room 200 with refreshments and were safe from any punishment from missing class.
"I invited (students) but I tried to make clear that they weren't being pressured to come at all either way." said Jessica Worden-Jones, Anthropology instructor. Students and faculty used the time to discuss changes to society about the way America deals with violence inside schools.
"It was definitely a good way to start a discussion," said Elvis Veliu, Vice President of Communications at Phi Theta Kappa. "As soon as I got out of (the walkout) I started talking with my professor and several students in my classes about what it was and the issues."
In Washington D.C., Democratic Senator Debbie Stabenow took to Twitter to show her support for the walkout. "I stand with students in Michigan and across the country who are speaking out against gun violence."
Some local schools took the opportunity to demand action, such as students from Martin Luther King Jr. High School in Detroit who marched to the Spirit of Detroit in protest. Students from North Farmington High School observed six minutes of silence, the same amount of time the shooting lasted in Parkland, Fla. The silence was only interrupted every 17 seconds to shout a name of the 17 victims.
There are measures in place set by the campus police department to report or prevent violence at Schoolcraft College.
"On our police webpage we have awareness videos to help people identify what suspicious behavior is," said Chief Steve Kaufman. "Call us… our average response time is 60 seconds. Report things in our SC Aware program, even if its anonymous."
Students can also report suspicious activity on social media that may seem threatening to SC Aware.
For more information about SC Aware, or to file a report, visit www.schoolcraft. edu/scaware. For immediate help, call Campus Police at 734-462-4424.