Pit or pothole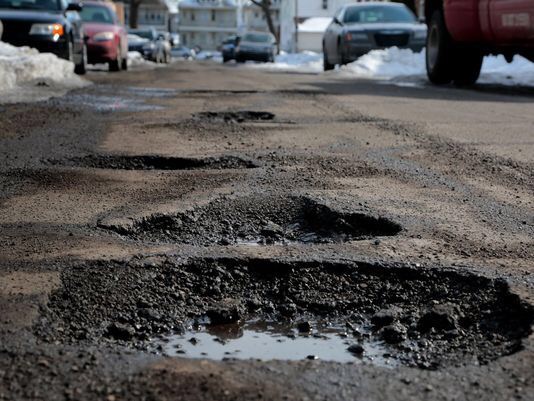 Michigan's perilous pothole problem
By Alexandra Lachine, Arts and Entertainment Editor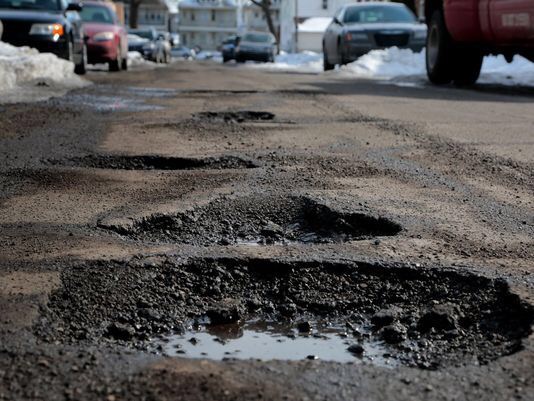 Potholes are an infamous, dangerous aspect of the typical Michigan commute as winter thaws to spring. According to Crain's Detroit Business, AAA has reported a 32 percent increase in tire maintenance due to potholes in Michigan this year.
The potholes unmasked by recent warming trends in the weather are particularly awful, claiming tires and axles across the state, slowing traffic to a stressful crawl and wreaking general havoc on what should be a normal commute. Pothole-wounded pavement seems far more common in Metro Detroit this winter than a smooth roadway. One such pothole at southeast Van Dyke Rd. and 11 Mile in Warren is so severe that the asphalt has been completely stripped, leaving the rebar exposed. Others in the city of Livonia have left northbound Haggerty Rd. between Schoolcraft Rd. and Five Mile comparable to moonscape, dangerously dotted by deep craters that slow traffic to a halt. Yet another on southeast Plymouth Rd. between Eckles and Haggerty has been further deformed in recent weeks to an expansive pit that engulfs the entire right lane. But motorists have no reason to worry, as the city has so carefully crafted the solution of placing traffic cones around it.
Michigan's notoriously unpredictable weather is partially responsible for the severity of our pothole problem. These disgraceful craters are created when snow and ice melt in seasonal freeze-thaw cycles. Moisture seeps into the pavement, freezes, expands, thaws and creates a gap. The weight of vehicles driving over the gap weakens the pavement, resulting in a pothole.
These not-so-pretty pits are able to thrive in a state that receives nearly a foot of snow then three inches of rain in 60 degrees over the course of less than two weeks.
Nonetheless, pothole "repair" is incredibly ineffective in our neck of the woods, and it's time that taxpayers demand better. Oftentimes, potholes are only temporarily filled until consistent summer warmth allows roadways to be completely repaved. This is due in  part to the fact that asphalt formulations are challenged by winter elements and cold. But as the state legislature plans to allocate $175 million more to roads, newer types of asphalt that can withstand these challenges would be a wise investment — fixing roads faster and reducing overall costs by avoiding multiple repairs throughout the year.
Pothole repair depends on the different formulations for asphalt cement, which binds aggregate (the natural soil composition) together. Part of the issue is that Michigan's aggregate has a high sand content, calling for more permanent methods of compaction the vital physical task in the repair process. If the air between the aggregate and binder is minimized, the effectiveness of the binding will increase.
Compaction has to be done while the mix is still hot. Cooling before compaction gives way to more air voids, which is why permanent pothole repairs are generally done in warmer weather when a more chemically advanced binding mix is not in use. This is why most Michigan potholes get a temporary, loose aggregate of cold mix asphalt. In most cases, crews "fix" potholes with a simple "throw and go" treatment of cheap asphalt and minimal compaction using shovels. Regular traffic leads to further deterioration in a relatively short time, resulting in the reformation of potholes within mere days.
The savings from a single, scientifically effective pothole repair can be great over time, which should be a statewide investment.
Reimbursement claims for damage caused by potholes can be filed to the state or respective local ordinances depending on the roadway in question. However, it is worth cautiously noting that Michigan paid only nine out of 267 pothole reimbursement claims in the last fiscal year alone, establishing a shameful 3.4 percent reimbursement rate in a state that so willingly covets an income tax of 4.25 percent and one of the nation's highest gas taxes claiming to fund the improvement of our roadways.
Potholes on city streets and county roads can be reported to that city's public works department or county road commission. If they are anything like the cities of Warren or Livonia, they will insult your hard-earned tax dollars by carefully putting traffic cones around the treacherous trench and, if you're lucky, the temporary cheap asphalt previously discussed.
For now, MDOT suggests that the most effective way to drive through a pothole is to slow down then release the brakes before you hit the pothole. This reduces the impact speed and affords your vehicle's suspension the full range of travel to absorb impact. If you can't avoid the pothole, straighten your wheel to hit it squarely and roll through, as hitting it at an angle can transfer the energy of impact in ways more likely to cause damage.