Great Terror in comedic light
"Death of Stalin" is clear, chaotic farce
By Alexandra Lachine, Arts and Entertainment Editor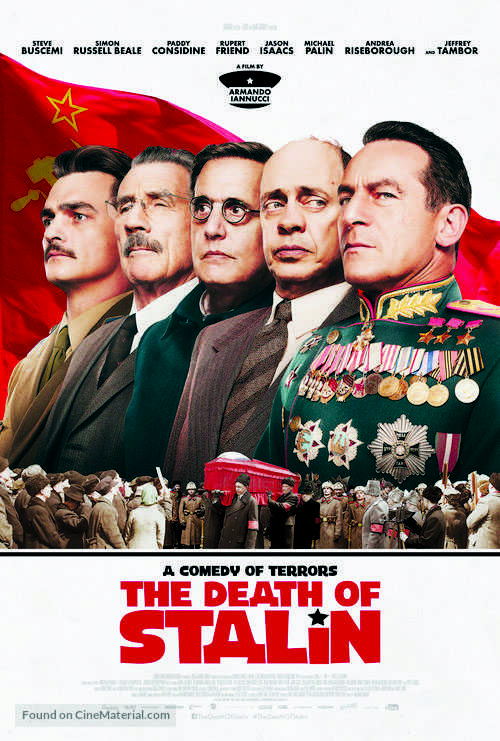 Armando Iannucci's "The Death of Stalin" is an absurdist comedy based on the graphic novel by Fabien Nury and Thierry Robin. On the silver screen, its universal tension — the stress of living during the Soviet Great Terror — is likely to pensively disturb viewers, as it should.  
In 1953 Moscow, tension controls an era of state-mandated paranoia and violence now historically dubbed the Great Terror. After Soviet leader Joseph Stalin suffers a stroke, his Central Committee struggles to seize power and eliminate any and all rivals of the Communist Party. 
Among these schemers are designated successor Georgy Malenkov (Jeffrey Tambor), loyalist Vyacheslav Molotov (Michael Palin), fearsome head of the Secret Police Lavrenti Beria (Simon Russell Beale) and Minister of Agriculture Nikita Khruschev (Steve Buscemi).
The shifting loyalties and machination are further complicated by the timely arrival of Stalin's children (Andrea Riseborough and Rupert Friend) and the formidable leader of the Soviet army (Jason Isaacs). As the union forcibly gathers to pay respects to their fallen General Secretary, the winners and losers of the power struggle can only be determined behind the scenes of a political curtain.  
"The Death of Stalin" somehow manages to balance violent, stressful paranoia with raw, farcical comedy. The laughs never come cheaply as the film stays firmly planted in that terrifying era, in which the wrong word in the wrong ear often lead to death.
It is this often-belittled atmosphere of terror that drastically raises "The Death of Stalin's" stakes above many political comedies that ultimately favor politically correct censorship. Director/co-writer Armando Iannucci made a name for himself by satirizing the petty squabbles and bad behavior that frequently end up shaping public policy, making him the right choice for this film. 
The dialogue adapted to film from Nury and Robin's graphic novel pulses with plain-spoken yet detailed formality, mixed with the modern, profanity-rich language for which Iannucci is famous. The actors not adopting Russian accents also proves to be better as it disregards another unnecessary layer of formality.  One significant contribution to the film's greatness is its lack of isolation of a clear hero. It is clear who to root against, but really there is never a distinct character to root for in the historic power struggle.  
As Khruschev, Buscemi has one of his best parts in years. His learning curve is presented as a steep, fascinating arc from start to finish. Beale has been picking up nominations and wins as brutal puppeteer Beria, while Tambor's arrogant waffling as Malenkov makes all the reversals possible. Riseborough and Friends earn laughs and some sympathy as Stalin's grown children. Isaacs is a formidable presence as Field Marshal Zhukov, daring to cut through layers of communist bureaucracy.
It is perhaps this aspect of the film and of ongoing history that is its most fatal flaw. Iannucci did not fully capitalize on the opportunity to recognize and dissect the catastrophic failures of a lethal political doctrine that has claimed more innocent lives in under 200 years than any other in human and political history. 
That being said, amid the horrors of countless lives destroyed and human exploitation, "The Death of Stalin" evokes snickers of recognition and produces genuine laughter. It's a significant feat that makes such a comedic balancing act even more impressive.