Fooling around ~ with food
April Fools Day recipes for the trickster in all of us!
MEATLOAF CUPCAKES WITH MASHED POTATO ICING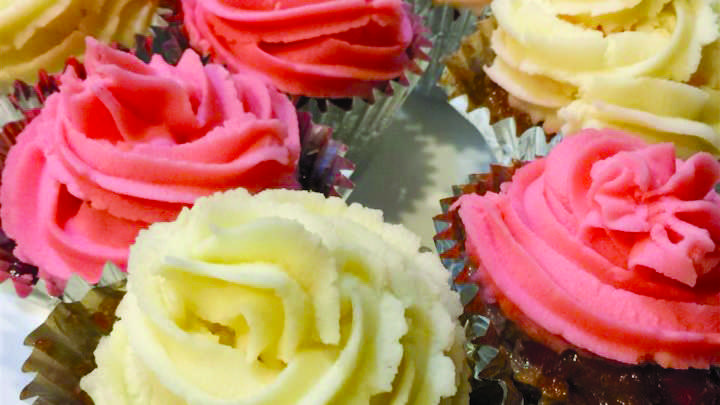 18 servings
Recipe from bettycrocker.com
Image from allrecipes.com
Directions:
• Heat oven to 350°F. Spray 18 regular-size foil muffin cup liners
with cooking spray. Place into colored paper liners in muffin
tins.
• In a large bowl, mix ingredients until well combined.
Divide mixture evenly among muffin cups, pressing
mixture down firmly.
• Bake 35 to 40 minutes or until meat thermometer inserted in
the center of the loaves reads 160°F. Cool slightly in the muffin
cups.
• While loaves are baking, prepare the mashed potatoes. Make
sure that they are creamy and smooth so that they can be
piped onto meatloaves. Add food coloring if desired.
• Use a decorating bag (or a freezer baggie with a corner cut
off) and a decorating tip to pipe the mashed potatoes onto the
meatloaves. Top with extra parsley if desired.
Ingredients:
• 2 eggs, beaten
• 2 pounds lean ground beef
• 1 cup panko crispy bread
crumbs
• 1 small red onion, finely
chopped
• 2 cloves garlic, finely
chopped
• 1 tablespoon coarsely
chopped fresh Italian
(flat-leaf) parsley
• 2/3 cup ketchup or chili
sauce
• 2 teaspoons Worcestershire
sauce
• salt and pepper
• about 3 cups mashed
potatoes
FRENCH FRIED APPLE STICKS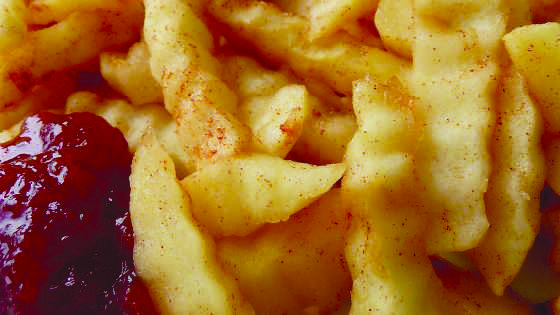 1 serving
Recipe and image from geniuskitchen.com
Directions:
Preheat oven to 400°F. Peel apples and cut into sticks with a crinkle cutter. Toss with cin-namon and sugar. Place on a lightly greased baking sheet. Bake 8 to 12 minutes. Serve with strawberry preserves (to look like ketchup) if desired.
Ingredients:
2 apples
cinnamon
sugar
strawberry preserves (optional)
SESAME GLAZED CAULIFLOWER WINGS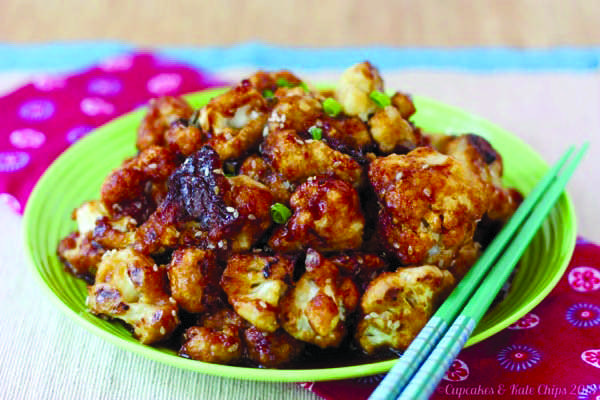 4 servings
Recipe and image from cupcakesandkalechips.com
Directions:
Combine all of the sauce ingredients in a bowl and whisk together. Set aside.
Preheat the oven to 450°F. Spray a baking sheet with oil or cooking spray.
Cut the cauliflower into florets. The smaller that they are, the faster they will cook and the softer they will get.
Whisk together the remaining ingredients in a bowl.
Toss the cauliflower in the batter until thoroughly coated.
Arrange the cauliflower on the baking sheet in a single layer.
Bake for 15 to 20 minutes, or until slightly less done than you want them.
Remove from the oven and gently flip and toss the cauliflower in the sauce on the sheet.
Return to the oven for another 5 minutes.
Place the cauliflower on a serving plate or bowl and if desired, sprinkle with additional scallions and/or sesame seeds.
If desired, pour any remaining sauce off of the baking sheet into a bowl for dipping.
Ingredients:
For the sauce:
½ cup soy sauce (or tamari for gluten free)
¼ cup honey (or agave or maple syrup for vegan)
½ tablespoon grated fresh ginger
1 tablespoon sesame oil
¼ cup rice vinegar
1 to 2 sliced scallions
1 tablespoon sesame seeds

For the cauliflower:
One large head cauliflower
½ cup flour (any kind)
½ cup milk (any kind)
½ teaspoon garlic powder
Sesame seeds or scallions for garnish