Delightfully different debut
"Isolation" cements Kali Uchis's presence as unconventional pop enchantress
By Alexandra Lachine, Arts and Entertainment Editor
4.5/5 stars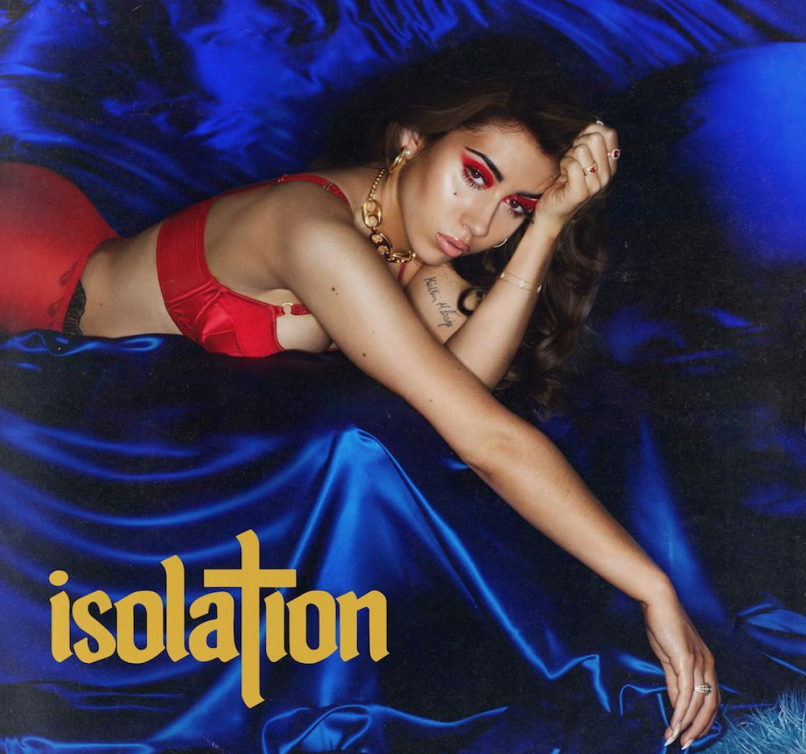 One of the most understandable reasons that pop music often gets a bad rep is due to its repetitive nature, over glossy poster children and production and lyrics that feel so vain and empty. Colombian-American songstress Kali Uchis has broken through each of these molds, liberating music fans who want to like pop with debut album, "Isolation."  
Kali, born Karly Loaiza, moved with her family from Colombia to just south of the nation's capital when she was a child. Following her 2012 mixtape "Drunken Babble," Kali has since had several singles and collaborations to her credit, including 2015's independent EP "Por Vida." 
Part of what has established Kali's presence in what's considered the "left-field" of pop music is her skillset to write her own lyrics, produce music both her own and of others, co-direct her music videos and design her own artwork. The weight of Kali's featured vocals has been with friend Tyler, The Creator, as the pair also entered 2018 with the release of "Isolation's" thirteenth track "After the Storm" in anticipation of the album's full debut. 
As her first full-length, it is metaphorically a delicacy she's been teasing us with all these years, now delivering with the full caliber of her talent.
The mood is set right off the bat with intro "Body Language." Here, she coos to who seems to be a romantic interest about her desires of whatever may come of their love affair, slightly different from the "Body Language" fans may remember she released on Soundcloud in spring of 2013. This one is better, less refined and much more representative of the artist's nature.
"Flight 22" is vibrantly charged with the similar purpose of romance. Here, the songstress is exploring the possibilities of a relationship by alluding to the metaphor of it being a flight that they are on together, without any clear destination. "So pack all your bags, don't gotta ask where we're going to/ Don't wanna be anywhere if it ain't with you/ Nowhere in this world can compare" she echoes across the chorus. 
"Tyrant," the album's sixth track, features the alluring, raw vocals of Jorja Smith and has since been one of the most popular singles thanks to its early release. The romance is slightly different here, as Kali details her wishes of a symbiotically powerful relationship dynamic that serves to help her find some unattained level of comfort.
Following her ordering her man to hear her out in Spanish, Kali opens the track with "All I hear is sirens in a world so violent/ Would you be a tyrant? If I gave you power would you take it out?/…When everything is a riot, you're my peace and quiet." Jorja's bridge is equally heavy as she explains, "Place the spark in my life back, now I want to show you how I thank that/…Don't lose this, we have it all." 
Eighth track "Nuestro Planeta," featuring Colombian reggaeton performer Reykon, delightfully opens the second half of the record. It is also the only track with all Spanish lyrics, which embraces a reggaeton vibe that obviously makes you want to dance, yet remain pensive about someone we were once close to in doing so.
The vibrant chorus kicks off with "Hola, ¿me recuerdas?/ Jurabas amarme de por vida/ Dime si podemos preteder, que solo somos tú y yo," which beautifully translates to "Hello, do you remember me? You swore to love me for life. Tell me if we can pretend it's just you and I." 
Kali keeps the energy high and the hits coming with beachy track No. 9, "In My Dreams." The lyrics and underlying theme of this song are arguably darker as she tells of life being ideal only in her dreams, but its uplifting music serves as sharp contrast, actually making it the kind of song you may commonly jam to enjoy long summer days and their endless nights. 
Skipping ahead to lucky number 13 where Kali teams up with Tyler, The Creator and the encouraging Bootsy Collins for yet another thoughtful and masterfully curated single, "After the Storm." With lyrics such as "The sun'll come out, but we've been struggling endlessly so they will find the love/ Cause after the storm is when the flowers bloom," the trio craft a ballad to the world to remember that everyone is facing a struggle of their own, and the hard times will give way to brighter days if we just persevere. 
As a work of unique, captivating art, "Isolation" is a romantic mural of artists, sounds and ultimately the experiences the songstress has encountered on her journey in music thus far. Kali has successfully enchanted the world with an artistic vision that pulls brilliant, creative minds into an album that still sounds distinctly her own.