Player of the Year
Sophomore Kelser honored for hard work and consistency
By Casey Spencer, 
Sports Editor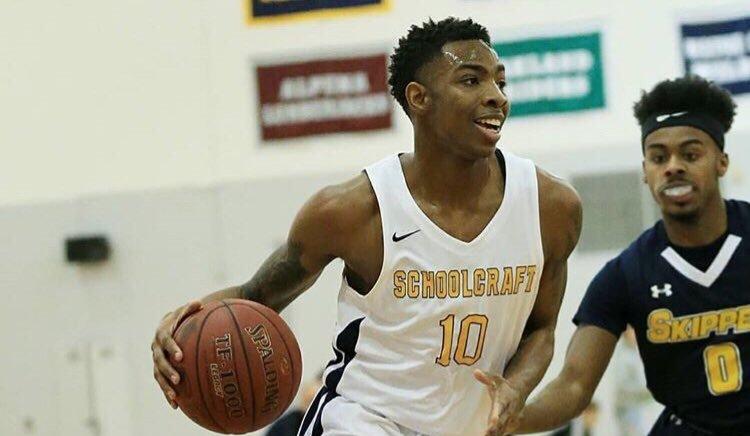 Kelser puts up the three… and knocks it down! Kelser drives the lane… and finishes! These phrases acted out all year by men's basketball sophomore guard Walt Kelser.
"We moved Walt to the point guard position, and from there, his game really took off," said head coach Abe Mashhour. "He is a great playmaker who can score. Walt is extremely vital to our team as he forces teams to figure out how to guard him."
Kelser solidified Schoolcraft's point guard position by doing a little bit of everything from knocking critical shots to defending and creating turnovers earning him the eastern conference of the year honors.
In 26 games, Kelser averaged 21 points and had 98 assists, 43 steals and shot 47.6 percent from the field despite missing three weeks due to injury. His stellar play through the season propelled the Ocelots to second in their division. After the regular season, Kelser was able to put his game in another gear. He was averaging 34.7 points, adding 15 assists and 5 steals during the three-game playoff stretch, including a 40-point outing in the first playoff game against the Wayne County Wildcats.
"I was real focused, and it was win or go home and I didn't want to go home," said Kelser.
Kelser, a Walled Lake Central High School grad recalls his fondest memory of high school ball came during his junior year when he helped his team advance to the quarter finals.
"Even though we came up short that team made history because that was the first time making it back (to the quarter finals) in 21 years," said Kelser.
Kelser made a memory Feb. 7 this season that he won't forget anytime soon, when he made the game winning shot against Henry Ford Community College. At the time, Henry Ford was at the top of the division with Schoolcraft right on their heels. Late in the fourth quarter with seconds remaining on the clock, Kelser was killing time at half court with the score sitting at 66-66.
Once the clock reached eight seconds left, he went to work. Getting the screen tried to drive but was stuffed, the clock dwindling down to three seconds, he fanned out to the wing and pulled up the contested three, nothing but net winning the game for his team.
"He's a guy that can get his own shot at any time, so it's easy for us as a team to rely on him to be our offense because he's so gifted," said teammate Donavan Williams.
Kelser has been heavily recruited by both Division I and Division II basketball programs all season, but ultimately, choose to continue his basketball and academic career at Division II 2018 national champion Ferris State University. Kelser will pursue a sports science degree while he tries to lead the Bulldogs to another national championship.
"I chose Ferris State because they seemed like the best fit for me, and the coaching staff and team made me feel like family on my visit," said Kelser.
For Kelsers great play this season he was named to the 2018 NJCAA District 10 Men's Basketball All-Tournament team, All-Region Xll first team, All-MCCAA, All-Eastern Conference first team and MCCAA Eastern Conference Player of the Year. Possibility his best accomplishment he received at the conclusion of the season was National Junior College Athletic Association Division II Men's Basketball first team All-American.
One thing is certain; Ferris State secured one heck of a player with Walt Kelser.