Spirit still strong despite loss to Skippers, Ocelots searching for first win
by Raymond Falkiewicz, Staff Writer
The Women's Volleyball team suffered another loss, this time to hands of the St. Clair Skippers on Sept. 27 in three sets. After falling short every set (25-16, 25-14, 25-15), the team was exasperated. Despite the shortcomings, the team's spirit continues to be unyielding. As players switch between the sidelines and the fire up front, they cheer on their teammates- and it makes a difference.
"The first game, we were all there cheering each other on and we did great," said Defensive Specialist Sheila Guedes. "Second game wasn't so great because we were quiet; we were all devastated after the first game. The third game we picked it up and the score really tells everything."
Despite losing every set, Guedes gives kudos to all of her teammates.
"We actually made intelligent plays," said Guedes. "I can tell a lot of the girls put all their effort into this."
During each break, Head Coach Shannon Braun gave her team a pep-talk, which noticeably helped. Despite missed saves and spikes that weren't hard enough, the Ocelots shown tenacity and never gave up.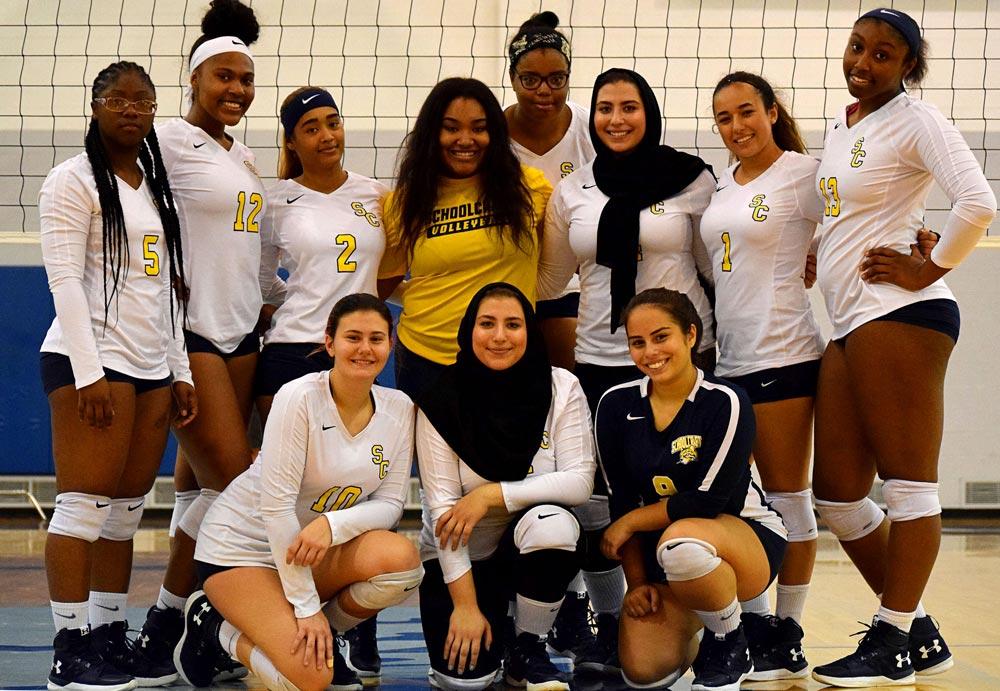 "My girls fight really hard," commented Braun. "This year is a little rough, I'm not going to lie. I was hired in late, and we have two girls who have never played volleyball before. They have come leaps and bounds from the beginning of the season, and they're working their butts off."
Without the support from their teammates, Guedes and Gail Perkins may not have come as far as they have so far this season. Both Guedes and Perkins have no prior volleyball experience but have played and cheered with a passion that is reflected in their teammates.
"As a player on the bench, I try to keep my team uplifted," remarks Perkins after the game. Volleyball, being a team sport, gives players a sense of a second family. Having the support of this family helps keep spirits high.
Non-verbal communication was also seen throughout the game. Every time the Ocelots scored a point, they clapped their hands together above their head and shook their hips.
These small celebrations may seem insignificant on the sidelines, but it unites the players in their small victories.
Even though the Women's Volleyball team suffered another loss, their spirit is undying. They continue to give it their all and cheer each other on through better or worse.
It really puts the team in team sport.
The Ocelots return to the home court Oct. 11 against Macomb Community College for the Dig Pink Game. For the full schedule, roster and up to date standings go to mccaa.org.