The life of strongman

Nick Davis earns podium finish at u23 World Strongman Competition
by Joshua Walker, Staff Writer
For a lot of students, being able to lift more than their weight is an accomplishment, but for Schoolcraft student Nick Davis, it is his regular everyday workout.
Davis is a bona fide strongman. However, he wasn't always a strongman though.
Davis started his sports career while attending Livonia Churchill High School and graduated in 2015. Davis's sport of choice was originally football however, during one of his class periods at Churchill, his football coach convinced him to meet with nationally ranked powerlifter Cory Allen of Livonia, Michigan.
"I performed my first deadlift with him, which was 500 pounds," said Davis. "He told me whenever you're finished with football let me know because you have a future in strength sports."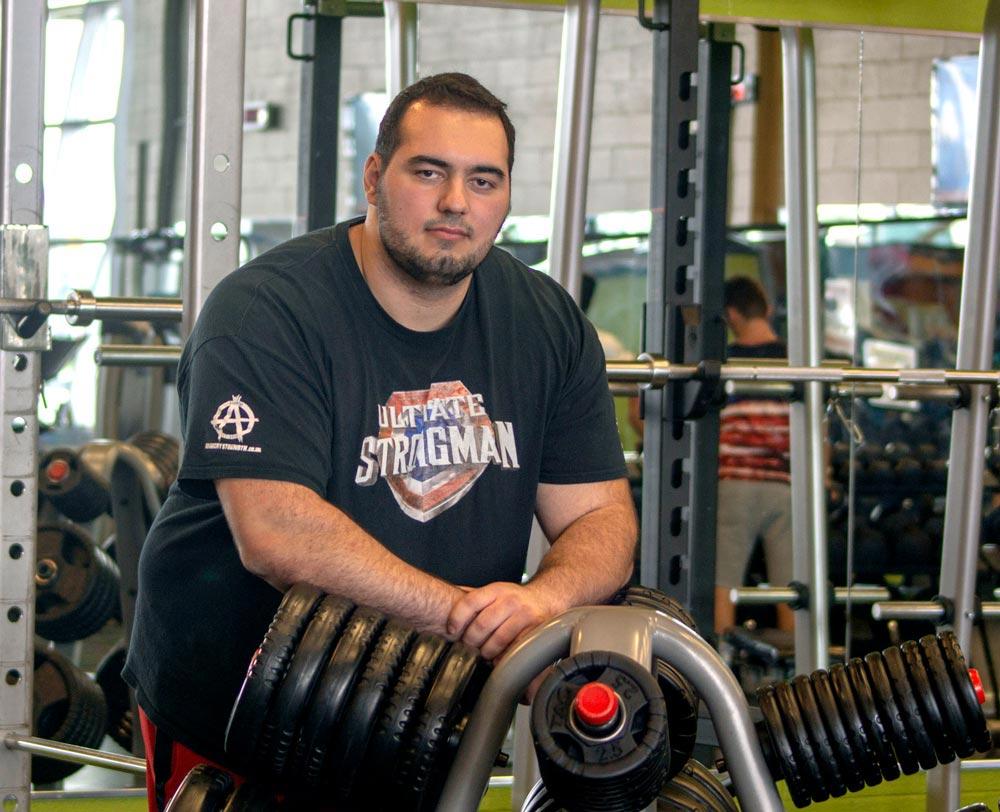 After graduation, Davis was recruited to play football for Wayne State University in Detroit, Michigan. All was well, until an injury would lead him to the decision that football wasn't the path for him anymore. From there, Davis reconnected with Allen, and eventually, they would meet up at a local gym for powerlifters and strongman athletes.
Once Allen introduced him to the owner of the gym, "The owner told me, yeah, you're going to be a strongman," said Davis. At that gym, Davis would train and his coaches would find competitions for him to enter. He took off from there.
A strongman contest consists of five events with one event involves over pressing something overhead like a dumbbell, axle, log, or a mix of all three. The second event involves performing a deadlift, with the goal being trying to get as many reps as within one minute or trying to get one rep max. Then, there are the two moving events, which test grip strength.
This past June, Davis ended up heading to the National Strongman competition, in New York where he qualified to represent the U.S.A. in the Under 23 World's Strongest Man contest in Stoke – on – Trent, United Kingdom on Aug. 26, 2018.
Eight of the strongest under 23-year old's in the world hailing from countries such as Canada, Lithuania, Poland, Scotland, England, Wales and of course the United States were in attendance.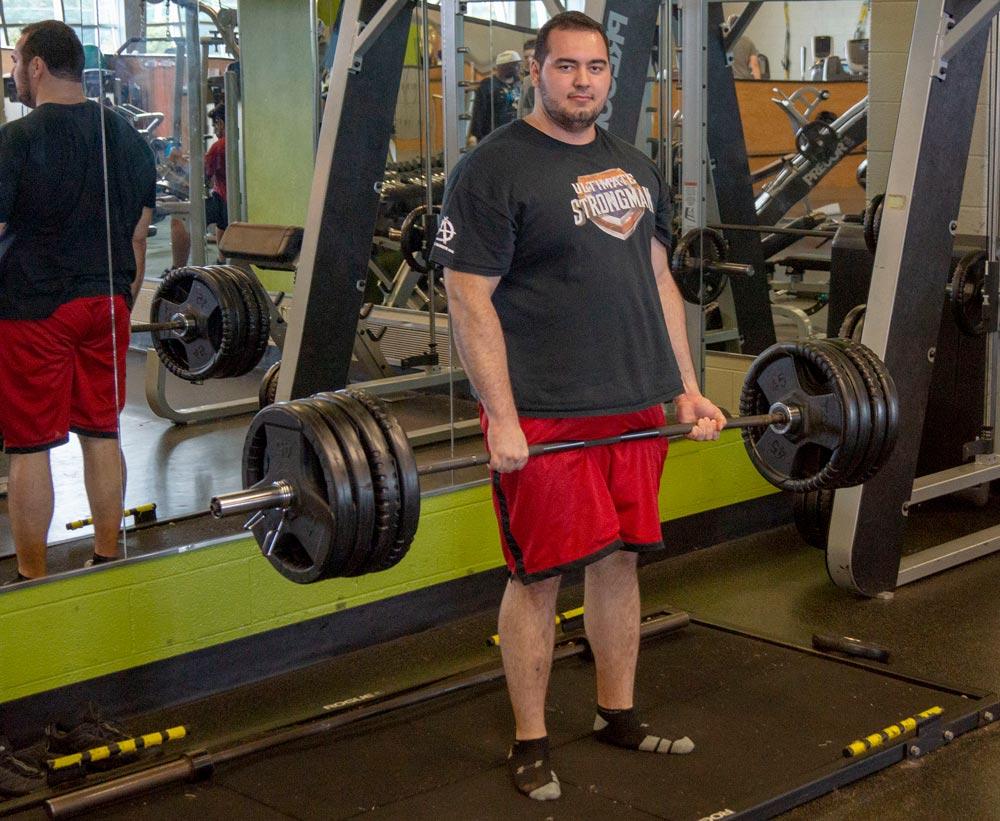 To prepare for this event, Davis usually worked out four times a week with one day for squatting, one day for deadlift, one day for press, and the last day for events. Once notified of the events that will take place at the strongman contest, his workouts become geared toward those events.
In addition to a strict workout routine, diet plays an important role in keeping Davis on top of his game. Davis follows the vertical diet. According to vertical diet founder, bodybuilder, Stan Efferding, the vertical diet is a performance-based nutritional framework that starts with a solid foundation of highly bioavailable micronutrients which supports a structure of easily digestible macronutrients that can be adjusted specifically to meet your body's demands.
Following the vertical diet, Davis's intake can be around seven thousand calories, which consists of rice and beef compressed into four to five meals a day.
Contestants go through five events over two and a half hours to determine the "World's Strongest Man." Events such as the farmers walk, where contestants carry 275 pounds per hand for 130 feet and the last man standing log press of 275 pounds. These are scaled by distance and head to head competition.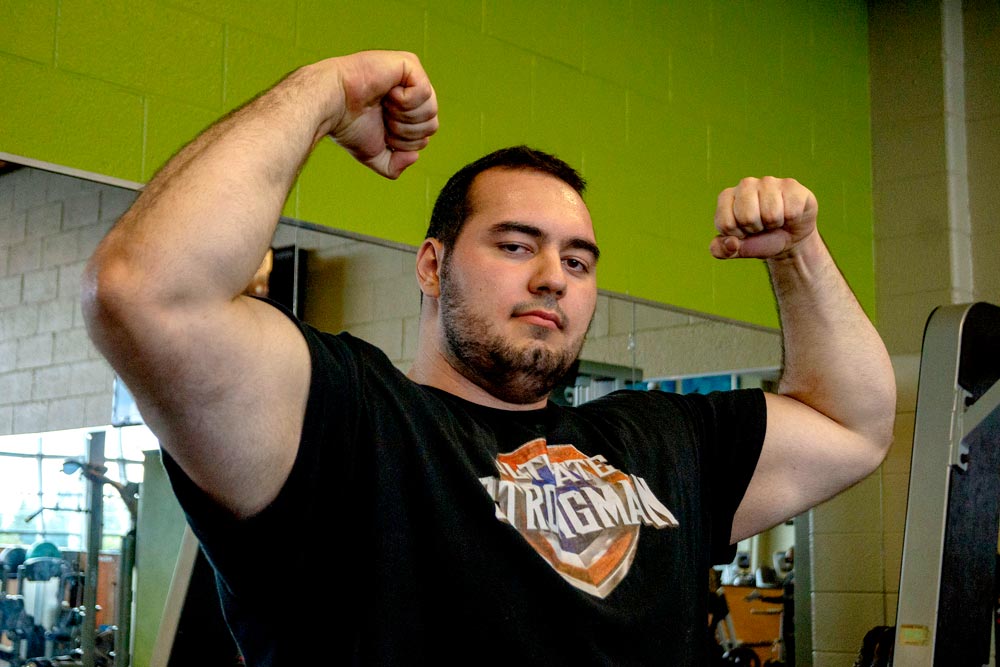 "Getting my name announced with my country for a podium finish (third place) from Glenn Ross in front of 3,000+ people was one of the highlights of my life, not just my strongman career," wrote Davis in a blogpost at unitedstatestrongman.com. "It was a close finish being one point away from second place, anyone messing up on any event could have shook up what the podium looked like."
Davis also participates in the Schoolcraft Weightlifting Club, which is held at the Fitness Center Tuesdays from 2 to 3 p.m. Students looking to get involved, want to know more about general weightlifting, and who are willing to train with other students should consider joining.
"You don't have to be huge in order to get into strongman, there are people who are 165 pounds with strongman competitions geared toward their weight all the way up to 308 plus," said Davis.
Interested students can get involved with strongman by visiting startingstrongman.com.