Schoolcraft on midterm ballot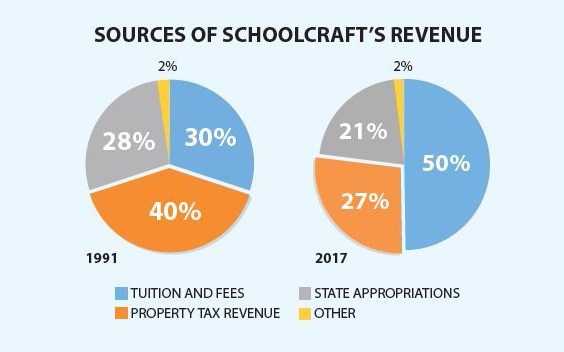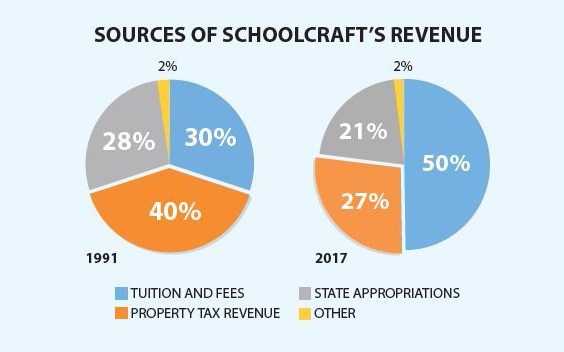 Proposal aims to restore millage rate, resolving $7 million deficit
by Christian Hollis, Editor-in-Chief
Schoolcraft College will appear on the ballot Nov. 6 to increase the mils rate from 1.76 to 2.27 in the Clarenceville , Garden City, Livonia, Northville and Plymouth-Canton school districts to resolve a $7 million structural deficit caused by several economic factors If approved by voters, the additional 0.5038 mils would raise approximately $7,136,000 and would stabilize Schoolcraft College's finances. Homeowners within the districts holding a property value of $200,000 would pay an additional $48 a year in property taxes.
In 1986, Schoolcraft reached out to voters to set the mils rate to 2.27, but after several economic factors have created a shortfall in annual funding for Schoolcraft. The ballot proposal seeks to restore the mils rate given in 1986. At the 1.76 rate, Schoolcraft College currently receives the same amount of property tax it did 12 years ago.
Over the past few years, Schoolcraft College has cut costs and has expanded revenue raising programs such as partnerships with Wayne State and other four-year universities. The college has also leased land to outside businesses such as the St. Joes Sports Dome. In 2017, Schoolcraft conducted a buy-out of faculty and staff, saving $1.6 million in annual savings in addition to prior buy-outs in 2010 and 2013 and has deferred maintenance to save $2 to $3 million a year since 2013.
"Compared to all other community colleges in Southeast Michigan, we get the lowest state aid revenue per credit hour and second lowest property tax revenue credit hour," said Jon Lamb, Controller and Director of Finance at Schoolcraft College. "On top of that, our current millage rate is well under the statewide average. We charge tuition and fees that are reasonable when compared to other community colleges, yet have the lowest cost incurred to produce 1 quality credit hour. Spending any amount of time researching our annual financial reports, which are audited annually by independent CPA's, in connection with looking at the level of credit hours produced, it becomes clear that we do not have an expenditure problem, we have a revenue problem. We asked the voters to support Schoolcraft College in 1986 by approving the authorized millage rate of 2.27, because we need that level of support to operate. Without it, [Schoolcraft College] as it exist today, is set up for eventual financial failure."
Schoolcraft College spends $890.19 to produce a quality credit hour. A quality credit hour equates to the total credit hours multiplied by completion rate. The average community college spends $1,206.02 to produce a quality credit hour. Schoolcraft College produced 120,120 quality credit hours in 2017. Though Schoolcraft spends the least amount to produce a quality credit hour, the amount the college receives is still too low to break even.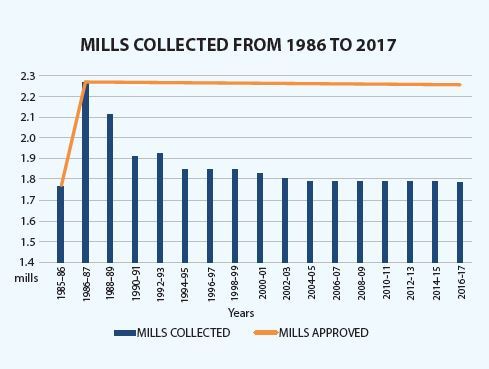 In comparison, the average community college in Michigan receives $252.31 per credit hour of state-aid while Schoolcraft College receives $153.49. Schoolcraft College receives $195.83 per credit hour from property taxes, $200 less than the state average $396.56. The only other main source of revenue comes through tuition.
"We don't want to put that burden on students," said Schoolcraft College President Conway Jeffress. "We don't want people to carry over unnecessary debt when they leave here. (The ballot proposal) protects (students) as a primary source of revenue."
President Jeffress was asked by a student during a Question and Answer session Oct. 18 on what happens to Schoolcraft if the proposal doesn't go through. President Jeffress noted, "There are tons of things here that we do that cost little to no money at all… We have a Jazz Festival every year, it costs them no money at all for our seniors or community members, but it costs the college about $30 thousand to run. It's all those things that have to go away. It makes (Schoolcraft) a lot less attractive, I think."
Schoolcraft College's proposal will be on the bottom right-hand corner of the ballot. For more information on the Schoolcraft Ballot Proposal and other issues for the Nov. 6 election, visit page xx .
Pull Out box: Shall the Schoolcraft College District, County of Wayne, Michigan (consisting of the following public school districts:  Clarenceville, Garden City, Livonia, Northville, Plymouth-Canton), be permitted to restore for a ten year period, beginning in 2019, the 1986 voter-approved millage rate of 2.27, by assessing an additional 0.5038 mills ($0.5038 per $1,000) on each dollar of taxable value of all property in the District, which rate shall be assessed through 2028 without further reduction by Section 31 of Article IX, State Constitution of 1963.  If approved and levied in its entirety, the additional 0.5038 mills would raise approximately $7,136,000 in 2019.