Kortinie's Culinary Corner
Apple Cinnamon Breakfast Cookies

Servings: 12
Cook Time: 20-25 min

Ingredients
1 c. old fashioned oats
2 bananas
½ c. granny smith apples; cut into ¼ inch cubes
½ c. red delicious apples; cut into ¼ inch cubes
1 Tbsp honey
1 Tbsp vanilla extract
½ tsp cinnamon
½ tsp all spice
½ tsp nutmeg


Skillet Apple Pork Chops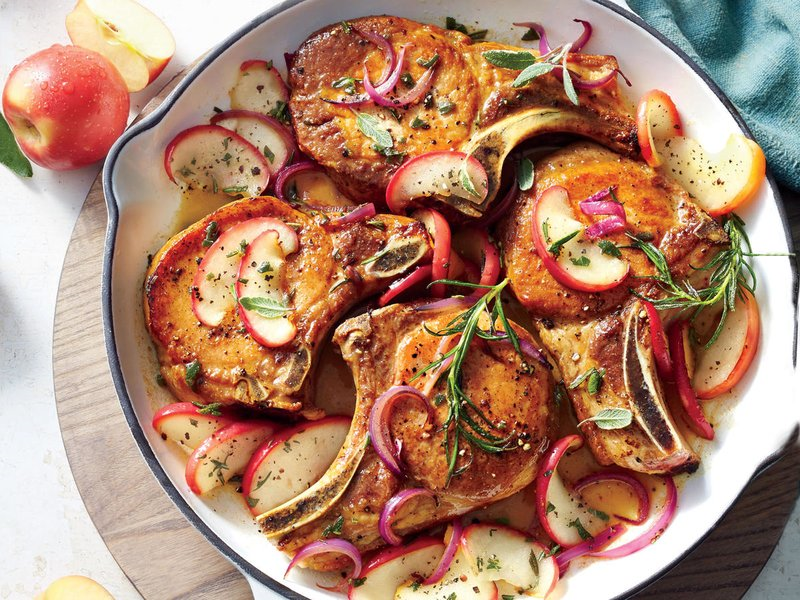 Directions
1). Get your apples leaving the skin on and cut into ¼ inch cubes. Make them small enough for cookies. After putting them into a separate bowl sprinkle lemon juice over the apple to keep them from turning.
2). Pour the oats and spices into one bowl tossing them around to make sure the oats are all coated with spice
3). Peel the bananas put them into the bowl smashing them with a fork till the consistency of the mixture resembles cookie batter.
4). Finally add your vanilla extract and honey to the mixture
5). Use a cookie scoop to scoop the batter onto a nonstick sheet pan. Put them into the oven for 20 minutes at 350 degrees.

Total Time :26 Mins
Yield: Serves 4 (serving size: 1 chop and about 2/3 cup apple mixture
Ingredients
1 1/2 tablespoons olive oil divided
4 (6-oz.) bone-in pork chops
3/4 teaspoon kosher salt divided
3/4 teaspoon freshly ground black pepper, divided
1/2 cup unsalted chicken stock (such as Swanson)
1 teaspoon Dijon mustard
1 tablespoon chopped fresh sage
1 1/2 teaspoons chopped fresh rosemary
2 medium apples thinly sliced
1 small red onion thinly vertically sliced

Directions
Heat a large skillet over medium-high heat. Add 1 1/2 teaspoons oil to pan; swirl to coat. Sprinkle pork chops evenly with 3/8 teaspoon salt and 3/8 teaspoon pepper. Add pork chops to pan; cook 5 minutes on each side or until pork chops are done. Remove from pan.
Combine stock and mustard, stirring with a whisk. Add remaining 1 tablespoon oil to pan; swirl. Add remaining 3/8 teaspoon salt, remaining 3/8 teaspoon pepper, sage, rosemary, apple, and onion to pan; cook 4 minutes, stirring occasionally.
Stir in stock mixture. Return pork chops to pan; cook 3 minutes or until liquid is reduced by half.
Pumpkin Spiced Oatmeal
Servings: 2


Cook Time: 20 minutes

Ingredients
1 c. oatmeal
½ c. hot water or milk
4 Tbsp butter; melted
¼ tsp clove
¼ tsp cinnamon
¼ tsp nutmeg

Granola
2 c. oats
½ c honey
½ tsp almond extract
2 tbsp cinnamon
½ c. coconut oil
½ c. sliced almonds (optional)

Directions
Add your dry ingredients to the bowl while slowly pouring in your hot water. Stir the oatmeal adding your butter until it is all mixed in.
Next sprinkle in your fall spices giving that a good stir
For Granola:

In a large mixing bowl add all your dry ingredients (oats, almonds, cinnamon)
Add your coconut oil and honey to the mixture giving it a good stir.
Using a spoon to mix all the ingredients together so that all the oats are coated evenly
Put your granola mixture onto a sheet pan lined with parchment paper. Use a rubber spatula to spread it out
Bake in the oven for 20 minutes at 350

Note: Top your delicious spiced oatmeal with the crunchy granola. For additional sweetness, drizzle honey over your bowl of oatmeal.


Harvest Steak Salad with A Homemade Apple Cider Vinaigrette
Total Time: 40 mins Yield: 4

Ingredients
4 cups of kale, torn into small pieces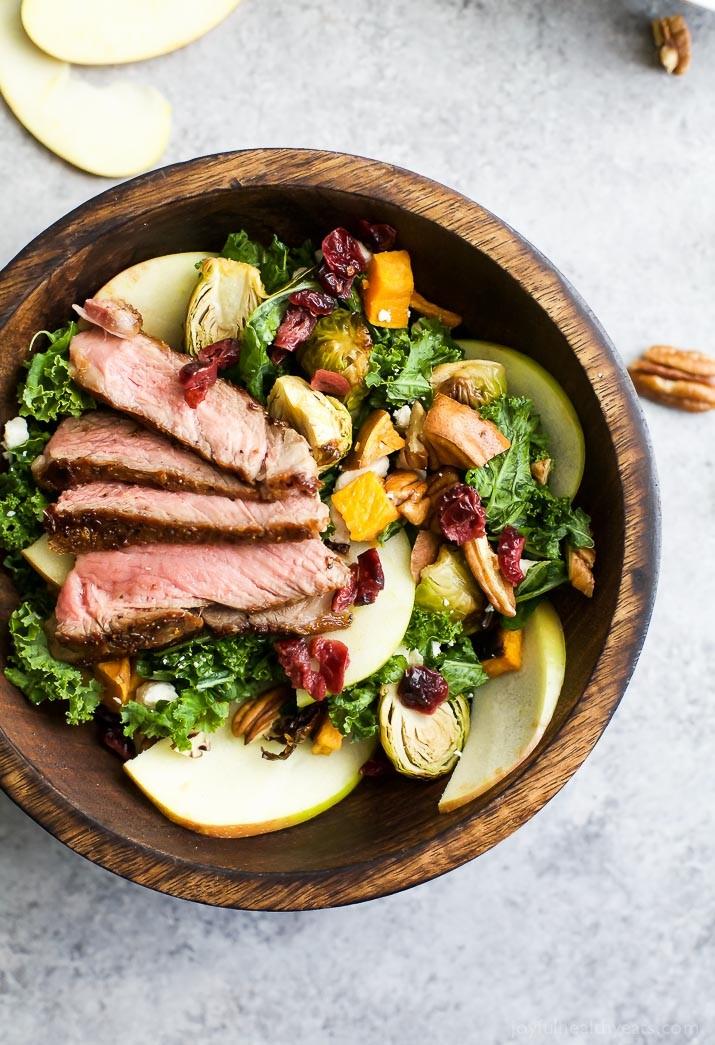 pinch of salt
1 1/2 cups halved brussel sprouts
1 cup diced sweet potatoes
1 tablespoon olive oil
salt to season
1 tablespoon of grape seed oil
10 oz. boneless ribeye steak
salt & pepper to season
1/4 cup crumbled feta
1/3 cup raw pecans
1/2 of a honey crisp apple, thinly sliced
1/4 cup unsweetened dry cranberries
Apple Vinaigrette:
1 garlic clove minced
1 tablespoon dijon mustard
1 tablespoon maple syrup
2 tablespoons apple cider vinegar
1/4 teaspoon red pepper flakes
salt & pepper to season
2 tablespoons olive oil

Directions
Preheat oven to 400.
To a baking sheet add brussels sprouts and sweet potatoes. Drizzle with 1 tablespoon of olive oil and season with salt and pepper. Toss to coat all the veggies.
Bake vegetables for 20 minutes.
In the meantime, add torn pieces of kale to a large bowl. Add a pinch of salt and massage the kale leaves. (rubbing them together with your hands so they become tender and loose their fibrous taste) About 2-3 minutes. Set aside.
Generously season both sides of ribeye with salt and pepper.
Heat a large skillet to medium high heat. Add grape seed oil to skillet. Next add in the ribeye. Sear each side for 4-5 minutes. Remove from heat and let sit for 2-3 minutes, thinly slice.
To a small bowl, add garlic, dijon mustard, maple syrup, apple cider vinegar, red pepper flakes, salt and pepper. Whisk together. Then slowly pour olive oil into the vinegar mixture, whisking the entire time until the dressing is emulsified (the vinegar and oil no longer separate).
Assemble salad. Add Kale, roasted vegetables, crumbled feta, pecans, sliced apples and sliced ribeye to a large bowl. (or you can split into individual bowls)
Serve with dressing.


Roasted Butternut Squash Soup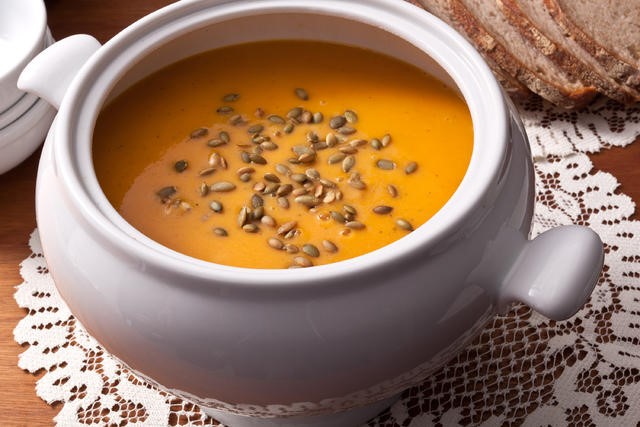 Servings: 6-8
Total: 2 hrs.
Active: 40 mins

Ingredients
4 pounds whole butternut squash (about 2 medium), halved lengthwise and seeds removed
2 tablespoons unsalted butter (1/4 stick)
1 medium Granny Smith apple (about 8 ounces)
1/2 medium yellow onion
8 fresh sage leaves
2 1/2 cups low-sodium vegetable or chicken broth
2 1/2 cups water
1 1/2 teaspoons kosher salt plus more as needed
1/4 teaspoon freshly ground black pepper, plus more as needed
1/3 cup heavy cream
1/2 cup toasted pumpkin seeds, for garnish (optional)

Directions
Heat the oven to 425°F and arrange a rack in the middle. Line a baking sheet with aluminum foil. Place the squash pieces cut-side up on the baking sheet. Melt 1 tablespoon of the butter and brush all of it over the tops and insides of the squash halves (alternatively, you can rub it on evenly with your fingers). Season generously with salt and pepper. Roast until knife tender, 50 minutes to 1 hour.
Meanwhile, peel, core, and cut the apple into medium dice. Cut the onion into medium dice. Melt the remaining tablespoon of butter in a large saucepan or Dutch oven over medium heat. Add the apple, onion, and sage, season with salt and pepper, and cook, stirring occasionally, until softened, about 7 minutes. Remove the pan from the heat and set aside.
When the squash is ready, set the baking sheet on a wire rack until the squash is cool enough to handle. Using a large spoon, scoop the flesh into the saucepan with the sautéed apples and onions; discard the skins.
Add the broth, water, and measured salt and pepper, stir to combine, and bring to a boil over medium-high heat. Reduce the heat to medium low and simmer, stirring occasionally and breaking up any large pieces of squash, until the flavors meld, about 15 minutes. Remove the pan from the heat and stir in the cream.
Using a blender, purée the soup in batches until smooth, removing the small cap (the pour lid) from the blender lid and covering the space with a kitchen towel (this allows steam to escape and prevents the blender lid from popping off). Alternatively, use an immersion blender. Taste and season with salt and pepper as needed. Serve garnished with the pumpkin seeds, if using.