Ties, friends, and music
Schoolcraft students on the rise in the music industry
by Cody Yarbrough, Staff Writer
We've all heard the story of a group of friends getting together to form a rock band and make music, but for these Schoolcraft students it's more than just a story. The Schoolcraft Connection got a chance to talk to Nick Pieron, one of the members of the band "Boys N' Ties" on the perspective of a student musician.
SC: Tell us about your band
NP: "There is four of us, the drummer is Joe Duprey, the bass player is Edwardo Fernandez, our lead singer and the lead guitarist is Luke Hodorek, and I play rhythm guitar."
SC: How did you come up with the name "Boys N' Ties"?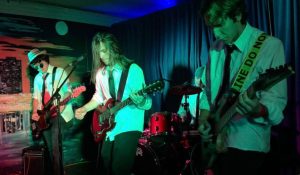 NP: "Well there's a story behind it actually. Edwardo had started a guitar club back when we were in high school, and toward the end of the year there was a senior coffee house that was coming up and he decided we should audition for it, and it was just him, me, and Luke at the time. So the three of us had went over there as a comedy guitar group but we were really cringey so we decided to do a cover of 'Bad Moon Rising' instead. A few days before the coffee house we're like, 'We don't have a drummer' so we asked Joe and he said ok. When we auditioned the lady there asked for our band's name, and since we went to a Catholic school we all had ties on so we all looked at each other and Edwardo just goes, 'Boys N' Ties' and it just stuck."
SC: What kind of music do you guys sing?
NP: "We call it 'garage rock'. It's sort of like alternative rock that's inspired by bands like CCR (Creedence Clearwater Revival) and the Beetles. At first when we started we did a few covers of songs like 'Bad Moon Rising' and 'Love Potion No.9" but we've started doing originals now, and we're trying to put together our first ever album. Our songs are about several topics, we have a song called 'Boss Man' which is just about work and a song called 'Life Plan' that about going through life and figuring out what to do. Pretty much all of our song are just our feelings and experiences.
SC: I heard you guys participated in Rocktober fest. How did that turn out for you?
NP: "That went pretty well. We had a really good turnout, there was quite a few people who showed up and it was definitely one of our better performances. What I liked about it was the setting, the whole atmosphere of the place, it was kind of on the small side but it felt like a bigger event because was later in the evening and there were more people so it felt more like a concert."
SC: What separates a good performance from a bad performance?
NP: "Well, there aren't ever any bad performances it's just that some performances are better than others and this one felt confident and much more solid. I do feel that it's a two-way street, if you're putting on good music and you feel that the audience is enjoying it, there's more energy and it starts to make you feel more alive.
SC: Anything else you want to add?
NP: "Yeah, you can find us on Facebook, Twitter, Snapchat under the name Boys N' Ties. We're also on Soundcloud and Google Play under the same name"
For more information on "Boys N' Ties", check out their social media pages below.
Facebook page: https://www.facebook.com/BoysNTies
Twitter page: https://twitter.com/Boys_N_Ties
Soundcloud: https://soundcloud.com/boys-n-ties