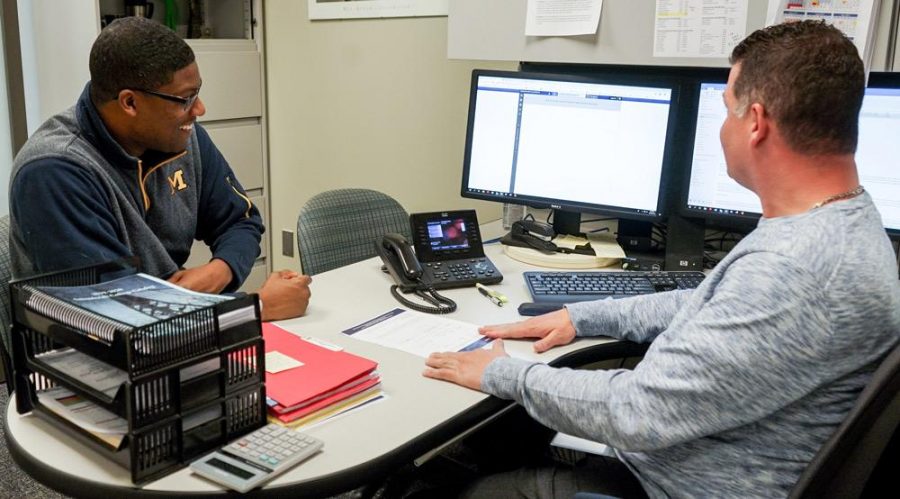 Priority registration, academic advising, course selection and finding a clear way through Veteran's Affairs (VA). These are a few of the many options afforded to student veterans here at Schoolcraft College through its Veteran's Resource Center (VRC). The VRC is able to help students with their application to the VA for the educational benefits they need, with 195 students this year compared to 181 last year.
"It's an honor to work with such an amazing group of individuals each day," said Brent Landau, Director of the VRC. "Thank you for your service and sacrifices so that we can live in a free country."
A student veteran can come to the VRC to take advantage of the many services the center provides. If a military affiliated student is using their benefits, they have to provide paperwork for the VRC in order for their credits to be certified with the Virginia office. Once completed, they must submit their certification of credits to the Virginia office. Additionally, the VRC provides emergency funds to military students facing hardships that might hold them back from attending classes.
Student vets get access to not only college resources available here, but also outside resources. This means that the Learning Center, Career Services, Bookstore, Computer Labs and Disability Support Services are available to them. The outside resources they have include: information and phone numbers for VA agencies, information on retrieving and reporting enrollment activity for benefits, information about local and federal tuition assistance, contact information for local Vet Centers and hospitals and information on Social Services in areas that may be specific to veterans. The VRC's work on this reflects "a great credit toward the college's reputation, as both they and those they serve continually strive to 'aim ever higher'," according to student veteran Chris Olsen.
Many have been served well here, as student vet Rob Steven can attest.
"Brent, Sarah and Maria are thoughtful, caring and extremely knowledgeable in the different GI Bill programs and what Schoolcraft has to offer to assist in achieving my goals," says Steven. "Now, with their guidance I will be graduating Schoolcraft with an Associates in Business Administration and will have completed the Michigan Transfer Agreement after this fall semester."
For questions or further information, please contact them via email at [email protected]
Photo by Clarisa Russenberger | Photo Editor