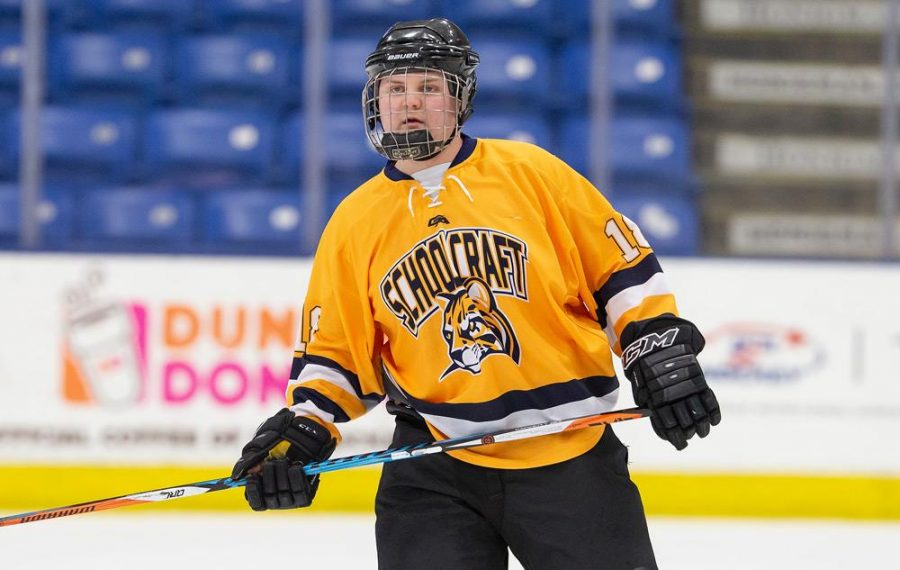 Just a few years ago Jacob Stanley, was your typical college student athlete playing the game he loved while attending college. He put his heart and soul into every shift and assisted his teammates in every way he could, whether scoring goals, assists or the occasional dropping of the gloves as the former Schoolcraft Men's Hockey alternate captain. Now Stanley is looking for some assists of his own off the ice, as the 23-yearold was recently diagnosed with Stage 4 Hodgkin's Lymphoma this past summer.
Stanley went to the doctors because he felt a strange lump on his neck and it turned out to be cancer that spread to his lymph nodes throughout his body.
"He was a real and energetic hockey player, he could score goals and he had great leadership skills in the locker room and off the ice," said Schoolcraft Men's Hockey general manager, Rob Lindsay regarding Stanley.
To assist with Stanley's medical bills, a GoFundMe page was setup by his family and donations are being accepted on an ongoing basis. Currently $5,466 has been raised of the $10,000 goal according to the GoFundMe page.
Before his diagnosis, Jacob was studying in the Criminal Justice program to become a police officer and now he's fighting for his life: the biggest challenge here is funding and the hope here is for raising funds for hospital co-pays and cancer treatments.
Cancer does not discriminate, affecting even strong healthy adults like Stanley.
When the current Ocelots team was informed recently by Lindsay of the news about Stanley, their reaction was described as "total silence", enough to hear a pin drop.
Though Jacob left the team two years ago, the current team is pulling for his success and taking part in the fundraiser.
When asked why he is passionate about helping Stanley, Lindsay answered, "Jacob worked hard for our team and he's a good kid…of course, you're going to work hard for somebody that you know. He was very close to the team at all and the coaches. When you see somebody get sick, you do everything you can to help that person."
Spreading awareness of his cause and the fundraiser is the best possible way to help. Many have chipped in already, including SC's Hockey Team and Mitten Sports shop out in Farmington Hills, the latter of which donates a percentage of the team's spirit gear sales toward the fundraiser to pay for Jacob's co-pays and cancer treatments.
Those interested in helping Jacob Stanley's fight for his life to defeat cancer can donate for "Jacob's battle with cancer" at gofundme.com/f/stanleystrong-support. Every little bit helps.
Photo courtesy of Schoolcraft College