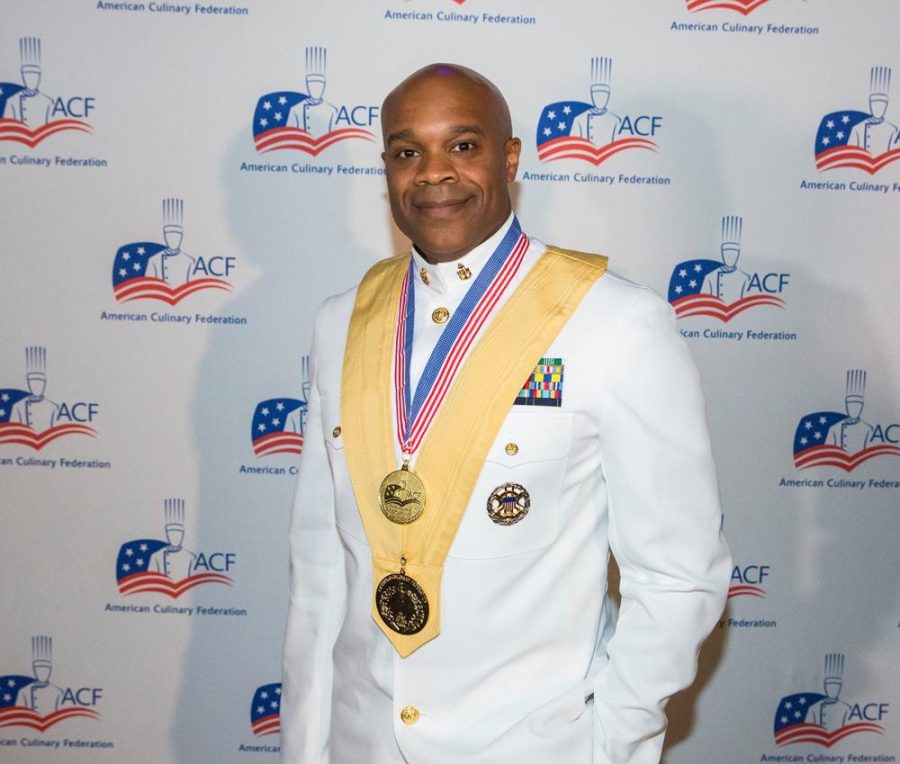 From fixing a feast in his family kitchen to serving with and for his fellow soldiers, alumnus and Master Chief Petty Officer of the Navy, Derrick Davenport, set sail for success and in turn, has extended his horizons beyond the lighthouse that guided his culinary career, Schoolcraft College. "For me, it all started at home with my father," said Davenport. "I loved to spend time with him, cooking and entertaining anyone that came over."
Once Davenport discovered his passion and knew that he wanted to pursue it professionally, he started looking into his options for a culinary arts degree during the mid 90's before settling on Schoolcraft due to its growing reputation in the metro Detroit area with its 4 master chefs and a master pastry chef on faculty.
"The smaller teacher to student ratio was also a factor," he explained. "It allowed for a more personalized teaching relationship. Many of the instructors that I had inspired and encouraged me to get involved in other endeavors."
Chefs such as Sylvia Hayes served as one of his role models as she provided him with his foundation in the culinary field and taught him using both 'classical' and 'quick' methods of food preparation. Davenport also worked as a teacher assistant to Certified Master Pastry Chef Joseph Decker, at the student-run Professor Pantry, which prepared baked goods for instructors to take on the go.
He also recalled taking a trip to Singapore and Thailand in 2000 with retiring Chef Leopold as a tour guide, teaching them about the countries' cuisine and culture.
"The greatest role model I had throughout the program was Certified Master Chef Jeffrey Gabriel though. He would always tell us stories about his time in the Navy, cooking for his crew, and how he used his GI Bill. He inspired me to join in 2000 and that was when my culinary career took off." Davenport commented.
Davenport worked in various restaurants over a period of seven years earning recognition as 2015 USA Chef of the Year before he enlisted in the Navy. Once there, he worked his way up the ranks and even did a 14-month deployment in Herat, Afghanistan to train the army on how to cook. Davenport also served five years on the USS Annapolis, a fast attack submarine that would take him to places such as Italy, France and Crete as he prepared dishes for all on board.
He would later become a part of the United States Culinary Arts team which was formed in 1976 and is open to chefs involved in the armed forces. In 2012 and 2016, Davenport competed on the team for the Culinary World Cup and would win a total of three medals, 1 gold and 2 silver, for his work.
Davenport also encourages professional chefs to consider volunteering within the armed forces to conduct training for military cooks on how to make the best food possible, even when ingredients are limited or not the best.
The public can also consider supporting the troops through various programs by researching the Wounded Warrior Project or by visiting the United Services Organization website at uso.org about.
Photo courtesy of trzarcak.com